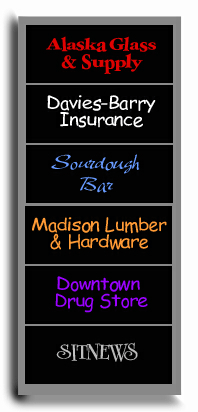 The June Allen Column
is made possible in part by these sponsors. Cick on each name to visit each web site.
June Allen Column

L. Ron Hubbard's Alaska Adventure; His long winter in Ketchikan - For such a small city in such a remote location, Ketchikan has had its fair share of experience in welcoming the rich and famous. Names that come to mind are Bing Crosby, John Wayne, Cary Grant, as well as Olivia Newton-John, Bill Gates, and Chubby Checker - plus many, many others! Unlike today's notables who arrive by cruise ship for brief visits, earlier celebrity visitors usually came in on their own or someone else's yacht. Most enjoyed Ketchikan's sights, sounds and attractions for at most a few days. But one unexpected visitor found himself stranded for the winter! - Read the rest of this story by June Allen...
Wednesday - January 19, 2005

ACS Bids for KPU Telecom: ACS a longtime presence

Betty King the Dog Lady; Ketchikan's one-woman humane society

Ketchikan, Alaska - Let There Be Light! -- Citizens Light & Power and then KPU

The State Capitol and Its Marble and keeping the capital in Juneau

A Legendary Mountain of Jade; Just one of Alaska's Arctic Wonders

John Koel, Baker to Banker; An eccentric philanthropist

Harold Gillam: A Tragic Final Flight; Ketchikan remembers the search

Ketchikan's 'Fish House Tessie'; She was proud of the nickname

Fairbanks: Golden Heart City; A story of its founding

Remembering 'Swede' Risland (1915-1991);The town's most memorable logger

Read more feature stories by June Allen...

Copyright Applies - Please obtain written permission before reproducing photographs, features, columns, etc. that are published on SitNews.