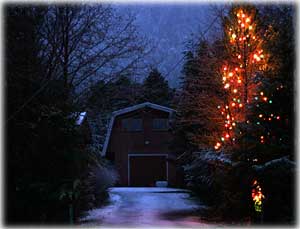 'Winter Scene'
This peaceful winter scene was taken Friday
evening by Carl Thompson...
Dick Morris Column: GOP Senate Hopes - Lost among the focus on the Democratic presidential race is the likelihood of a huge Republican gain in the U.S. Senate in the 2004 elections. Even without a landslide victory for Bush (quite possible if Howard Dean wins the Democratic nod), the way races are shaping up, the Republicans have a lot to gloat about.
So far, seven senators have announced their retirement - five Democrats (Florida's Bob Graham, Georgia's Zell Miller, South Carolina's Fritz Hollings, North Carolina's John Edwards and Louisiana's John Breaux) and two Republicans (Oklahoma's Don Nickles and Illinois' Peter Fitzgerald). With six of the seven seats in Southern or border states, all of which Bush carried in 2000, the GOP advantage is obvious. - Read more...
Saturday - December 27, 2003 - 12:30 am
Mike Reagan Column: A Malibu Christmas - Every year around this time we hear a lot of complaints about the commercialization of Christmas and the downplaying of the significance of this wonderful feast day when we celebrate the birth of Jesus Christ.
Nowadays it's not even called Christmas in our public schools, instead it's called something like "Winter Holidays." Go into a store and they don't say Merry Christmas anymore, instead it's now "Happy Holidays." It seems that people are frightened to death they might offend somebody. Suddenly, paying homage to God is offensive. - Read more...
Saturday - December 27, 2003 - 12:30 am