Tuesday
December 09, 2003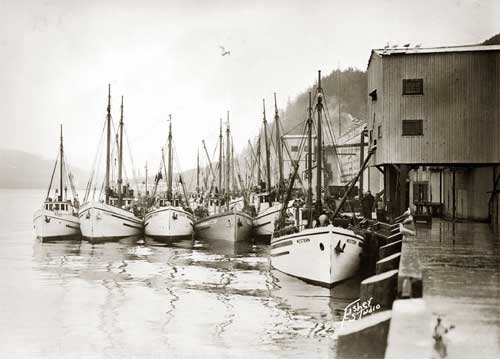 Ketchikan Cold storage dock - circa 1930
Halibut schooner fleet at Ketchikan Cold storage dock. The boats include the Wireless, Sunset, Kodiak, Columbia, and Western. - Photographer: Elliot L. Fisher
Donor: Ed Elliott, Courtesy Tongass Historical Society
KETCHIKAN COLD STORAGE
and colorful Mgr. Jim Pinkerton
By June Allen

For half a century Ketchikan Cold Storage's concrete building, drab and unadorned, stood like a gray, man-made accompaniment to the rocky face of Knob Hill just behind it. A big structure shoehorned into the Front and Water Street corner of the busy downtown docks, the historic cold storage was a major factor in Ketchikan's flourishing fishing history. For fifty years the facility bought, froze and shipped halibut, salmon, and sablefish (black cod) to markets around the world. By mid-century, weakened North Pacific fishery stocks and a shrinking industry, fires in adjacent wooden storage facilities, and finally a wrecking ball reduced KCS to memory only. Today, bottoms-up Eagle Park stands as a memorial to its passing - for those who remember it. - Read the rest of this story by June Allen...
Tuesday - December 09, 2003 - 12:50 am

Read more stories by June Allen...
June Allen's Column Is Made Possible In-Part By These Local Sponsors:
Madison Lumber & Hardware, Inc. ~ Downtown Drugstore ~ Alaska Glass & Supply ~ Sourdough Bar Liquor Store ~ Davies-Barry Insurance ~ Sitnews...
News
Ketchikan: Commissioner says no cuts planned for Alaska elderly - State Health and Social Services Commissioner Joel Gilbertson reassured Ketchikan residents that the Murkowski administration is not planning budget cuts for the elderly. - Read this story...
Fairbanks Daily News Miner - link posted Tuesday - December 09, 2003 - 8:15 pm
Alaska: Lease Buyback is Last Resort Says Governor - Alaska Governor Frank Murkowski has made it clear that consideration of the state buying back any coalbed methane leases in the Mat-Su and on the Kenai Peninsula would only be after all other options are exhausted.
"The state will consider buybacks of shallow natural gas leases only as a last resort," Murkowski said on Thursday, December 4, while responding to a question during a press conference.
DNR is currently engaged with the public in crafting rules, such as setback requirements, noise limitations, and water quality monitoring, that will be required for coalbed methane development in the Mat-Su Borough. - Read more...
Tuesday - December 09, 2003 - 12:50 am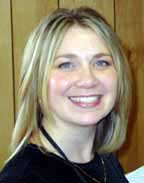 Wendy Olson
Photo courtesy KGH
Ketchikan: Olson Named KGH Employee of the Month for December - Wendy Olson, an employee of Ketchikan General Hospital (KGH) for over 11 years, has been named Employee of the Month by a committee of her peers. Her first KGH position was as a Desktop Specialist in Information Technology until April 2001. At that time she transferred to the Human Resources Department as an HR Specialist. Olson's job involves working with the employees to complete new hire procedures, coordinate employee benefits, Worker's Compensation, payroll, employee events, housing for temporary employees, and keeping track of a wide array of details involved in personnel procedures and regulations. - Read more...
Tuesday - December 09, 2003 - 12:50 am

More State & Local News
Holidays: Did 17th Century Protestants Really Ban Christmas? - Christmas in mid-17th century puritanical America was outlawed by Protestant reformists as "another one of those idol-worshipping religious festivals well worth expunging," says Colgate University professor Anthony Aveni. Author of "The Book of the Year - A History of Our Holidays," Aveni explores the myths and origins of the December 25 holiday extending back to Neolithic cultures. - Read more...
Tuesday - December 09, 2003 - 12:50 am
Holidays: Professor Offers Advice to Holiday Newsletter Writers - Sometimes they're long, sometimes short. Often, they are too boastful or too boring.
They are computer-generated family newsletters that arrive with cards. They come from your aunt Barbara (who writes at length about her cats) or your old college roommate (now very successful with two brilliant children). - Read more...
Tuesday - December 09, 2003 - 12:50 am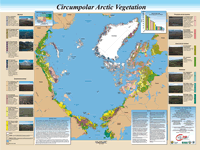 Circumpolar Arctic Vegetation Map
Graphic courtesy University
of Alaska Fairbanks
Science: Researchers publish Circumpolar Arctic Vegetation Map; First map of an entire global biome at useable level of detail - Institute of Arctic Biology (IAB) researcher Donald (Skip) Walker and an international team of Arctic vegetation scientists have published the Circumpolar Arctic Vegetation Map (CAVM) - the first map of an entire global biome at such a level of detail.
The 11-year CAVM project, directed by Walker, who also heads IAB's Alaska Geobotany Center at the University of Alaska Fairbanks, involved vegetation scientists representing the six countries of the Arctic - Canada, Greenland, Iceland, Norway, Russia, and the United States - to map the vegetation and associated characteristics of the circumpolar region, using a common base map.
"A vegetation map of the Arctic is especially needed now because the Arctic is increasingly recognized as a single geoecosystem with a common set of cultural, political, economic, and ecological issues. Accelerated land-use change and climate change in the Arctic made the effort more urgent," Walker said. - Read more...
Tuesday - December 09, 2003 - 12:50 am
Go to Sitnews (Front pages - archives)
Sitnews
Stories In The News
Ketchikan, Alaska