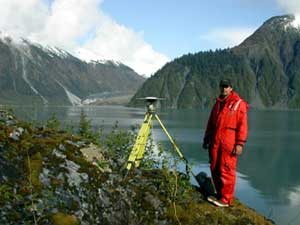 Geophysical Institute research assistant Adam Bucki stands next to a GPS antenna at one of 76 spots in southeast Alaska. Scientists are using the sites, such as this one in Lituya Bay, to find that Southeast is one of the fastest-rising areas on Earth.
Photo by Ned Rozell...
Alaska Science: Southeast Continues to Bounce Back by Ned Rozell - After crunching the numbers from a summer of fieldwork, scientists have found that two areas in southeast Alaska are rising an inch every year.
If that doesn't sound like much, picture this: the ground at those two places will rise about one foot every 12 years. One hundred twenty years from now, those hills and shorelines will be 100 feet higher than they are today. Bays will become beaches. Beaches will become forests. Should climate warming continue, oceanfront property there has the security of rising more than 10 times faster than global sea level. - Read more...
Tuesday - December 02, 2003 - 12:45 am
Alaska: Murkowski wants a natural gas pipeline built along the Alaska Highway - Alaska's governor said unequivocally Monday there will be a natural gas pipeline to the continental United States, and he wants it heading down the Alaska Highway through the Yukon. - Read this story...
Fairbanks Daily News Miner - link posted Tuesday - December 02, 2003 - 12:45 am
Alaska: DNR raids Fish and Game turf - Since statehood, the Department of Fish and Game has been the lead agency entrusted with managing the vast array of wild creatures that roam Alaska's lakes, rivers, tundra and mountains, not to mention its urban streams and city parks. - Read this story...
Anchorage Daily News - - link posted Tuesday - December 02, 2003 - 12:45 am
Alaska: Alaska-Yukon Accord Signed in Whitehorse - Alaska Governor Frank Murkowski and Yukon Premier Dennis Fentie have signed an accord they expect will result in further economic benefits for citizens on both sides of the border. - Read more...
Tuesday - December 02, 2003 - 12:45 am
Alaska: Vocational training center reaccredited, achieves 90 percent goal for Alaska hire - A model state vocational technical school has received a full six-year reaccreditation to train Alaskans for professional careers. - Read more...
Tuesday - December 02, 2003 - 12:45 am
Alaska: Governor Appoints Two to Real Estate Commission, Four to Commission on Aging - Governor Frank Murkowski has appointed real estate brokers Larry Bauer of Juneau and Rita Stuckart of Anchorage to the Alaska Real Estate Commission. He also appointed three new members to the Commission on Aging, and reappointed a fourth member. - Read more...
Tuesday - December 02, 2003 - 12:45 am
Go to Sitnews (Front pages - archives)
Sitnews
Stories In The News
Ketchikan, Alaska