Monday
December 08, 2003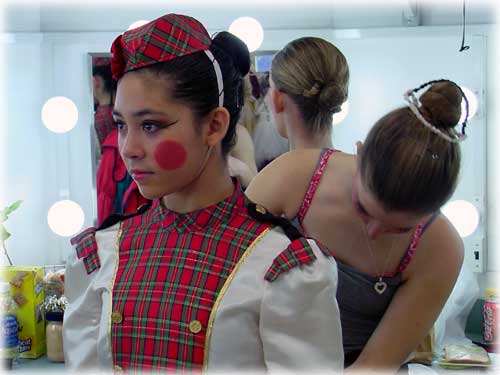 Preparing For The Opening Performance of The Nutcracker
Front Page Photo by Robin Webb
Behind the scenes Friday night as participants in the Ketchikan Theatre Ballet's Nutcracker prepare for the first performance. The Nutcracker, an annual tradition, was performed Friday and Saturday nights at the Ketchikan High School Auditorium.
Monday - December 08, 2003 - 1:00 am
December 2003
Past front pages
Click on the date to view past front page stories & photos...

| | | | | | | |
| --- | --- | --- | --- | --- | --- | --- |
| S | M | T | W | T | F | S |
| | 1 | 2 | 3 | 4 | 5 | 6 |
| 7 | 8 | 9 | 10 | 11 | 12 | 13 |
| 14 | 15 | 16 | 17 | 18 | 19 | 20 |
| 21 | 22 | 23 | 24 | 25 | 26 | 27 |
| 28 | 29 | 30 | 31 | | | |

Today's Front Page
Alaska: Majority Recommends Committee Assignment Changes To Make Room For Sen. Bert Stedman - Senate President Gene Therriault (R-North Pole) announced recommended changes to the committee assignments of Majority members for newly appointed Senator Bert Stedman (R-Sitka). Stedman was sworn into office November 20th, replacing retiring Senator Robin Taylor. Therriault's recommendations must be approved by the Senate Committee on Committees and go to the full Senate for confirmation. Read more...
Monday - December 08, 2003 - 1:00 am
Alaska: Tips for Weathering the Winter - Consider using non-toxic de-icing substances such as clean clay cat litter, sand, or fireplace/stove ash to prevent hazardous waste from chemicals. Chemical de-icers can be hazardous to your pets, your trees and shrubs, and the environment. Antifreeze that leak from car engines and chemical snow melters on driveways, roads, and runways can pollute surface waters and groundwater through the soil. - More...
Monday - December 08, 2003 - 1:00 am

Ketchikan: Boy Scout Troop 4 Raising Funds With Christmas Tree Sale - If you're dreaming of a very special Christmas tree and don't have time to run around looking for just the perfect one, Boy Scout Troop 4 can help make your dreams come true and your season less stressful by providing you an excellent choice of beautiful Christmas trees to select from.
Troop 4 stocked approximately 250 top-of-the-line Christmas trees and have a variety of trees for sale including Douglas Firs and Noble Firs. Prices range from $33 up to $130 for a Noble Fir. As of Saturday, Troop 4 had sold 25% of their trees.
The Christmas tree sale is open weekdays from 5:00 pm to 8:00 pm at the outside garden area at Wal-Mart. On Saturday the hours are 9:00 am to 8:00 pm and on Sunday the hours are from 1:00 pm to 8:00 pm.
The money earned from selling these beautiful trees will be used to help fund Boy Scout Troop 4 activities. - View the photo gallery...
Monday - December 08, 2003 - 1:00 am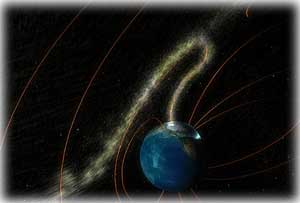 Normally, solar wind ions would be
deflected by Earth's shield...
Graphic courtesy NASA

Science: Stormy Space Weather Slips Through The Cracks - Immense cracks in the Earth's magnetic field remain open for hours, allowing the solar wind to gush through and power stormy space weather, according to new observations from the IMAGE and Cluster satellites.
The cracks were detected before but researchers now know they can remain open for long periods, rather than opening and closing for just very brief intervals. This new discovery about how the Earth's magnetic shield is breached is expected to help space physicists give better estimates of the effects of severe space weather. - More...
Monday - December 08, 2003 - 1:00 am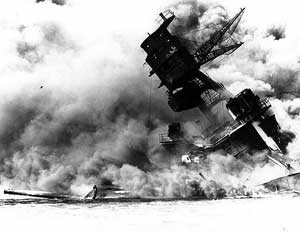 USS Arizona - Pearl Harbor Attack
December 7, 1941
The forward superstructure and Number Two 14"/45 triple gun turret of the sunken USS Arizona (BB-39), afire after the Japanese raid, 7 December 1941. Official U.S. Navy Photograph, from the collections of the Naval Historical Center.
June Allen Column
REMEMBER PEARL HARBOR:
Dec. 7, 1941
By June Allen

It was Sunday morning, Dec. 7, 1941. At 7:55 a.m. Hawaii time, Japanese Imperial forces launched a surprise air attack on the U.S. Navy's fleet moored at Pearl Harbor and the nearby Army installation. Nineteen ships were sunk or damaged, crippling the U.S. fleet. And in a period of only a few hours, 2,300 Americans were left dead.
One of those was Navy Ensign Irvin Thompson, 24, of Ketchikan. He was lost in the sinking of the battleship Oklahoma, Alaska's first serviceman casualty of World War II. In his honor, flags would fly at half-mast throughout Alaska Dec. 21, by proclamation of Territorial Governor Ernest Gruening. - Read the rest of this story by June Allen...
Published Sunday - December 07, 2003 - 12:45 am
Go to Sitnews (Front pages - archives)
Sitnews
Stories In The News
Ketchikan, Alaska