Boy Scout Troop 4 Raising Funds With Christmas Tree Sale
December 08, 2003
Monday - 1:00 am

Ketchikan, Alaska - If you're dreaming of a very special Christmas tree and don't have time to run around looking for just the perfect one, Boy Scout Troop 4 can help make your dreams come true and your season less stressful by providing you an excellent choice of beautiful Christmas trees to select from.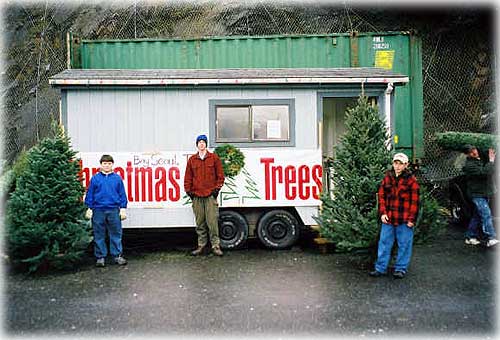 Jimmy Taylor, Jared Oien, Joey Miller
Photo courtesy Diana Chaudhary

Troop 4 stocked approximately 250 top-of-the-line Christmas trees and have a variety of trees for sale including Douglas Firs and Noble Firs. Prices range from $33 up to $130 for a Noble Fir. As of Saturday, Troop 4 had sold 25% of their trees.
The Christmas tree sale is open weekdays from 5:00 pm to 8:00 pm at the outside garden area at Wal-Mart. On Saturday the hours are 9:00 am to 8:00 pm and on Sunday the hours are from 1:00 pm to 8:00 pm.
The money earned from selling these beautiful trees will be used to help fund Boy Scout Troop 4 activities.

Photo Gallery - Men at Work
Jimmy Taylor and father Ken Taylor
Photo courtesy Diana Chaudhary

Jared Oien
Photo courtesy Diana Chaudhary

Joey Miller and Customer
Photo courtesy Diana Chaudhary

Jared Oien
Photo courtesy Diana Chaudhary

Joey Miller and Karl Chaudhary
Photo courtesy Diana Chaudhary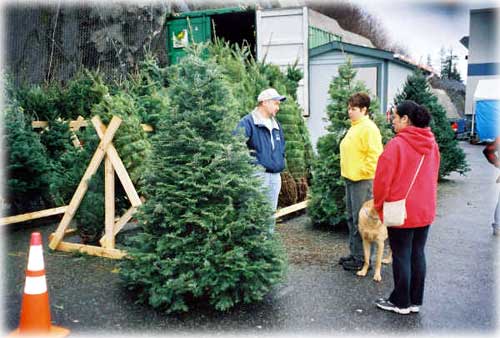 Assistant Scoutmaster Clyde Pasterski and Customers...
Photo courtesy Diana Chaudhary
E-mail Editor: editor@sitnews.org
Post a Comment -------View Comments
Submit an Opinion - Letter

Sitnews
Stories In The News
Ketchikan, Alaska