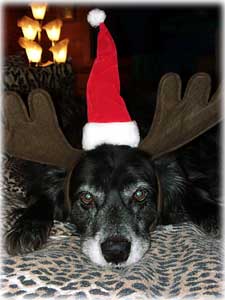 'Lilly Langtry aka Holiday Moose'
photo by MC Kauffman
Ketchikan Events
Chamber of Commerce
Fifth Annual Enchanted Forest Dance & Auction - The Ketchikan Area Chamber of Commerce's Annual Enchanted forest Dance & Auction will be held Saturday December 6, 2003 from 6:30 P.M. to Midnight at the Ted Ferry Civic Center. - More upcoming Chamber of Commerce events...
Friday Night Insight Program
Snowmobiling in Ketchikan - Dec. 05, 2003 from 7 to 8 PM - Jim Duncan of the Ketchikan Snowmobile Club will discuss snowmobiling in the Ketchikan area. Come learn about this exciting winter sport! The program will include slides of local winter scenery and a short segment from Dennis Benson on snowmobile "Tread Lightly" outdoor practices. The Southeast Alaska Discovery Center at 50 Main Street presents free audiovisual and speaker programs in the theater. The Discovery Center invites you to join them for education and entertainment about Alaska's ecosystems, wildlife, natural resources, public lands and Native Cultures. - More upcoming AK Discovery Center events....
Ketchikan Museums
Winter Art Walk, December 5, 2003 from 5:00 to 8:00 PM at the Tongass Historical Museum. Come join us for an extended hours viewing of Ray Troll's "Sharkabet, A Sea of Shark from A to Z. Refreshments will be served. - More upcoming Ketchikan Museums events...
The Arts This Week
Booksigning by Kate Troll, Juneau resident and sister of local artist Ray Troll, of her book Eco-nomics and Eagles, at Parnassus Bookstore on December 5th, from 5-7pm, as part of the Winter Art Walk. Parnassus Bookstore is located at #5 Creek Street, the Star Building. For more information, call 225-7690.
Ketchikan Theatre Ballet presents the Nutcracker on December 5th at 7:30pm and December 6th at 2pm at the Kayhi Auditorium. Don't miss this fabulous tradition. Tickets on sale at Ketchikan Theatre Ballet and the Arts Council. Call 225-9311 for more information.
Booksigning by Noni Burno, local author of Bucho Is My Name (read more), at Parnassus on Saturday, December 6th, from 12pm-1:30pm. Parnassus Bookstore is located at #5 Creek Street, the Star Building. For more information, call 225-7690.
Ukrainian Eggs with Faith Duncan at the Crazy Wolf Studio on December 6th from 1-5pm. Create and take your work with you. Space is limited so call 247-4218 to register. Children under 12 must be accompanied by an adult.

Upcoming Ketchikan Public Library Events
Go to Sitnews (Front pages - archives)
Sitnews
Stories In The News
Ketchikan, Alaska