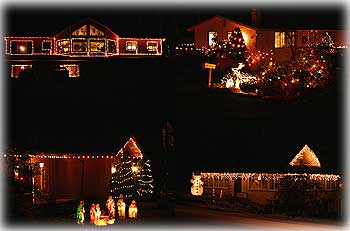 Ketchikan's Holiday Lights
photos by Carl Thompson
Festive holiday lights are appearing daily throughout the Ketchikan community. These colorful gifts of lights are provided by families for the enjoyment of all. Carl Thompson is traveling the community to capture these colorful light displays to share with the Sitnews readers.
Dick Morris Column
Why Gore's Backing Dean - It's payback time for Al Gore.
Dissatisfied at how thoroughly forgotten he is among active Democrats and resentful of all the attention Sen. Hillary Clinton, his White House rival, is getting, Al has reportedly decided to flank the Clintons by backing Howard Dean for president.
Forget the November election. The fight we are witnessing is a battle for control of the Democratic Party.
In one corner stand the Clintons, sending contender after contender out to center ring in an effort to stop Dean from taking over their party. First Joe Lieberman came limping back. Then Wesley Clark ran away from the early primaries and forfeited the match. And now John Kerry is so far behind in New Hampshire that he is down for the count.
In the other corner is Dean, backed by Rep. Jesse Jackson Jr. and now Gore, battling to take the party away from Hillary and craft a new Democratic left. Rejecting Clintonian, Democratic Leadership Council-style moderation, Dean and Gore are letting their liberalism hang out as they garner popularity on the left. - Read more...
Wednesday - December 10, 2003 - 1:00 am
Go to Sitnews (Front pages - archives)
Sitnews
Stories In The News
Ketchikan, Alaska