"Nutcracker", An Annual Tradition

Eighty-two Ketchikan Theatre Ballet Students Featured
December 10, 2003
Wednesday - 1:00 am

Ketchikan, Alaska - Those attending the "Nutcracker" were the recipients of a magnificent and enchanting performance. "Nutcracker", an annual tradition, featured eighty-two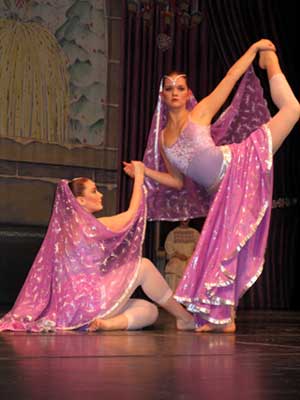 Katie Chappell (standing) and Katie Cronk while performing in the dance "Arabian" during Ketchikan Theater Ballet's 2003 "Nutcracker".
Photo by Les Cronk ©2003

Ketchikan Theatre Ballet students ages 8 to 18 and nineteen "guys" - everyone one from "Fritz" to "Drosselmeyer". Over 100 volunteers helped out before the performances and backstage. "Nutcracker" was performed Friday and Saturday evening at Ketchikan High School Auditorium.

Bryan Williams was this year's "Prince". Williams currently lives in Chicago where he dances with Gus Giordano Jazz Dance Company. He is the Gus Giordano Jazz Dance Company's youngest member ever at the age of 19. The Ketchikan Theatre Ballet hired the "Prince" because KTB did not currently have any male dancers of the right age to perform the part.

The Ketchikan Theatre Ballet, started by Virginia Klepser, has been in business for over 40 years and is the oldest dance studio in the state of Alaska. In the late 1960's Klepser sold the dance studio to a board of directors and it became a non-profit organization known as the Ketchikan Theatre Ballet.

According to Laura Cronk, KTB Business Manager, Ketchikan Theatre Ballet currently has approximately 230 students ranging in ages from 4 to 18 enrolled in ballet, tap and jazz classes. There are five instructors who teach a total of 63 classes each week. In addition to the Business Manager, KTB also has an office assistant and a part-time janitor.

Cronk said the Ketchikan Theatre Ballet puts on three productions each year - "Nutcracker" the first week of December which features KTB's mid to upper level ballet dancers; "An Evening of Dance" the last week of February as part of Ketchikan's Festival of the North celebration featuring KTB's Junior and Senior Company members in an array of ballet, tap and jazz; and KTB's Spring Gala the second week of May featuring all KTB students in their annual recital.







E-mail Editor: editor@sitnews.org
Post a Comment -------View Comments
Submit an Opinion - Letter

Sitnews
Stories In The News
Ketchikan, Alaska