Saturday
December 13, 2003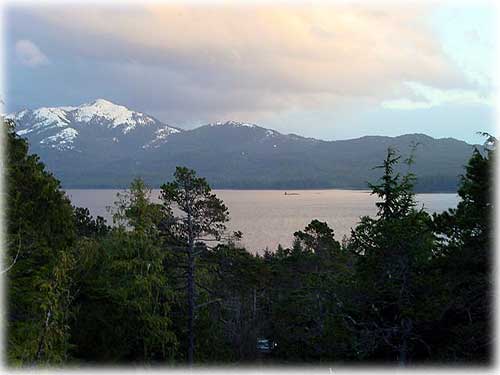 'Scenic View'
Front page photo by Tracy Draper - More...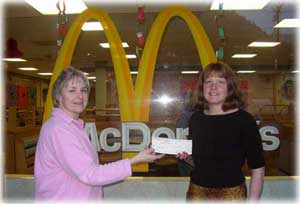 Laura Plenert the Manager of McDonalds of Ketchikan presents a check for $5,000 to Big Brothers Big Sisters Ketchikan Manager Gretchen Klein (right).
Photo courtesy BBBS

Ketchikan: Bowl for Kids' Sake Coming To Ketchikan; McDonald's Sponsors, Presents $5,000 To Program - Bowl for Kids' Sake is coming to Ketchikan. Gretchen Klein who is the manager of the Big Brothers Big Sisters' program of Ketchikan said, "This is the first year we're conducting a fundraising campaign called Bowl For Kids' Sake here in Ketchikan." Bowl For Kids' Sake (BFKS) is the largest national fund-raising campaign for Big Brothers Big Sisters and has been an integral funding component for most BBBS local agencies over the years.
Klein said this event has been held in Juneau for the past twenty-plus years and they are excited to bring this fun community event to Ketchikan. Klein said the funds raised in this campaign will go directly to serving more kids in Ketchikan and throughout the region. "Together we will reach more local youth by providing them with a Big Brother or Big Sister," said Klein.
Bowl for Kids' Sake is for the entire community; anyone can sponsor or bowl. Bring friends, meet your neighbors, and try out your spare while having a good time. According to information provided by Klein, McDonald's of Ketchikan will be the Campaign Sponsor of Bowl for Kids' Sake which will be held on April 4, 2004. As a Campaign Sponsor McDonald's has presented the generous amount of $5,000. - Read more...
Saturday - December 13, 2003 - 12:50 am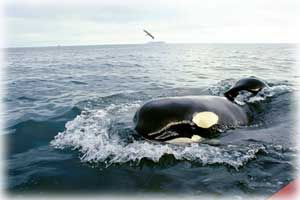 Keiko, the orca whale that starred in the 1993 film "Free Willy," is seen here swimming in the Norwegian waters in the summer of 2002.
Photo courtesy Humane Society of the United States

Human Interest: Keiko, the Most Famous Whale in the World, Dies in Norway - The Free Willy Keiko Foundation and The Humane Society of the United States (HSUS) reported Friday that Keiko, the orca whale, died Friday in the Taknes fjord, Norway, in the company of staff members who have been caring for him there.
Keiko's veterinarian believes that acute pneumonia is the most likely cause of death, though he also cited that Keiko was the second oldest male orca whale ever to have been in captivity.
The two organizations managing Keiko's reintroduction effort expressed sadness at Keiko's death while also heralding his amazing journey.
David Phillips, president and founder of the Free Willy - Keiko Foundation stated, "Rescuing Keiko from a cramped pool in Mexico and bringing him back to his home waters is the most spectacular effort ever launched for an animal." He continued: "Keiko was a champion; the most incredible whale." - Read more...
Saturday - December 13, 2003 - 12:50 am
Alaska: Another Option for High School Exam Offered - Senator Gretchen Guess (D-Anchorage) on Wednesday announced plans to introduce legislation offering an alternative approach to the current high stakes testing for the High School Qualifying Exam (HSQE). The bill will continue to mandate the HSQE for students, and still require it as part of the state and federal accountability system. It will not, however, prohibit students who meet district requirements from receiving a diploma if a student does not pass one or more parts of the exams. Instead, it will require the student's exam results become part of their permanent record.
" The HSQE has refocused our educational system for the better," says Sen. Guess "the exam ensures our graduates can read, write, and compute to a set standard. Yet, the question for all of us this year is whether one test should determine if a student meets the standards, regardless of passing all district requirements." - Read more...
Saturday - December 13, 2003 - 12:50 am
Alaska: Corbus Releases Fall Revenue Forecast for State; Oil Revenue Will Continue to Play Key Role in Financing State Govt. - Friday Department of Revenue Commissioner Bill Corbus released the fall revenue forecast for the State of Alaska. The forecast contains preliminary accounting for FY 2003 as well as projections for FY 2004 through FY 2015.
The purpose of the forecast is to provide the Governor, Legislature and citizens of the State of Alaska with a summary of state revenue and a forecast of future revenue. The revenue forecast is categorized into four major components: oil taxes, non-oil taxes and fees, federal dollars and investment revenues. - Read more...
Saturday - December 13, 2003 - 12:50 am
Alaska: Bootlegging Conviction by Local Noorvik Jury Sends Strong Message to Violators - On Tuesday, a Noorvik jury found fellow community member Marvin Kagoona guilty of bootlegging. Magistrate Bendler found Kagoona to be a "worst offender" and sentenced him to the one-year maximum misdemeanor jail term, fined $1,300, and required that he forfeit his snowmachine to the State of Alaska. The court also sentenced Kagoona to three additional months in jail for failing to appear for earlier court proceedings.
"This is a tribute to the initiative of the State Troopers and the desire of Noorvik citizens to keep alcohol out of their community," said Assistant Attorney General Andrea Russell, who prosecuted the case. "This is the first trial to occur in Noorvik since 1986, and the jury sent a strong message to other bootleggers." - Read more...
Saturday - December 13, 2003 - 12:50 am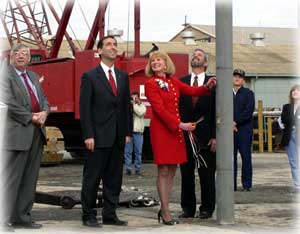 Lieutenant Governor Loren Leman and his wife, Carolyn, at the dedication of the new Alaska Marine Highway vessel, the M/V Lituya. on Friday.
DOT&PF Commissioner Mike Barton is also pictured.
Photo credit: Sharon Gaiptman of the Alaska Marine Highway System.

Ketchikan: Lemans Dedicate Alaska Marine Highway's Newest Vessel: M/V Lituya - Lieutenant Governor Loren Leman and his wife, Carolyn, were in Louisiana Friday for the dedication ceremony and christening of the Alaska Marine Highway System's (AMHS) newest vessel, the M/V Lituya.
The $9.5 million ship is the tenth motor vessel to join the AMHS fleet. The new 180-foot, roll on/roll off steel ferry accommodates 18 cars and 150 passengers with an average speed of 10-12 knots. The ship is expected to complete sea trials by February 19 and enter service next May.
"For many years, our fleet has been comprised of nine ships-primarily long haul vessels that travel between Alaska's coastal communities," stated the Lieutenant Governor. "We also have ships that connect our smaller communities. This new vessel will provide regular, dedicated service between Ketchikan and the Tsimshian Indian community of Metlakatla." - Read more...
Saturday - December 13, 2003 - 12:50 am
Ketchikan's Holiday Lights:
A Photo Feature by Carl Thompson

Festive holiday lights are appearing daily throughout the Ketchikan community. These colorful gifts of lights are provided by families for the enjoyment of all. Carl Thompson is traveling the community to capture these colorful light displays to share with the Sitnews readers.