Wednesday
December 17, 2003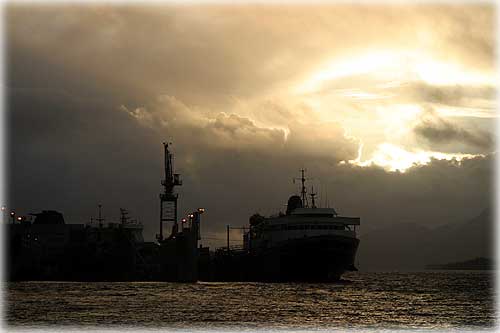 'December Sunrise'
Front Page Photo by Carl Thompson
Editor's note: How We Made the First Flight is Orville Wright's own account of the world's first powered, sustained and controlled flight. The article was first published ten years after the Wright brothers made that first flight....
How We Made the First Flight
Dec. 17, 1903 - First flight, 120 feet in 12 seconds, 10:35 a.m.; Kitty Hawk, North Carolina...
Courtesy Library of Congress
100 Years of Flight
How We Made the First Flight
by Orville Wright
The flights of the 1902 glider had demonstrated the efficiency of our system for maintaining equilibrium, and also the accuracy of the laboratory work upon which the design of the glider was based. We then felt that we were prepared to calculate in advance the performance of machines with a degree of accuracy that had never been possible with the data and tables possessed by our predecessors. Before leaving camp in 1902 we were already at work on the general design of a new machine which we proposed to propel with a motor.
Immediately upon our return to Dayton, we wrote to a number of automobile and motor builders, stating the purpose for which we desired a motor, and asking whether they could furnish one that would develop eight brake horse power, with a weight complete not exceeding 200 pounds. Most of the companies answered that they were too busy with their regular business to undertake the building of such a motor for us; but one company replied that they had motors rated at 8 h.p. according to the French system of ratings, which weighed only 135 pounds, and that if we thought this motor would develop enough power for our purpose, they would be glad to sell us one. After an examination of the particulars of this motor, from which we learned that it had but a single cylinder of 4 inch bore and 5 inch stroke, we were afraid that it was much overrated. Unless the motor would develop a full 8 brake horse power, it would be useless for our purpose.- Read more...
Wednesday - December 17, 2003 - 1:30 am
December 2003
Click on the date to read the stories & to view photos published on that day...

| | | | | | | |
| --- | --- | --- | --- | --- | --- | --- |
| S | M | T | W | T | F | S |
| | 1 | 2 | 3 | 4 | 5 | 6 |
| 7 | 8 | 9 | 10 | 11 | 12 | 13 |
| 14 | 15 | 16 | 17 | 18 | 19 | 20 |
| 21 | 22 | 23 | 24 | 25 | 26 | 27 |
| 28 | 29 | 30 | 31 | | | |
Alaska: Efforts to Help Salmon Industry Pay Off - Alaska commercial fishermen and seafood processing workers experiencing economic distress are in line to receive up to $8 million in emergency federal job training assistance, Governor Frank Murkowski & the Alaska Delegation announced Tuesday.
The funds will come under a grant signed Monday by U.S. Department of Labor Secretary Elaine Chao, which awards up to $8 million in Workforce Investment Act funds to help Alaska's seafood processing workers and fishermen who can no longer earn a living in an industry adversely affected by foreign trade. - Read more...
Wednesday - December 17, 2003 - 1:30 am
National: President Bush Signs Anti-Spam Law; FTC To Develp Plan For "Do-Not-Spam" list - Tuesday President Bush signed into law the Controlling the Assault of Non-Solicited Pornography and Marketing Act of 2003 (CAN-SPAM Act), which establishes a framework of administrative, civil, and criminal tools to help America's consumers, businesses, and families combat unsolicited commercial e-mail, known as spam. - Read more...
Wednesday - December 17, 2003 - 1:30 am

People of Ketchikan: Lord of the Rings' Fans - Cold weather, high winds, nor heavy rains can dampen the determination of the fans who are patiently waiting in front of the Coliseum Twin Theatre to see the movie "Lord of the Rings: Return of the King".
Photographed on Tuesday evening were Jesse Withrow, Luke Herrington, Jerry Pierce, Bryan "Arlo" Reed, and Brion Debourgeon who have been waiting since 2:15 pm Sunday. Also joining in the "opening wait" social event are fans Will Stevenson, Tami Tillford, Amanda Hendrickson and Charlene Spurgeon. This group plans to be at the head of the line when the movie opens Wednesday. - View a larger photo...
Wednesday - December 17, 2003 - 1:30 am
Alaska: Boat Forfeited in Bootlegging Case - During a hearing Monday, a Nome court ordered a woman to forfeit her 18-foot Lund skiff, which her son, Gregory Bradley, used to import alcohol into the dry village of Elim. - Read more...
Wednesday - December 17, 2003 - 1:30 am
Ketchikan's
Holiday Lights: A Photo Feature by Carl Thompson

Festive holiday lights are appearing daily throughout the Ketchikan community. These colorful gifts of lights are provided by families for the enjoyment of all. Carl Thompson is traveling the community to capture these colorful light displays to share with the Sitnews readers.