People of Ketchikan
Lord of the Rings' Fans
photo by Carl Thompson
December 17, 2003
Wednesday - 1:30 am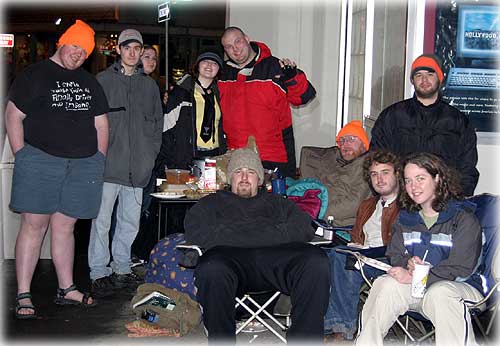 Ketchikan, AK - Cold weather, high winds, nor heavy rains can dampen the determination of the fans who are patiently waiting in front of the Coliseum Twin Theatre to see the movie "Lord of the Rings: Return of the King".
Photographed on Tuesday evening were Jesse Withrow, Luke Herrington, Jerry Pierce, Bryan "Arlo" Reed, and Brion Debourgeon who have been waiting since 2:15 pm Sunday. Also joining in the "opening wait" social event are fans Will Stevenson, Tami Tillford, Amanda Hendrickson and Charlene Spurgeon. This group plans to be at the head of the line when the movie opens Wednesday.
Carl Thompson ©2003
Carl's Alaska Photos Web Site
Submit your photos for publication to photos@sitnews.org.
E-mail Dick Kauffman: editor@sitnews.org
Post a Comment View Comments
Submit an Opinion - Letter
Sitnews
Stories In The News
Ketchikan, Alaska