Tuesday
December 23, 2003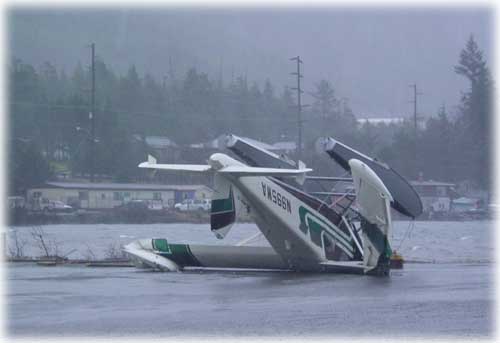 High Winds Not Kind to PROMECH's Beaver ...
Strong Frontal System Generates High Wind Conditions; 100 mph gusts reported between midnight Sunday and 6 am Monday
Photo by Wade Jardine... More
December 2003
Click on the date to read the stories & to view photos published on that day...

| | | | | | | |
| --- | --- | --- | --- | --- | --- | --- |
| S | M | T | W | T | F | S |
| | 1 | 2 | 3 | 4 | 5 | 6 |
| 7 | 8 | 9 | 10 | 11 | 12 | 13 |
| 14 | 15 | 16 | 17 | 18 | 19 | 20 |
| 21 | 22 | 23 | 24 | 25 | 26 | 27 |
| 28 | 29 | 30 | 31 | | | |

Ketchikan: Part of Tongass National Forest Open to Logging; Governor Murkowski Welcomes Good News - The U.S. Department of Agriculture announced today that it would not apply the roadless rule to the Tongass National Forest, completing the settlement of a court challenge to the roadless rule brought by the State of Alaska. . This decision maintains the balance for roadless area protection struck in the Tongass Land Management Plan, providing opportunities for sustainable economic development in Southeast Alaska while ensuring that the vast majority of the Tongass remains off limits to development. - Read more...
Tuesday - December 23, 2003 - 6:55 pm
Ketchikan: Greenpeace Blasts Decision to Exclude Tongass From Roadless Rule - In response to the Bush Administration announcement today that it would exclude the Tongass National Forest in Alaska from the landmark Roadless Area Conservation Rule, Greenpeace said this decision was made despite overwhelming public support for keeping the forest intact. In keeping with the Administration's practice of "stealth" policy moves, the change was made with little fanfare in the midst of the Christmas holidays to avoid public scrutiny said the Greenpeace organization in a news release. - Read more...
Tuesday - December 23, 2003 - 6:55 pm

Ketchikan: Strong Frontal System Generates High Wind Conditions; 100 mph gusts reported between midnight Sunday and 6 am Monday - A strong frontal system to the south generated significantly higher wind conditions than expected for Alaska's first city. According to the Federal Aviation Flight Service staff, peak roof winds at Ketchikan International Airport were gusting at 100 mph between midnight Sunday and 6 am on Monday.The Flight Service staff also reported 75 mph winds gusting on the runway at Ketchikan International Airport Sunday.
Wade Jardine of PROMECH AIR's found one of PROMECH's Beavers damaged at 4:00 am Monday. Jardine said the plane was well secured and checked Sunday evening. Jardine said when he checked the plane early Monday morning, the two thousand pound blocks which secured the wings were moved and one block was tipped on its side. Jardine said the wing ropes broke from the load. He noted the ropes were fairly new and in good condition. Jardine said, "I would have to say the wind predictions were under estimated." - Read more & view photos...
Tuesday - December 23, 2003 - 12:45 am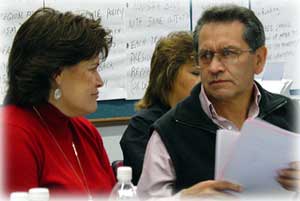 Jacqueline Johnson, Executive Director of the National Congress of American Indians and Ed Thomas, President of Tlingit & Haida, Juneau...
Photograph by Cheryl Haven

Ketchikan: KIC HOSTS SE TRIBAL LEADERS SUMMIT - Representatives of 13 Southeast Alaska Native Tribes attended a Southeast Alaska Tribal Leaders Summit on December 15th and 16th, 2003 in Ketchikan. According to information provided by the Ketchikan Indian Community, the primary focus of the conference was to develop an appropriate and unified response to U.S. Senator Stevens' increasing concern over the allocation of federal money among Alaskan tribes and villages. KIC President Stephanie Rainwater-Sande said she was thrilled with the turnout especially since exceptionally turbulent weather threatened travel plans throughout the region and people are usually so busy during the holiday season.
Jacqueline Johnson, Executive Director of the National Congress of American Indians (NCAI), was the keynote speaker on Tuesday morning. NCAI is a national organization based in Washington, D.C. that coordinates communications among all Tribal governments. Johnson told the group NCAI serves as a forum for consensus-based policy development among its membership of Tribal governments in the United States. Johnson, an Alaska Native with her roots in Juneau Alaska, has an especially keen understanding of the make up and challenges of Southeast Alaska Tribes. - Read more & view photographs...
Tuesday - December 23, 2003 - 12:45 am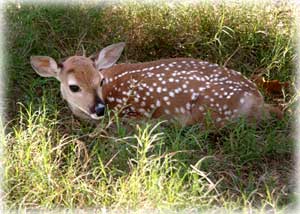 Dewey, the world's first deer clone
Photo Courtesy of the College of Veterinary Medicine, Texas A&M University.

Science: Scientists Clone World's First Deer - In what is believed to be the first success of its kind, researchers at the College of Veterinary Medicine at Texas A&M University have cloned a white-tailed deer. A fawn, named "Dewey," after Duane Kraemer, one of the researchers, was born to a surrogate mother several months ago.
The fawn is believed to be the first successfully cloned deer and Texas A&M is the first academic institution in the world to have cloned five different species. Previously, researchers at the College of Veterinary Medicine have cloned cattle, goats, pigs and a cat. - Read more...
Tuesday - December 23, 2003 - 12:45 am
Health: Handling Stress Before It Handles You - What was your day like today? Did you wake up late, slurp down a cup of coffee and speed through busy traffic on your way to work? What about after work? Could you come home and relax or were you forced to finish up errands from last week? With the pace of life reeling out of control, stress and the overwhelming sensation that comes with it is becoming a problem for almost everyone. Recent research proves that great amounts of stress affect both our physical and mental health. To help combat this problem counselors at the University of Michigan Health System offer tips on how to be more "stress-fit" in the new year. - Read more...
Tuesday - December 23, 2003 - 12:45 am
Medical: Candy canes, sugarplums or licorice for Christmas? Only one might stop cancer - A novel molecule extracted from licorice root has the ability to stop some cancers dead in their tracks, according to a collaborative research study conducted at Rutgers, The State University of New Jersey. - Read more...
Tuesday - December 23, 2003 - 12:45 am
All Christmas Trees are Beautiful
by Mike Harpold
I picked out the tree alone this year, Elaine was at work and our daughters too involved in teen things. I placed it in its stand in the corner of our living room, enjoying the fresh pine scent that filled the warm room. The branches sprang open as I cut away the twine that had held them in a tightly wound cocoon, and I stepped back and admired this beautiful tree that had been grown and shaped just for us to enjoy this Christmas season, and to live in our Christmas memories for the rest of our lives. - Read more...
Monday - December 22, 2003
Ketchikan's Holiday Lights
A Photo Feature
by Carl Thompson

Festive holiday lights are appearing daily throughout the Ketchikan community. These colorful gifts of lights are provided by families for the enjoyment of all. Carl Thompson is traveling the community to capture these colorful light displays to share with the Sitnews readers.

Photo Gallery 11 - Monday - Dec. 22, 2003
| | |
| --- | --- |
| Photo Gallery 10 - Dec. 20, 2003 | Photo Gallery 9 - Dec. 19, 2003 |
| Photo Gallery 8 - Dec. 15, 2003 | Photo Gallery 7 - Dec. 15, 2003 |
| Photo Gallery 6 - Dec. 13, 2003 | Photo Gallery 5 - Dec. 11, 2003 |
| Photo Gallery 4 - Dec. 10, 2003 | Photo Gallery 3 - Dec. 10, 2003 |
| Photo Gallery 2 - Dec. 07, 2003 | Photo Gallery 1 - Dec. 04, 2003 |
Go to Sitnews (Front pages - archives)
Sitnews
Stories In The News
Ketchikan, Alaska