KIC HOSTS SE TRIBAL LEADERS SUMMIT
December 23, 2003
Tuesday - 12:45 am

Ketchikan, Alaska - Representatives of 13 Southeast Alaska Native Tribes attended a Southeast Alaska Tribal Leaders Summit on December 15th and 16th, 2003 in Ketchikan. According to information provided by the Ketchikan Indian Community, the primary focus of the conference was to develop an appropriate and unified response to U.S. Senator Stevens' increasing concern over the allocation of federal money among Alaskan tribes and villages. KIC President Stephanie Rainwater-Sande said she was thrilled with the turnout especially since exceptionally turbulent weather threatened travel plans throughout the region and people are usually so busy during the holiday season.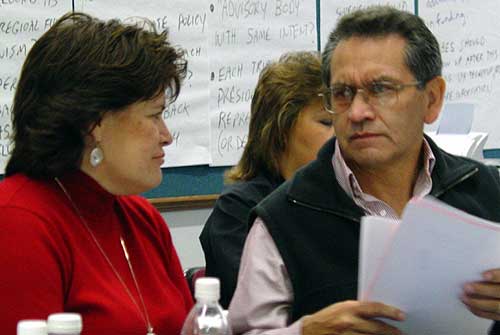 Jacqueline Johnson, Executive Director of the National Congress of American
Indians and Ed Thomas, President of Tlingit & Haida, Juneau...
Photograph by Cheryl Haven
---
Jacqueline Johnson, Executive Director of the National Congress of American Indians (NCAI), was the keynote speaker on Tuesday morning. NCAI is a national organization based in Washington, D.C. that coordinates communications among all Tribal governments. Johnson told the group NCAI serves as a forum for consensus-based policy development among its membership of Tribal governments in the United States. Johnson, an Alaska Native with her roots in Juneau Alaska, has an especially keen understanding of the make up and challenges of Southeast Alaska Tribes.
Johnson said it is important for tribes to maintain their Tribal decision-making authority along with the responsibility and accountability for those decisions. Johnson spends much of her time working with the U.S. Congress, congressional committees and staff on behalf of Tribal governments all over the United States. Her suggestions for Tribal Leaders included requesting an educational forum with the Indian Affairs Committee instead of formalized hearings at this point. She confirmed that it is critically important for Tribes to be responsive to Senator Stevens. Johnson also suggested that it is important to draw close alliances with other regions in the United States such as California tribes who are also very concerned about their funding distribution.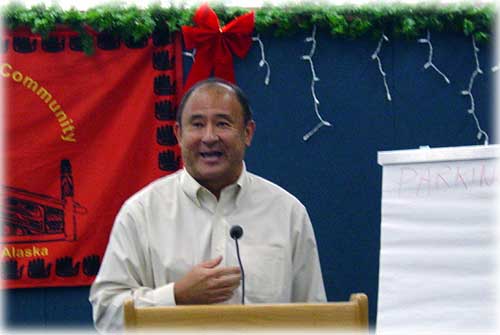 Dr. Blake Kazama, executive director of Tlingit and Haida Housing Authority...
Photograph by Cheryl Haven
---

Dr. Blake Kazama who is the executive director of Tlingit and Haida Housing Authority also shared his insights derived from his work with Senator Stevens' Office this past year as Stevens worked towards a solution to the distribution of NAHASDA (Native American Housing Assistance and Self-Determination Act of 1996) funding to and on behalf of 229 Alaska Tribes in the coming years.
Other prominent speakers included incoming Alaska State Senator Bert Stedman and Representative Bill Williams who are preparing for the next State Legislative Session. Captain Phil Taylor and Retired Captain Jan Sande spoke to the group regarding the impact to Southeast Alaskan communities in terms of both service and loss of employees with the new transportation plan that includes fast ferries designed for day runs only.
Southeast Tribal Leaders from the Organized Village of Kasaan, Sitka Tribe of Alaska, Petersburg Indian Association, Central Council of Tlingit & Haida Indian Tribes of Alaska, Organized Village of Saxman, Metlakatla Indian Community, Douglas Indian Association, Skagua Tribal Council, Hydaburg Cooperative Association, Yakutat Tlingit Tribe, Organized Village of Kake, Craig Community Association, and Ketchikan Indian Community participated in the Summit either in person or by teleconference.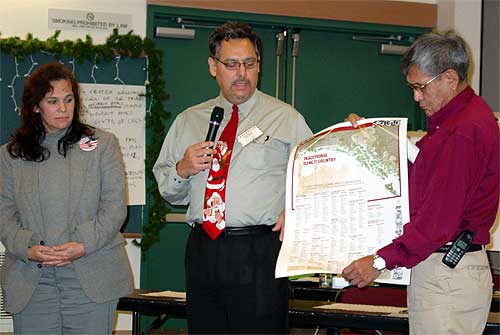 Left to right: Sue Pickrell, KIC; Gerry Hope and George Ridley of the Sitka Tribe...
Photograph by Cheryl Haven
---

During the day and a half Summit meeting, several action steps were agreed upon by the group. The first major agreement among the group was to go on record as opposing a regional funding mechanism. The Southeast Tribes supported a motion to request that at least seven members of the newly proposed Alaska Rural Justice and Law Enforcement Commission ("Justice Commission") be elected officers of a federally-recognized tribe or other native organizations. As it is currently written the drafted legislative rider proposes only one tribal representative on a 10-member Justice Commission. A working group was established to complete a draft letter that is similar to one written by the Alaska Inter-Tribal Council and sent to Senators Ted Stevens and Lisa Murkowski expressing concerns about the proposed rider that would establish this Justice Commission.
There were several suggestions discussed including a white paper showing tribal success stories. Such a paper proposes to respond to five concerns proposed by the Senator's Appropriations Chief of Staff, Lisa Sutherland: (1) indirect costs for Alaskan federal tribal programs are too high; (2) accountability for, and efficiency of, Alaska's federal tribal programs is inadequate; (3) inequities exist in how federally funded tribal programs are spread across Alaska; (4) not all Alaska Natives are eligible for all federally funded tribal programs in Alaska; and (5) there are "phantom villages" on the list of federally recognized tribes in Alaska. Southeast Tribes are very concerned that all tribes are painted with the same broad bush and not all of these concerns are applicable to most tribes.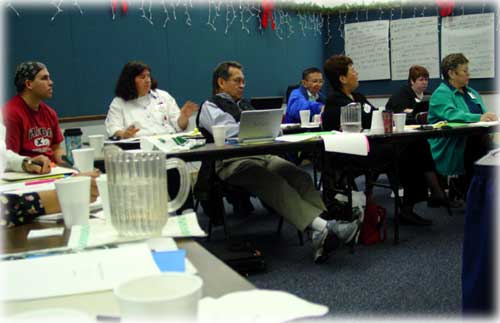 Left to right: Rob Sanderson, Merle Hawkins, KIC; Ed Thomas of Central Council Tlight & Haida Tribes; Thurston Ketah, Stephanie Rainwater-Sande KIC President; Mareen Gilmartin and Georgianna Zimmerle, KIC CEO...
Photograph by Cheryl Haven
---

The Summit Leaders supported the drafting of a letter welcoming the General Accounting Office review of Southeast Tribal programs especially the comparison of tribal indirect rates to other governments or organizations that receive federal funding.
KIC's CEO Georgianna Zimmerle, who moderated the sessions, said "before wrapping up a productive Southeast Tribal Summit in Ketchikan, Alaska, the group agreed upon a communication plan to continue their work." She said, "the next Congressional Session will be upon us in no time with Congress coming back from recess on January 20, 2004. Information needs to be sent to Senator Stevens no later than February, 2004."
Source of News Release & Photographs:
Ketchikan Indian Community
Web Site




E-mail Editor: editor@sitnews.org
Post a Comment -------View Comments
Submit an Opinion - Letter

Sitnews
Stories In The News
Ketchikan, Alaska