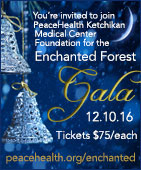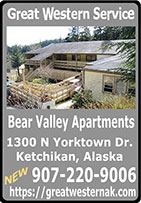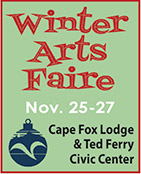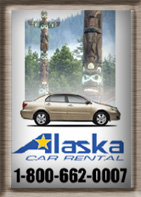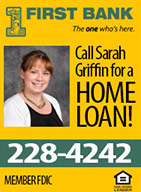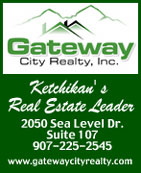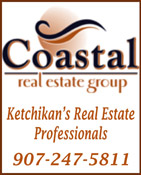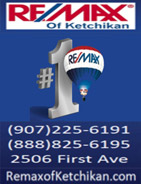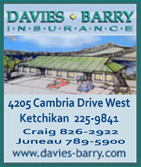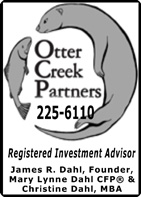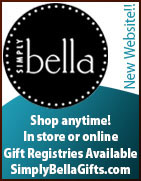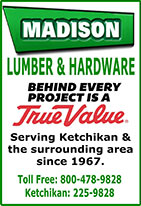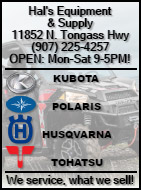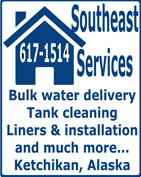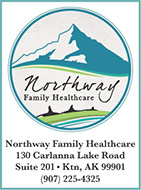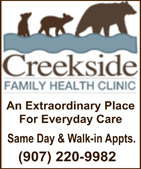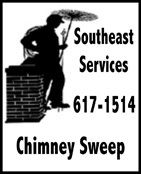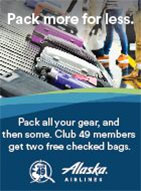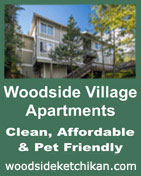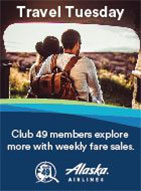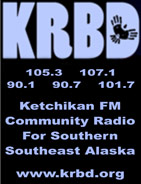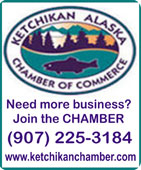 Contact


Call 617-9696


Webmail Letters


News Tips


Copyright Info


Archives
Quick News Search


Alaska


Ketchikan


SE Alaska


Alaska News Links
Columns - Articles


Dave Kiffer


Money Matters
Historical Ketchikan


June Allen


Dave Kiffer


Louise B. Harrington
Ketchikan Arts & Events


Ketchikan Arts


Ketchikan Museums


KTN Public Library
Sports


Ketchikan Links
Public Records


FAA Accident Reports


NTSB Accident Reports


Court Calendar


Recent Filings & Case Dispositions


Court Records Search


Wanted: Absconders


Sex Offender Reg.


Public Notices


AST Daily Dispatch


KTN Police Reports


Juneau Police Reports
Weather, Webcams


Today's Forecast


KTN Weather Data


AK Weather Map


AK Weathercams


AK Earthquakes

TV Guide


Ketchikan
Ketchikan Phone Book


Yellow Pages


White Pages
Government Links


Local Government


State & National

Tazlina
The forward half or bow of the Alaska Class Ferry Tazlina moved out of the assembly hall at the Vigor Alaska shipyard in Ketchikan on Suday, Nov. 20th. The Tazlina is the first of two Alaska Class ferry to be built at the shipyard, the second ferry named the Hubbard will be next.
Front Page Feature Photo By STEVEN SPEIGHTS ©2016






Alaska: Gwich'in to Congress: Designate the Arctic Refuge Coastal Plain as Wilderness - For hundreds of generations, the Gwich'in people of Alaska and northern Canada have depended on the caribou that migrate through the Arctic Refuge. With their traditional culture now threatened by oil extraction and climate change, two Gwich'in women are continuing a decades-long fight to protect their land and future.

Young members of the Gwich'in Nation prepare for a traditional dance ceremony at the 14th Gwich'in Gathering in Arctic Village, Alaska.
Photo by Kahlil Hudson

The Gwich'in people have lived in the Arctic National Wildlife Refuge region spanning from Alaska to Canada for hundreds of generations. The word "Gwich'in" means "people of the land," and their lives and culture have become inseparable from the fate of the Porcupine Caribou Herd. The Gwich'in people and rely on caribou as their chief food source, as well as for clothing, tools and ornaments, and as a central fixture of their culture.

The 1.2-million-acre coastal plain of the Arctic Refuge is the calving grounds of the 169,000-member Porcupine caribou herd, which has sustained the?Gwich'in people of Alaska and northern Canada for hundreds of generations. The Gwich'in people of Alaska and Northern Canada have fought for three decades to protect the Coastal Plain of the Arctic National Wildlife Refuge from oil drilling and other threats.

Supporting the efforts of the Gwich'in people of Alaska and Northern Canada on Monday outdoor apparel company Patagonia and non-profit conservation group Alaska Wilderness League released The Refuge, a 15-minute film telling the story of two Gwich'in women who are fighting for their ancestral home and the survival of the wild animals that bring them life. In conjunction with the film, Patagonia has partnered with Care2, the world's largest social media site for good, to launch a Care2 petition asking Congress to pledge to protect the Refuge's Coastal Plain as wilderness.

"Patagonia has supported the Gwich'in Steering Committee and Alaska Wilderness League through our Environmental Grants Program since the early 2000s," notes Rose Marcario, Patagonia's Chief Executive Officer. "We stand in solidarity with the Gwich'in community today to ask Congress to designate the Coastal Plain as wilderness and protect the Gwich'in way of life forever."

To the Gwich'in, the Refuge's pristine Coastal Plain where caribou calve their young is "the Sacred Place Where Life Begins." The coastal plain, although a true national treasure, lacks protection as wilderness and has become a target for drilling by the oil industry and its allies. It's now under more threat than ever – with pro-oil forces stating they will work quickly to push for drilling in the Refuge. - More...
Tuesday AM - November 29, 2016



Fisheries: Marine incentives programs may replace 'doom and gloom' with hope - Incentives that are designed to enable smarter use of the ocean while also protecting marine ecosystems can and do work, and offer significant hope to help address the multiple environmental threats facing the world's oceans, researchers conclude in a new analysis.

Whether economic or social, incentive-based solutions may be one of the best options for progress in reducing impacts from overfishing, climate change, ocean acidification and pollution, researchers from Oregon State University and Princeton University say in a new report published this week in Proceedings of the National Academy of Sciences.

And positive incentives - the "carrot" - work better than negative incentives, or the "stick."

Part of the reason for optimism, the researchers report, is changing awareness, attitudes and social norms around the world, in which resource users and consumers are becoming more informed about environmental issues and demanding action to address them. That sets the stage for economic incentives that can convert near-disaster situations into sustainable fisheries, cleaner water and long-term solutions.

"As we note in this report, the ocean is becoming higher, warmer, stormier, more acidic, lower in dissolved oxygen and overfished," said Jane Lubchenco, the distinguished university professor in the College of Science and advisor in marine studies at Oregon State University, lead author of the new report, and U.S. science envoy for the ocean at the Department of State.

"The threats facing the ocean are enormous, and can seem overwhelming. But there's actually reason for hope, and it's based on what we've learned about the use of incentives to change the way people, nations and institutions behave. We believe it's possible to make that transition from a vicious to a virtuous cycle. Getting incentives right can flip a disaster to a resounding success." - More...
Tuesday AM - November 29, 2016





Southeast Alaska: Schaible endowment will enrich UAS student learning - Former Alaska Attorney General Grace Schaible's gift to the University of Alaska Southeast (UAS) from 25 years ago just keeps on giving. In 1989, Schaible donated her Juneau home -- located along the Mendenhall River -- to the university. For years it has provided housing for visiting scholars and researchers.

Grace Schaible
Photo by Todd Paris

Following consultation with Schaible, UAS recently sold the property and created a new endowment in her name. The Grace Schaible Endowment, with a fund balance of just over $437,000, will support visiting faculty, scholars, researchers, artists, and Native elders who enrich UAS student learning and academic success. The original fund agreement included a clause regarding sale of the house, which specified that the proceeds be placed into an endowed fund -- its earnings to be used in support of UAS. - More...
Tuesday AM - November 29, 2016

Ketchikan: Upcoming Performances - The annual Sam Pitcher Memorial Scholarship Concert and the Ketchikan Community Concert Band both have performance events scheduled for this week.

The annual Sam Pitcher Memorial Scholarship Concert will take place on Wednesday, November 30th at 7 PM in the Ketchikan High School Auditorium and will feature Windjammers, Schoenbar Jazz Band, Scattered Sunshine Trombone Choir and the Kayhi Jazz Band. Kayhi will perform "Mack the Knife", Lennon/McCartney's "Yesterday", "Stray Cat Strut", and "Blue Mambo".

The Scattered Sunshine Trombone Choir, with special guests Judi Green on piano and Kim Kleinschmidt on drums, will present "Eli's Comin'", Morten Lauridsen's "Dirait-on" and "I Heard it Through the Grapevine". Next, the Schoenbar Jazz Band directed by Jamie Karlson will play "Zoot Suit Riot", "Caravan", and "Final Countdown". - More...
Tuesday AM - November 29, 2016


Columns - Commentary

SUSAN STAMPER BROWN: Recount All You Want, but Mob Rule Will Not Prevail - That the United States is not a direct democracy where decisions are decided by popular vote is a dilemma for Democrats unhinged over Donald Trump's Electoral College win, who are now calling for a recount in some states.

Besides their recount temper tantrum, Republican Electoral College members across the U.S. report harassment and threats from disgruntled Clinton supporters in a last-ditch effort to put their candidate who should be in the big house in the White House.

The Detroit News reports Michigan electors received "intimidating emails or messages" demanding members vote for Clinton and ditch Trump. The report says one young Michigan elector, Mike Banerian, received a message "containing a death wish" and another, "a death threat" in which someone threatened they'd "put a bullet" in his mouth. Banerian said he's been called "a hateful bigot" and said, "people talk about shoving a gun in my mouth and blowing my brains out" -- if he abides by Michigan law requiring electors to vote for Trump.

Democrat leadership would be wise to detach itself from these whack jobs because the party will continue to implode unless they eradicate the despotic progressivism which currently rules within the ranks.

These despotic dimwits don't give a whit that America's founders created the Electoral College to prevent the kind of mob rule democracy that Alexis de Tocqueville once called "the tyranny of the majority" ---- which will happen if a few big cities and states always control the outcome.

Given all the talk about ditching the Electoral College, fair representation is the last thing on the minds of those who didn't mind it at all when polls predicted a Hillary electoral landslide. Truth is, if they really cared about fairness, they'd ditch the Super Delegates system which was rigged for Hillary when it robbed Bernie Sanders early on.

Protest, petition and recount all they wish, but eliminating the Electoral College won't happen. There isn't a rural state out there foolish enough to relinquish the power the nation's founders gave it. Besides, it would take nothing short of a miracle for the Senate and states to ratify. - More...
Tuesday AM - November 29, 2016




Editorial Cartoon: Ohio State University Attack
By Nate Beeler ©2016, The Columbus Dispatch
Distributed to subscribers for publication by Cagle Cartoons, Inc.




Real Time U.S. Debt Clock
http://www.usdebtclock.org/

U.S. Inflation Calculator
Easily calculate the buying power of the US dollar & inflation rate from 1913-2016

U.S. Energy Info. Admin.
Heating Oil & Propane Update

Public Meetings & Info

Ketchikan Borough Assembly

Live video stream of current meeting
Archived videos
Agenda and Information Packets
Assembly Meeting Minutes
Borough Records
Calendar

Ketchikan Planning Commission

Live video stream of current meeting
Agenda, Information Packets & Minutes

Ketchikan City Council

View a Video of Meeting
Agenda & Information Packets

Ketchikan School Board

Live video stream of current meeting
Agenda & Information Packets


Gravina Access Project SEIS Alternatives Development

Gravina Access Website

Police Dispatches

AK Troopers Daily Dispatch
Ketchikan Police Reports
Juneau Police Reports

Ketchikan

Jobs
Ketchikan's Forecast
Satellite
Today's Weather Images
Marine Forecasts
AK Weathercams
Ketchikan Weather Data
Current AK Weather Map




CLASSIFIEDS' CATEGORIES

Public Meetings
Announcements
Upcoming Events
Boats, etc.
Help Wanted
For Sale / Free Stuff
Garage Sales
Homes / Apts/ Property
Pets
Wanted
Lost & Found
Publish Your Ad

Front Page Archives
Letter Archives
Oct. -Nov. 2016

| | | | | | | |
| --- | --- | --- | --- | --- | --- | --- |
| S | M | T | W | T | F | S |
| 25 | 26 | 27 | 28 | 29 | 30 | 01 |
| 02 | 03 | 04 | 05 | 06 | 07 | 08 |
| 09 | 10 | 11 | 12 | 13 | 14 | 15 |
| 16 | 17 | 18 | 19 | 20 | 21 | 22 |
| 23 | 24 | 25 | 26 | 27 | 28 | 29 |
| 30 | 31 | 01 | 02 | 03 | 04 | 05 |
| 06 | 07 | 08 | 09 | 10 | 11 | 12 |
| 13 | 14 | 15 | 16 | 17 | 18 | 19 |
| 20 | 21 | 22 | 23 | 24 | 25 | 16 |


Viewpoints,
Opinions/Letters
Basic Rules &
Freedom of Speech

Questions, please contact the editor at editor@sitnews.us or call 617-9696
Sitnews reserves the right to edit.

The President-Elect Must Divest By Ghert Abbott - For the last 40 years it has been the norm for the president to divest himself of his business holdings and transfer the capital to a neutral third party who would then invest said capital in a blind trust. In this way administrations have avoided massive conflicts of interest, in which political or regulatory decisions could be made for the benefit of the president's business holdings or purchased through doing business with the president. Such corrupt bargains are the norm in many third world countries, where presidents preside over shadowy business empires that are protected and enriched by the government. - More...
Tuesday AM - November 29, 2016

Women's March January 21st By Mary L. Stephenson - With the popular vote, the Democratic party was left stunned to learn Hillary Clinton would not be President and the moral fiber of the nation is left in limo. A movement underway is the Million Women (Men and Children) March on January 21st in Washington DC. The many days after the elections, we took to the streets in a peaceful way, to unite as a populous and introduce ourselves to newly elected President Trump. We can lose our foothold on (individual and family) health, education, out-of-poverty, community safety, local economy needs and environment issues. - More...
Tuesday AM - November 29, 2016

RE: Protests By Hallie Engel - In response to Rob Holston's letter, dated November 15, the reason there were no large-scale protests after the election of President Obama might have something to do with the fact that he wasn't endorsed by the KKK, he never bragged about sexually assaulting women, and he never called Mexican people rapists, amongst other things. - More...
Tuesday AM - November 29, 2016

7 Ways to Give Back to Your Community This Thanksgiving By Mary Wong - Giving back to the community is always important, but this is especially true around Thanksgiving. While most people look forward to spending time with family and friends feasting on turkey and stuffing and watching the parades and football games, for others it's a very different story. Many people are alone this time of year. Others are homeless. Some are sick. Sadly, not everyone has a place to go and people with whom they can spend the holiday. - More...
Wednesday AM - November 23, 2016

Seaweed aquaculture By Frances C. Natkong - Why are they now doing a study on our seaweed/kelp. Soon that will be all gone as well. Is nothing safe? Interrupting the sea life when sea life depends on kelp to live and us too. I'm not very happy with this! Not at all. - More...
Wednesday AM - November 23, 2016

Keep Public Lands in Public Hands! By Glenn Ferren - The Mormon Senator from Thompson Falls (Jennifer Fielder) works for the American Lands Council, Ken Ivory, and the LDS church. The ultimate goal of this group is to turn our public lands into prime real estate for wealthy individuals (Wilks brothers, ex), corporations in the real estate business (Weyerhaeuser, ex), and organizations looking to acquire hundreds of thousands of acres (LDS, ex). - More...
Wednesday AM - November 23, 2016

My impressions... By Rodney Dial - It's been a month since I was elected to the Borough Assembly. I thought I would give an update on what I have learned and my impression of your local government. - More...
Thursday PM - November 17, 2016

AMHT Open to Federal Buyout - But Questions Linger By Rebecca Knight - The Alaska Mental Health Trust develops resources it owns to fund its operations. Controversy is churning this year in Southeast Alaska over AMHT's threat to immediately log forestland it owns within communities unless, by mid-January, Congress passes a bill exchanging those lands for 21,000 acres of the Tongass National Forest. The threatened logging in the communities would ruin cherished viewsheds and, because the slopes are steep, jeopardize residences and domestic and municipal waters supplies. - More...
Tuesday AM - November 15, 2016

Webmail your letter or
Email Your Letter To: editor@sitnews.us

---

Articles & photographs that appear in SitNews may be protected by copyright and may not be reprinted or redistributed without written permission from and payment of required fees to the proper sources.

E-mail your news & photos to editor@sitnews.us

Photographers choosing to submit photographs for publication to SitNews are in doing so, granting their permission for publication and for archiving. SitNews does not sell photographs. All requests for purchasing a photograph will be emailed to the photographer.

The Local Paper is now available online.
Click here for this week's printed edition.