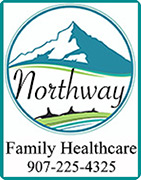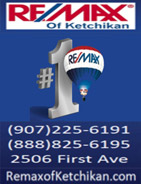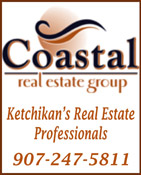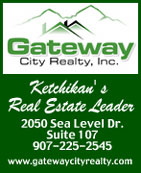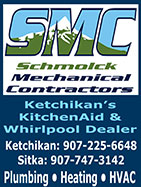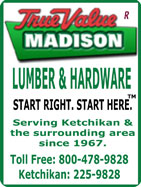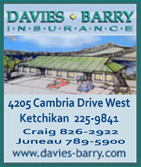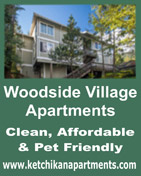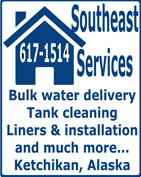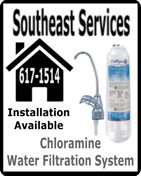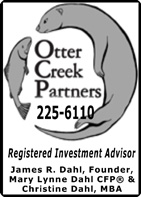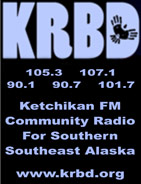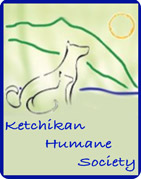 Contact


Call 617-9696


Webmail Letters


News Tips


Copyright Info


Archives
Quick News Search


Alaska


Ketchikan


SE Alaska


Alaska News Links
Columns - Articles


Dave Kiffer


Fish Factor


Money Matters
Historical Ketchikan


June Allen


Dave Kiffer


Louise B. Harrington
Ketchikan Arts & Events


Ketchikan Arts


Ketchikan Museums


KTN Public Library
Sports


Ketchikan Links
Public Records


FAA Accident Reports


NTSB Accident Reports


Court Calendar


Court Records Search


Wanted: Absconders


Sex Offender Reg.


Public Notices
Weather, Webcams


Today's Forecast


KTN Weather Data


AK Weather Map


AK Weathercams


AK Earthquakes

TV Guide


Ketchikan
Ketchikan Phone Book


Yellow Pages


White Pages
Government Links


Local Government


State & National

Kingfisher
This Kingfisher was at the South Tongass boat launch - pictured with a crab in its mouth, amazingly it managed to eat that little crab whole...
Front Page Photograph By CINDY BALZER ©2015
(Please respect the rights of photographers, never republish or copy
without permission and/or payment of required fees.)


Ketchikan: 2014: Alaska, Ketchikan declare their 'independence' By DAVE KIFFER - 2014 was a year of political independency both statewide and locally in 2014.

Governor-elect Bill Walker was sworn in as Alaska's 13th Governor at Centennial Hall in Juneau, Monday, December 1, 2014. With Walker is Lt. Governor Byron Mallott.
Photo by Merrick Pierce, courtesy of the Office of the Governor

Statewide, Bill Walker ran as an independent for governor and won and locally, former Ketchikan High School teacher Dan Ortiz ran as an independent for state representative and won, edging out Chere Klein who was an aide to retiring District 36 representative, Peggy Wilson of Wrangell. Both Ortiz and Klein were Ketchikan residents, meaning the First City was guaranteed to have a local as its elected official again.

The other big local news story was the keel laying in December for the two new Alaska-class state ferries that will be built at the Vigor Ketchikan Shipyard over the next four years. The two ships – day ferries that will make runs between Juneau and Haines and Skagway and elsewhere around the state – will cost around $100 million. When those ferries are completed in 2018, the state is expected to make two more Alaska-class ferries. The shipyard estimates that the Alaska class project will add more than 100 year round jobs to the community.

Another story that could have a significant future fiscal impact to the community was the Borough's lawsuit against the state of Alaska over the method for funding education. Superior Court Judge William Carey ruled in the borough's favor in November, but the state is considering whether to appeal his decision. At stake is the more than $4 million the borough spends each year funding local schools. It is the Borough's contention that all the funding should come from the state, but the state says that meeting that requirement would add more than $250 million to the state budget.

The year began with a downtown house fire that destroyed three homes on historic Edmonds Street.

Former councilmember Dick Coose was appointed to fill a seat on the City Council. Tom and Mary Schultz were named citizens of the year by the Greater Ketchikan Chamber of Commerce and two Good Samaritans were credited with helping rescue a man who fell off the dock while talking on his cell phone.

In February, Governor Sean Parnell visited Ketchikan and issued a not so veiled threat, tying state capital funding to the education funding lawsuit which had been filed in January. Parnell later said he was not "threatening" the community and that his remarks were misinterpreted. No local projects were vetoed by the Governor and he later held one of his four statewide Governor's picnics in Ketchikan. - More...
Saturday PM - January 03, 2015

Fish Factor: 2014 Retrospective, Fishing Notables, Fish Picks and Pans By LAINE WELCH - Alaska still has its share of naysayers who will quibble about the seafood industry's importance to our great state. They dismiss the fact that fishing was Alaska's first industry and was fish that spawned the push to statehood.

"The canned salmon plants started in the 1870s and by the early 20th century, canned salmon was the largest industry and generated 80% of the territorial tax revenues. It had a position in the state economy that oil enjoys today," said fisheries historian Bob King.

The fisheries that Alaska inherited from the federal government at statehood in 1959 were in bad shape. That year the salmon catch of 25 million fish was the worst since the turn of the century, and total seafood production was just 324 million pounds. In contrast, salmon catches today often top 200 million fish, and more than five billion pounds of seafood cross the Alaska docks each year.


Here are fishing notables from 2014, in no particular order, followed by my annual 'fish picks and pans':

Alaska claimed the nation's top three fishing ports for seafood catches last year: Dutch Harbor, Kodiak and Akutan.

The 2014 salmon harvest totaled 157 million fish with a dockside value of nearly $577 million. That's 116 million fewer salmon than last year, and a $113 million drop in value.

Prince William Sound squeaked by the Panhandle to claim the year's highest salmon catch at 49.35 million fish – topping Southeast's landings by just 103,000 salmon.

Bristol Bay's sockeye catch of 28.8 million was 61% higher than expected and rang in at nearly $193 million at the docks. Fish forecasters said in 2015 Bristol Bay can expect the largest red run in two decades - 54 million with a harvest of 38 million.


Norton Sound fishermen also saw a nice salmon payday from one of the best chum harvests in 25 years, plus the fourth best for silvers and the highest price in the state at $1.60/lb. Chums from the AYK regions fetched some of the highest prices at $.55 - $.60/lb.

Salmon permits in many fisheries tripled in value since 2002. By mid-year Bristol Bay driftnet permits were listed by brokers at $150,000 to $170,000, compared to $90,000 in January. Southeast Alaska seine permits were the priciest in the state topping $300,000.

Scientists discovered that crabs can hear through a small sac at the base of their antennae. Even more exciting, they found clues to determining crabs' ages - parts of the crab stomach and eye stalks remain after molts and show bands similar to rings in a tree. It means that for the first time managers will soon know for sure how fast crabs grow, a key factor in stock assessments.

Shrimp remained as America's top seafood favorite, but salmon bumped canned tuna to take over the second spot. Each American ate 2.7 pounds of salmon, a 34% increase in one year.

The pollock biomass in the Bering Sea more than doubled its ten year average to top 20 billion pounds, and the stock is healthy and growing. (The allowed catch is around 3 billion pounds.)

A first lawsuit challenged a new law designed to clamp down on hired skippers fishing the halibut and sablefish quota shares owned by others. The rule took effect December 1; it bans using a hired skipper to harvest any quota acquired after Feb. 12, 2010.

A massive tailings dam breach at the Mt. Polley gold/copper mine fouled lands and waters for miles in neighboring British Columbia. That began an uproar downstream at Southeast Alaska, where five huge mines are planned near watersheds that feed into some of the region's most productive salmon rivers. Canadian officials rejected calls from Southeast and Alaska Senators for more thorough environmental reviews. - More...
Saturday PM - January 03, 2015



Science: Science's top 10 breakthroughs of 2014; Rosetta results and comet landing highlight of the year - The Rosetta spacecraft caught up with the comet known as 67P/ Churyumov-Gerasimenko beyond Mars this August, and its preliminary results--along with the studies it will allow in the near-future--top this year's list of the most important scientific breakthroughs, according to the editors of Science.

BREAKTHROUGH OF THE YEAR
Landing on a comet
NASA Image

This annual list of groundbreaking scientific achievements, selected by Science and its international nonprofit publisher, American Association for the Advancement of Science, also includes groundbreaking advances in medicine, robotics, synthetic biology, and paleontology, to name a few.

Rosetta and its lander module, known as Philae, made major headlines in November when Philae touched down on the surface of the speeding comet. Even though the landing was rougher than expected--Philae bounced off the unforgiving surface of 67P and came to rest on its side, quite a distance from its target--it was nonetheless the first-ever soft landing on a comet. And the data from these two space probes are already shedding new light on the formation and evolution of such comets.

"Philae's landing was an amazing feat and got the world's attention," said Tim Appenzeller, news editor of the journal Science. "But the whole Rosetta mission is the Breakthrough. It's giving scientists a ringside seat as a comet warms up, breathes, and evolves." - More...
Saturday PM - January 03, 2015

Press Freedom: More Lowlights Than Highlights for Press Freedom in 2014 - The year 2014 saw more regression than progress in the cause of press freedom and transparency, according to a year-end review by the National Press Club's Press Freedom Committee.

"While December saw flickers of progress for press freedom, the year mostly saw backsliding worldwide," said NPC President Myron Belkind. "Let's hope 2015 brings more respect for human rights in general and in particular for the right of the press to report freely on what people everywhere need to know."

On the plus side, the Justice Department decided in December it would stop its long campaign to force New York Times reporter James Risen to reveal a confidential source. That same month, an appellate court overturned a lower court ruling that would have forced Joseph Hosey, a Patch.com reporter in Illinois, to identify an anonymous source. The National Press Club had honored both men with John Aubuchon Press Freedom Awards.

However, that positive end to 2014 should not belie how repression of journalism only grew in 2014.

Consider, first of all, that 66 journalists were killed as they merely did their jobs, according to Reporters Without Borders. The Islamic State's beheading of James Foley and Steven Sotloff were two of the more gruesome and notorious cases, but there were so many others.

In addition, 119 journalists were kidnapped and 178 imprisoned, Reporters Without Borders found. China and Iran continue to lead the world in the jailing and mistreatment of reporters. But American allies, too, have drawn criticism for assaults on the press. Turkey has cracked down on free expression and recently detained numerous journalists with seemingly trumped up allegations. Egypt still holds three Al Jazeera journalists in jail, among other reporter detainees. U.S. freelancer Austin Tice has been detained in Syria since 2012. - More...
Saturday PM - January 03, 2014


Columns - Commentary

DAVE KIFFER: Casting Call: Wetnecks! - Word from the Mad Zoo enclave of Wasilla is that "Slednecks" is no more.

What, you missed it?

It was only on for a couple of months. If it had been a MatSu/Parks Highway community, you would have missed it with a sneeze.

But wait, you say, it was based in Wasilla, which is not such a small town?

That is true, but once you take away the great media klieg light glow around the Palin Compound, it is possible to sneeze past Wasilla as well.

Especially if you are not counting Boxville/Automile as a part of the actual town.

Anyway, "Slednecks" was described, in a rare favorable review, as "Jersey Shore on Ice."

Which is not to be confused with "Disneyland on Ice" although the similarities are striking.

There were all sorts of helpless princesses and lame brained princes in both programs. As well as lots of "Frozen" water making any remaining wisps of reality dangerously slippery and prone to cracking. - More...
Saturday PM - January 03, 2015

MONEY MATTERS:

SHOULD YOU RETIRE EARLY? By MARY LYNNE DAHL, CFP® - I am often asked to help someone decide when to retire. The question revolves around an estimate of how much income will be available when the individual stops working for wages. For many people, this is new territory and can be pretty scary. I can see why, because many people are guessing at the numbers. And, guessing is risky!

Recent studies and surveys show a disturbing trend in the US. The center for Retirement Research at Boston College reports that their own estimates indicate that 53% of Americans will not have enough money in retirement to maintain their standard of living. According to Alicia Munnell, co-author of Falling Short: The Coming Retirement Crisis, who is the director of the center and a former member of the President's Council of Economic Advisers and spent 20 years on the Federal Reserve Bank of Boston, the public is unprepared for retirement. I am inclined to agree with her.

Repeatedly, I talk with people in their 40's and 50's who state that their goal is to retire early. When I ask why, the responses I get are things like "I want to enjoy myself doing things before I am too old to do them" or "I have worked at this job for 28 years and get no satisfaction from it, so I want out as soon as possible". This is understandable, but not a plan that is based on rationale thinking. Instead, those responses are based on emotion, which is a big red flag when it comes to making important money decisions. - More...
Saturday PM - January 03, 2015




POLITICAL CARTOON: JUSTICE FOR ORANGUTANS
By Taylor Jones, El Nuevo Dia, Puerto Rico
Distributed to subscribers for publication by Cagle Cartoons, Inc.




Real Time U.S. Debt Clock
http://www.usdebtclock.org/

U.S. Inflation Calculator
Easily calculate the buying power of the US dollar & inflation rate from 1913-2014

U.S. Energy Info. Admin.
Heating Oil & Propane Update

Public Service Announcements
Public Meetings & Info

KGB Animal Protection

Ketchikan Borough Assembly

Live video stream of current meeting
Archived videos
Agenda and Information Packets
Assembly Meeting Minutes
Borough Records
Calendar

Ketchikan Planning Commission

Live video stream of current meeting
Agenda, Information Packets & Minutes

Ketchikan City Council

View a Video of Meeting
Agenda & Information Packets

Ketchikan School Board

Live video stream of current meeting
Agenda & Information Packets


Gravina Access Project SEIS Alternatives Development

Gravina Access Website

Police Blotters

AK Troopers Daily Dispatch
Ketchikan Police Reports
Juneau Police Reports

Ketchikan

Jobs
Today's Forecast
Satellite
Today's Weather Images
Marine Forecasts
AK Weathercams
Ketchikan Weather Data
Current AK Weather Map




CLASSIFIEDS' CATEGORIES

Announcements
Help Wanted
Job Wanted
For Sale / Free Stuff
Garage Sales
Homes / Apts/ Property
Pets
Wanted
Lost & Found
Publish Your Ad

Front Page Archives
Letter Archives
October - Dec. 2014

| | | | | | | |
| --- | --- | --- | --- | --- | --- | --- |
| S | M | T | W | T | F | S |
| | | 30 | 01 | 02 | 03 | 04 |
| 05 | 06 | 07 | 08 | 09 | 10 | 11 |
| 12 | 13 | 14 | 15 | 16 | 17 | 18 |
| 19 | 20 | 21 | 22 | 23 | 24 | 25 |
| 26 | 27 | 28 | 29 | 30 | 31 | 01 |
| 02 | 03 | 04 | 05 | 06 | 07 | 08 |
| 09 | 10 | 11 | 12 | 13 | 14 | 15 |
| 16 | 17 | 18 | 19 | 20 | 21 | 22 |
| 23 | 24 | 25 | 26 | 27 | 28 | 29 |
| 30 | 01 | 02 | 03 | 04 | 05 | 06 |
| 07 | 08 | 09 | 10 | 11 | 12 | 13 |
| 14 | 15 | 16 | 17 | 18 | 19 | 20 |
| 21 | 22 | 23 | 24 | 25 | 26 | 27 |
| 28 | 29 | 30 | 31 | 01 | 02 | 03 |

More Front Page Archives & Letters


Viewpoints
Commentary
Opinions/Letters
Basic Rules &
Freedom of Speech

Questions, please contact the editor at editor@sitnews.us or call 617-9696
Sitnews reserves the right to edit.

Local food systems needed By Garrett Collins - If we are going to spend billions every year on health care and food assistance programs, then we need to start investing more of that money into sustainable projects that are nearly free or can pay for themselves over time. Community farms on every block would boost every local economy in this country. - More...
Saturday PM - January 03, 2015

Support for Local Nurses By Susan E. Walsh - The nurses at PeaceHealth Ketchikan Medical Center have reached the end of our agreement and are attempting to bargain a new contract with the hospital. We are asking for the support of our community as we attempt to ensure excellent patient care in a positive work environment by improving nurse retention & recruitment. - More...
Thursday PM - January 01, 2015

An Open Letter to the Ketchikan City Council By Teri J. Wilson - I am sick to death of Ketchikan trying to get rid of smokers? We are not the problem here, and I resent any more taxes on cigarettes. - More...
Thrusday PM - January 01, 2015

RAMP at Bugge Beach By Janalee Minnich Gage - A funny thing happened on the way to the grocery store last July. I of course found a few individuals who tirelessly spend half their June sitting at Safeway selling Duck Race tickets for the big 4th of July Race, and of course I buy one or two tickets. I have a drawer full of raffle tickets, my Vegas in Ketchikan, good thing we don't have quarter machines in Ketchikan. I have to say it was marvelous feeling when they asked about my thoughts on the new stairs that access Bugge Beach, AKA Rotary Beach. Sorry maybe this is politically incorrect but this beach will forever be Bugge Beach to me, I can never bring myself to call it anything else. I mean no disrespect, and this letter is in appreciation for what the Rotary club has done, both noticed and gone unnoticed by the public, including keeping and improving the beach year after year. - More...
Thursday PM - January 01, 2015

Ketchiikan gasoline prices By David Rosendin - My recollection is that the last time gasoline prices radically dropped that never happened in Ketchikan until a couple of dozen folks decided to protest and went to the intersection of Tongass Avenue and Jefferson Streets and started singing songs and carrying signs. - More...
Thursday PM - January 01, 2014

A taking of exception By Alan R. (Rudy) McGillvray - Yes folks, I take exception to the cartoon published on SitNews today the 17th of December depicting a Bull sitting on the Capitol Dome of the USA. Now that we have Republicans in charge of the Congress, perhaps we can get some business done, but Wall street is no friend to Republicans. They have always (at least in recent memory) always donated more money to the Dem/Liberal wing of the Congress. (If you don't believe me, look it up.) - More...
Thursday PM - January 01, 2014

Thank you to the Christmas Carolers By Susan Cody - It was awesome to hear Christmas carolers on Christmas Eve night. Thank you for spreading your holiday cheer in the Millar Street neighborhood. - More...
Thursday PM - January 01, 2014

VA Abuse By Tamela Cegelske - The VA investigation turned out to be systematic abuse with at least one higer level eschelon executive taking a six month paid leave. What do people think about our lawmakers writing laws to protect the tax payer from waste so that people who take advantage of the system get charged minimally with theft, or misappropriation, if not treason in the VA case? It seems like there are a lot of laws written for the average citizen but these people in higher government jobs that take advantage of the taxpayer never get prosecuted. - More...
Thursday PM - January 01, 2014

Share the road By Lisa Krieger - I have to agree with Michael McColley. For such a small community, I do not see many courteous drivers. To each their own is what I get. Driving through McDonald's to get my morning coffee, even in line a person is right on my bumper and would not give me space. - More...
Thursday PM - January 01, 2014

Retired? Congress Just Allowed CUTS In Your Pensions By Wiley Brooks - If you are retired and a recipient of a pension plan or have love ones who are, you may want to watch this video. THIS IS ANOTHER EXAMPLE OF HOW LOBBYIST INSERT PROVISIONS INTO TAX LEGISLATION TO BENEFIT SPECIAL INTEREST. Many we elect to the Congress do not understand the tax legislation they vote for. But you can bet that many within the 20,000 lobbyist army who prey on Washington do. Let's scrap the income tax system and the 75,000 pages of regulations rife with special interest. - More...
Thursday PM - January 01, 2015

Drugs and Unemployment By Justin Capps - I kinda agree with a lot of people in this town about stopping the drug dealers. Also, there are other problems like people who are abusing food stamps, etc. I'm not going to mention people in this town, but I see a lot of people in Ketchikan abusing food stamps and social security money when they don't care about looking for jobs and are being lazy paying bills. - More...
Thursday PM - January 01, 2015

Webmail your letter or
Email Your Letter To: editor@sitnews.us

---

Articles & photographs that appear in SitNews may be protected by copyright and may not be reprinted or redistributed without written permission from and payment of required fees to the proper sources.

E-mail your news & photos to editor@sitnews.us

Photographers choosing to submit photographs for publication to SitNews are in doing so, granting their permission for publication and for archiving. SitNews does not sell photographs. All requests for purchasing a photograph will be emailed to the photographer.

The Local Paper is now available online.
Click here for this week's printed edition.