Year in Review
2014: Alaska, Ketchikan declare their 'independence'
By DAVE KIFFER
January 03, 2015
Saturday PM

Ketchikan, Alaska - 2014 was a year of political independency both statewide and locally in 2014.
Statewide, Bill Walker ran as an independent for governor and won and locally, former Ketchikan High School teacher Dan Ortiz ran as an independent for state representative and won, edging out Chere Klein who was an aide to retiring District 36 representative, Peggy Wilson of Wrangell. Both Ortiz and Klein were Ketchikan residents, meaning the First City was guaranteed to have a local as its elected official again.
Governor-elect Bill Walker was sworn in as Alaska's 13th Governor at Centennial Hall in Juneau, Monday, December 1, 2014. With Walker is Lt. Governor Byron Mallott.
Photo by Merrick Pierce, courtesy of the Office of the Governor

The other big local news story was the keel laying in December for the two new Alaska-class state ferries that will be built at the Vigor Ketchikan Shipyard over the next four years. The two ships – day ferries that will make runs between Juneau and Haines and Skagway and elsewhere around the state – will cost around $100 million. When those ferries are completed in 2018, the state is expected to make two more Alaska-class ferries. The shipyard estimates that the Alaska class project will add more than 100 year round jobs to the community.
Another story that could have a significant future fiscal impact to the community was the Borough's lawsuit against the state of Alaska over the method for funding education. Superior Court Judge William Carey ruled in the borough's favor in November, but the state is considering whether to appeal his decision. At stake is the more than $4 million the borough spends each year funding local schools. It is the Borough's contention that all the funding should come from the state, but the state says that meeting that requirement would add more than $250 million to the state budget.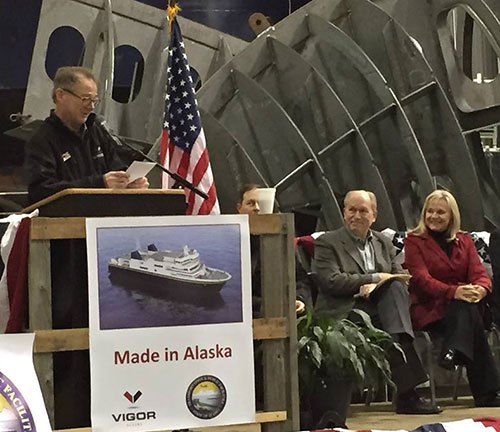 At the podium is Doug Ward, Vigor Alaska's Director of Shipyard Development; seated are Alaska Governor Bill Walker and First Lady Donna Walker.
Photo courtesy Gov. Bill Walker

The year began with a downtown house fire that destroyed three homes on historic Edmonds Street.
Former councilmember Dick Coose was appointed to fill a seat on the City Council. Tom and Mary Schultz were named citizens of the year by the Greater Ketchikan Chamber of Commerce and two Good Samaritans were credited with helping rescue a man who fell off the dock while talking on his cell phone.
In February, Governor Sean Parnell visited Ketchikan and issued a not so veiled threat, tying state capital funding to the education funding lawsuit which had been filed in January. Parnell later said he was not "threatening" the community and that his remarks were misinterpreted. No local projects were vetoed by the Governor and he later held one of his four statewide Governor's picnics in Ketchikan.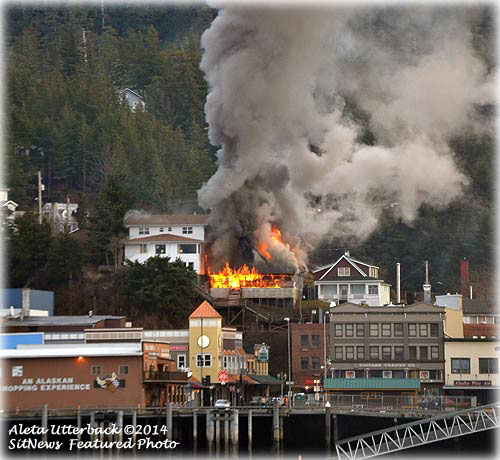 Shortly after 10 AM Saturday morning, a downtown residential fire claimed a home at 341 Edmonds Street belonging to Vanessa Robertson who reportedly was not home at the time.
Photograph By ALETA UTTERBACK ©2014

The Kayhi wrestling team won its sixth straight Southeast Title and seven local wrestlers were crowned regional champions. Later in the year, four Ketchikan wrestlers finished either first or second in the state. Marcus Martin and Nate Fousel won state titles in 2014.
Amid much controversy, the Ketchikan City Council voted in February to raise the local sales tax by one half of a percent, pushing the combined borough and city sales tax to 6 percent.
Local resident Stephen Cook was sentenced to three years in jail after pleading guilty to criminally negligent homicide. Cook killed his longtime friend Thomas Guthrie with a chokehold while play wrestling. Alcohol was involved.
Controversy erupted at Ketchikan Indian Community in March when five members of the Native group's education resigned at once.
The Ketchikan High School girls basketball team won the Southeast Alaska regional title in 2014.
Adding chloramine to the local water supply was a controversial act by the Ketchikan City in March. More than 300 residents turned out to a public meeting opposing the action and later filed a petition with 600 signatures to stop the chloramine program, but the petition drive was ruled invalid and the city went ahead.
In May, Ketchikan enjoyed its first carnival in more than a decade, as a traveling carnival camped out in the Plaza Port West parking lot for a week, featuring rides, carnival games and other treats.
A total of 114 students graduated from Ketchikan High School in May, with an additional 20 graduates from Revilla Alternative School and 25 graduates from the University of Alaska – Ketchikan.
Ada Hu, a student at Tongass School of Arts and Sciences was honored for nearly perfect attendance over the past seven years. Hu missed a single day, after teachers sent her home after determining she was too sick to attend.
In June, Rick Forrester won the the Ketchikan salmon derby with a 42 pound king salmon and the Kayhi girls softball team finished second in the state tournament, losing to Juneau in the state finals for the second straight year.
Local United Parcel Service driver Tom Fowler was honored by UPS as the first Alaskan Driver in itsCircle of Honor, 25 years without a driving accident.
In July, the community suffered through a series of power outtages. Ketchikan Public Utilities blamed several of the outtages on ravens and eagles straying too close to power lines. A historic Saxman totem pole, the Seward pole, was damaged by carpenter ants and had to come down.
Local wildlife biologists were busy investigating both rabid bats on Prince of Wales Island and a dead sea lion that turned up on a beach in Ketchikan.
Concern was expressed by local port officials that a possible gun rights demonstration could run afoul of Federal rules that prevent firearms at the cruise ship docks. Cruise lines also expressed concerns about the demonstration and it didn't take place.
Also during the summer, a controversial Canadian mine just across the border from Misty Fjords got the go ahead.
The State Troopers announced that drivers on North and South Tongass Highways will be required to have headlights on at all times and the City of Ketchikan decided not to ban fishing from local bridges in the city.
A regional high school cross country meet at Ward Lake was temporarily interrupted when a black bear decided to make an appearance on the race course.
Controversy struck the Kayhi athletic department in the fall when an end of season football game was cancelled and a dispute arose over a rescheduled game, which led to a protest by the team and the firing of the coach, Les Silva. Team members and parents called for the firing of athletic director Ed Klein.
Local elections were held in October.
Former Borough Mayor Dave Kiffer was elected to a seat on the Ketchikan City Council as were Dick Coose and KJ Harris. Former Borough Assemblyman David Landis was elected the new Borough Mayor and Glen Thompson, Mike Painter and John Harrington were elected to seats on the Borough Assembly. Glenn Brown and Michelle O'Brien were elected to seats on the Ketchikan school board. Joseph Thomas and Woodrow Watson were elected to the Saxman City Council. Metlakatla elected its first female Mayor, Audrey Hudson.
In November, a Ketchikan man, Ralph Smith, set fire to his home and then died inside.
The Ketchikan Coast guard base received two new $2 million 45-foot medium response boats. Construction continues on base expansion for two new 154-foot fast response cutters due in 2016.
Ketchikan fishery value and landings for 2013 were reported highter than the previous year. Ketchikan placed placed 12th nationally in landings and 11th in value. A total of 144 million pounts were landed with a value of $76 million.
Ketchikan had a hurricane force storm as winds hit 92 mph on Nov. 5 and salt water spray caused several substation power outtages.
Ketchikan also has a rare northern lights display on November 16-17.
And for the first time since 2007, both Kayhi boys and girls basketball teams were the champions of the Clarke Cochrane Christmas Classic on December 31st.
Rest In Peace
Dennis Skan, 57, longtime local contractor, Dec. 6
Larry Johnson, Sr, 83, longtime Saxman resident, Dec. 9
Richard Nix Sr, 84, longtime fisherman and logger, Dec. 24
Ernie Waddell, 82, longtime pulp mill worker and tour operator, Dec. 25
Frederick Williams Sr, 80, long time Metlakatla fisherman, Jan. 1
Anne Dundas, 99, lifelong Metlakatla resident, Jan. 1
Darrell Reeve, 70, longtime Ketchikan residen, Jan. 2
Russell Walker, 82, former Ketchikan municipal attorney, Jan. 3
Regina Frank, 81, longtime Hydaburg resident, Jan. 4
Shirley Carlin, 82, longtime local businesswoman, Jan. 6
Sandy Bohannon, 66. Longtime Ketchikan resident, Jan. 10
Claude Hunskor, 86, five time state champ Kayhi basketball coach, Jan. 10
James Dundas Sr, 91, lifelong Metlakatla resident, Jan. 11
Billy "Burnsie" Burns, 92, former Ketchikan public works superintendent, Jan. 11
Alice Modig, 59, longtime Native culture proponent, Jan. 12
Andrea McGilton, 63, lifetime resident of Metlakatla, Jan. 16
Caroline Hedges, 63, 40 year resident of Coffman Cove, Jan. 17
Bill Dodson, 66, longtime resident of Edna Bay, Jan. 8
Ken Elie, 53, lifelong Ketchikan resident, Jan. 22
Lydia Park, 68. 55-year resident, Jan. 28
Keith Stigen, 85, longtime Southeast pilot, Jan. 28
Louis Thompson, 77, former President of KAVILCO, Jan. 8
Hope "Mickey" Lewis, longtime local cook, Feb. 1
Lisa Topping, 87, 55 year resident of Ketchikan, Feb. 10
Irene Lloyd, 90, longtime job service employee, Fed. 4
Penny Cusack, 74, longtime local nurse, Feb. 8
Jim Ault, 67, commercial harvest diver, Feb. 21
Robert Dawson, 80, heavy equipment operator, Feb. 23
Lois Benscoter, 80, longtime resident, Feb 25
Robert Lewis, 79, longtime logging camp cook, Feb. 26
Doug Burrous, 58, longtime local mechanic, Mar. 4
Art Settje, 100, local horse wrangler and cleaning business owner, Mar. 4
Bruce Guthrie Sr. 73, former Metlakatla harbormaster, Mar. 15
George Gucker, 85, retired District Court Judge, March 16
Margaret Ward, 64, lifelong Saxman resident. Mar 17
Jerry Berkey, longtime Prince of Wales logger and road builder, Mar 17
Shirley Turner, 80, lifelong resident of Metlakatla, March 19
Bernice Moore, 82, longtime Ketchikan schools secretary, March 24
Delma "Dolly" Yeltatzie Edenso, 80, longtime Native leader, Mar. 28
Phil Meredith, 61, longtime Ketchikan firefighter, Mar 31
Mary Ruth Hert, 84, longtime Ketchikan librarian, Apr. 1
Mark Cooley, 55, former Ketchikan business owner, Apr. 9
Charles Solomon, 94, longtime local logger, Apr. 10
Esther Brown, 53, thrift store worker, Apr. 10
Davis Barrett, 64, a longtime area purse seiner, Apr. 12
Florence Prose, 90, lifelong Metlakatla resident, Apr. 14
Janette Powers, 85, long time church pianist, Apr. 15
Diane Gore, 80, Ketchikan native and Navy Captain, Apr. 17
Bruce Brink, 79, longtime area logger, Apr. 18
Donald Peterson, 64, lifelong resident, fisherman, Apr. 22
Kenneth Dundas, 58, lifelong Metlakatla resident, April 28
Randy Alsup, 53, longtime grocery store manager, April 30
Michael Stewart, 79, former Ketchikan doctor, May 1
Rayette Hackstock Whetham, 67, lifelong Ketchikan resident. May 2
Dick Leary,56, longtime timber executive, May 5
Gertrude O'Bryan, 88, longtime owner of Family Furniture, May 7
Cheryl Bell, 59, longtime Ketchikan resident, May 14
Lynn Dohm, 92, former Ketchikan teacher, May 14
Ernie Anderes, 85, lifelong resident and owner of Anderes Oil, May 17
Val Strassel, 54, former construction supervisor and salmon derby winner, May 23
Juanita Fisher, 69, longtime Kasaan resident, May 23
Donna Mood, 80, longtime Ketchikan resident, May 26
Hugh Hartley, 76, longtime mill worker, fisherman and fireman, May 30
Emily Verney, 42, life long resident of Metlakatla, June 8
Arlene Haven, 86, a nearly life-long resident of Metlakatla, June 11
Anna Starr, 86, 48-year resident of Ketchikan, June 11
Chris Root-Stidd. 48, former Ketchikan teacher, June 12
Martin Perez Sr. 96, Chief of the Hoots Kudee Hit of the Saanya Kwan, June 15
Norma Anderson, 98, longtime Craig postmistress, June 16
Robert Corbett, 93, fifty year resident and ferry worker, June 23
Harry Lewis, 76, longtime logger and mechanic, June 26
Phyllis Edenso, 65, Craig and Saxman resident, June 26
Heidi Germain, 45, lifelong Ketchikan resident, June 24
James Branda, 73, logger and boat aficionado, June 30
Donald Hoff, Jr, 61, commercial fisherman and former City Vice Mayor, July 7
John Grainger, 94, 70 year resident and local publisher, July 7
Rocky Jones 58, 25 year resident, July 7
Chester "Corky" Stewart, 76, longtime mill worker and fisherman, July 9
Cesar Gabor, 54, long time Ketchikan resident, July 10
Ramona Ferry, 78, wife of former city mayor and businesswoman, July 14
William "Billy" Belt, 58, longtime local contractor, July 15
Don L. Scruggs, 86, 30 year pulp mill employees, July 15.
David Pitcher, 66, lifelong resident and fisherman, July 18
Jack Pesterfield, 78, long time logger, July 22
Greta Weston, 82, lifelong Ketchikan and Metlakatla resident, July 25
Walter "Moose" Johnston, 63, lifelong POW and Ketchikan resident, July 28
Joe Lewis, 83, longtime fisherman, July 28
Michael Zelensky, 58, Ketchikan attorney and outdoorsman, Aug. 2
Laurel Bengaard, 69, longtime Ketchikan resident, Aug. 4
Fay Freeman, 97, 68 year resident of Ketchikan, Aug. 4
Bob Jimenez, 55. Prince of Wales paramedic, Aug 4
Tony Vaughn, 57, longtime Thorne Bay resident, Aug. 11
Karl Steward, 86, former Borough Mayor, Aug. 11
Susan Wall, 58, recreation programmer, Aug. 18
Guy Mason, 87, logger/carpenter, Aug. 19
Carmen Credito, 79, longtime resident, Aug. 21
Aracell Seludo, 89, longtime Ketchikan resident Aug. 26
Stella Walker, 70, owner of Homestead apartments, Sept. 1
Andrew Thompson, 86, fisherman and 84 year Ketchikan resident, Sept. 5
Alan Grundy, 61, longtime area forester, Sept. 5
Calvin Anderes, 90 owner of Anderes Oil, Sept. 8
Leilah Anderes, 84, dance school owner, Sept. 12
Frieda Damus, 92, lifelong Metlakatla resident, Sept. 13
Diane Szurleys, 63, 25-year Ketchikan resident, Sept. 13
Stanley Rhodes, 81, owner Lighthouse Marine Repair, Sept. 19
Christine Edenso, 70, Ketchikan homemaker, Sept. 22
Anne Caskey, 73, longtime local nurse, Sept. 27
Leon Snodderly, 85, longtime Ellis and Alaska Air pilot, Sept. 27
Benjamin James Sr, 87, lifelong Southeast fisherman, Oct. 13
Robert "Rod" Davidson, 68, longtime forrester, Oct. 21
Imelda Mitchell, 92, 47 year resident, Oct. 26
Melanie Barrett, 71, former Saxman city manager, Oct 31
Royle Snodderly, 60, longtime Alaska Airlines mechanic, Nov. 5
Lucille King, wife of former Borough chairman, 96. Nov. 10
Bertha "Bert" Johnson, 87, longtime Metlakatla and Ketchikan resident, Nov. 16
Hazel Snapp, 70, lifelong Metlakatla and Ketchikan resident, Nov. 17
Wesley Williams, 91, longtime longer and ferry system worker, Nov. 24
Tonya Vonda, 44, lifelong Hydaburg and Ketchikan resident, Nov. 27
Todd Sybesma, 52, longtime Ketchikan resident, Dec. 7
Philip Nehl, 59, longtime local fisherman, Dec. 10
Clarence "Kelly" Foss, 101, tugboater and baseball coach, Dec. 13
Rodney Reno, 68, VFW state commander, Dec. 17
A.J. Dennis, 77, owner of Lind Printing, Dec. 18
Jason Milne, 40, lifelong Metlakatla resident, Dec. 22
The year in Weather
The coldest day in 2014 was March 4, at 10 degrees

The warmest days were July 12 and 13 both at 79 degrees. They were part of Ketchikan's yearly "hotspell." From July 10 to July 16, there were seven straight days of temperatures above 70 degrees.

The windiest day was the "hurricane" of Nov. 5, when the gusts of 92 mph were recorded, but the day with the highest average speed was March 11 at 24.8 mph.

The longest streak of consecutive wet days was 38, from September 17 through October 24. The longest "dry spell" was eight days from February 2 to February 9.

Eleven days in 2014 qualified as especially wet, even by Ketchikan standards:

Jan. 1st -- 3.62 inches
Jan. 14th -- 3.21 inches
March 11th -- 5.20 inches
April 7th -- 4.67 inches
May 2nd -- 3.17 inches
June 22nd -- 5.45 inches
August 9th -- 4.50 inches
August 10th -- 3.17 inches
Sept. 27th -- 5.76 inches
Sept. 28th -- 3.70 inches
Nov. 1st -- 3.61 inches

Monthly precipitation totals were ( total days with precipitation each month):

Jan. 14.41 (23)
Feb. 4.01 (13)
Mar. 16.21 (20)
Ap.r 21.21 (26)
May 6.06 (16)
Jun. 12.25 (19)
Jul. 12.89 (21)
Aug. 14.02 (19)
Sep.t 17.81 (22)
Oct. 22.42 (30)
Nov. 15.05 (20)
Dec. 15.76 (27)

Total rainfall for 2014: 172.10 inches
Total days with precipitation in 2014: 256

Weather Superlatives:

10 days in 2014 set alltime records for their dates as either the warmest, coldest or wettest days on their date in history

Two days set all time warmth records.

Jan. 23 was the warmest 1/23 on record at 51 degrees.
December 7th was warmest 12/7 on record at 54 degrees.
Eight days in 2014 set all time precipitation records:
March 7, the wettest 3/7 at 2.38 inches

March 11, the wettest 3/11 at 5.20 inches

March 15, the wettest 3/15 at 2.14 inches

April 7, the wettest 4/7 at 4.67 inches

May 22, the wettest 5/22 at 3.17 inches

June 22, the wettest 6/22 at 5.45 inches

Aug. 9, the wettest 8/9 at 4.50 inches

Aug 29, the wettest 8/29 at 1.98 inches


On the Web:
Columns by Dave Kiffer

Historical Feature Stories by Dave Kiffer
Dave Kiffer is a freelance writer living in Ketchikan, Alaska.
Contact Dave at dave@sitnews.us
Dave Kiffer ©2014

E-mail your news & photos to editor@sitnews.us


Publish A Letter in SitNews Read Letters/Opinions
Contact the Editor
SitNews ©2014
Stories In The News
Ketchikan, Alaska

Articles & photographs that appear in SitNews may be protected by copyright and may not be reprinted without written permission from and payment of any required fees to the proper sources.