'Sailing'
Front Page Photo by Carl Thompson
Ketchikan: Education Department Releases Statewide School Performance Status - Alaska Education Commissioner Roger Sampson on Friday released a preliminary list of schools that did not meet all the Adequate Yearly Progress (AYP) targets of the federal No Child Left Behind Act, the most sweeping school reform legislation in our nation's history.
This year, statewide 292 schools made AYP targets and 203 did not make AYP out of a total of 495 schools. Last year 290 schools met AYP out of 497 schools; 207 schools did not make AYP.
Based on 2004-2005 data, of the ten schools in Ketchikan, seven met Adequate Yearly Progress according to the state's preliminary list . They are the Ketchikan Charter School, Ketchikan High School, Ketchikan Regional Youth Facility, Point Higgins School, Schoenbar Middle School, Tongass School of Arts & Sciences, and White Cliff Elementary. - More...
Saturday - August 13, 2005
Alaska: Report cards for Alaska schools show improvement By KATIE PESZNECKER - Nearly two out of three Alaska public schools met mandatory test score and attendance marks this past school year. And most that fell short just barely missed the bar, according to a statewide report issued Friday by education officials.
Preliminary numbers, reported on Friday, aren't much different from last year. But Roger Sampson, state education commissioner, said a closer look shows the academic gulf between minority and white students continues to shrink. And that's the main goal of No Child Left Behind, the federal law that demands states track schools' annual academic progress and make public the results. The law aims to have all students academically on-track by the 2013-14 school year. - More...
Saturday - August 13, 2005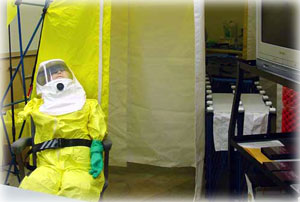 Community-wide disaster drill scheduled
Personal Protective Equipment for health care worker in decontamination situation & decontamination tent showing area for bedridden patient...
Photo courtesy KGH
Ketchikan: Community-wide disaster drill scheduled - Ketchikan General Hospital (KGH) is one of about 40 organizations to take part in the Alaska Shield/Northern Edge exercise in Ketchikan the week of August 15-19. The community-wide exercise is designed to evaluate the community's ability to respond to a terrorist attack. - More...
Saturday - August 13, 2005
National: Social Security turns 70 as Congress debates the system's future By MARY DEIBEL - When President Franklin Roosevelt signed the Social Security Act into law 70 years ago Sunday, he told Americans the system would save them from "a poverty-ridden old age."
Five years later, Ida Mae Fuller of Ludlow, Vt., cashed the first monthly Social Security check, totaling $22.54, and went on to collect more than $22,000 in benefits over 35 years before she died at 100 in 1975. - More...
Saturday - August 13, 2005
National: Court ruling jeopardizes state tax-incentive packages - To opponents, tax breaks that states and cities use to woo and win multinational companies' business are nothing short of corporate welfare and a waste of time and money that communities can ill afford.- More...
Saturday - August 13, 2005
National: Expedition casts wide Net for Bigfoot By ALEX BREITLER - Tom Biscardi is on the hunt for Bigfoot, and you're invited to join him. - More...
Saturday - August 13, 2005
Fish Factor

Laine Welch: Clock is ticking on ban on mixing zones in fish spawning streams - Alaskans will soon know if the state intends to lift its ban on mixing zones in fish spawning streams.
Mixing zones are stretches of natural water bodies used as industrial flushing tanks for mines, power companies, and sewage treatment plants. Last year saw a big push by policy makers to modify the state law and lift a long time ban on mixing zones in lakes, rivers and streams. The Dept. of Environmental Conservation (DEC) was scheduled to announce its decision last November - but since then there has not been a peep or a leak about the outcome.- More...
Saturday - August 13, 2005