Community-wide disaster drill scheduled
August 13, 2005
Saturday

Ketchikan, Alaska - Ketchikan General Hospital (KGH) is one of about 40 organizations to take part in the Alaska Shield/Northern Edge exercise in Ketchikan the week of August 15-19. The community-wide exercise is designed to evaluate the community's ability to respond to a terrorist attack.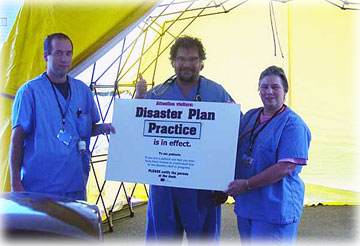 Larger decontamination tent, with Tom Day, ER Nurse,
Robert Crochelt, MD, PhD, Surgeon, Bev Crum RN, ER Manager
Photo courtesy KGH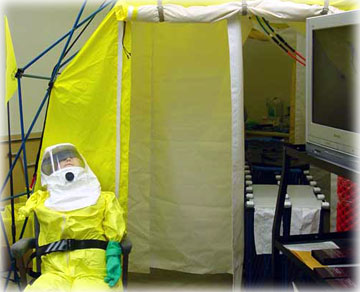 Personal Protective Equipment for health care worker in decontamination situation & decontamination tent showing area for bedridden patient...
Photo courtesy KGH

Bev Crum, RN, Manager of the hospital's Emergency Department said, "Though we will be in full drill mode on Thursday, August 18th, we also intend that it will be business as usual for our regular patients." Crum said, "Any actual patient who feels they may have been overlooked due to the drill in progress is asked to contact the front desk immediately."
Ketchikan General Hospital has received new equipment through grants from the Alaska Division of Homeland Security. These include decontamination tents which can be erected in minutes outdoors, and include the equipment necessary to decontaminate-at the rate of 20 persons per hour--both ambulatory and bed-ridden patients who have been exposed to chemicals or toxins. Hospital staff has been trained in this procedure, and will practice during the drill. Special protective gear for health care workers has been obtained as well. These include head-to-toe garb with battery powered air supply and cooling mechanism.
Ketchikan General Hospital's existing disaster plan has been modified slightly to conform to a newly mandated national model called HEICS, or Hospital Emergency Incident Command System. The intent of HEICS is to standardize emergency incident response between all hospitals, so that common terminology and job functions are used, specific functions can be activated, de-activated, and combined as needed, and hospital personnel, as they move to jobs in different hospitals throughout the country, will be able to step into disaster situations which are managed in a predictable manner.
"Though our intent is that our patients will experience care as usual during the disaster drill, we ask for everyone's patience on Thursday," said Pat Branco, CEO. "We feel--and we hope our patients and community agree--that it is extremely important for us to practice this," he said.
Anchorage, Palmer, Fairbanks and Juneau will practice similar events concurrently, and Alaska's results will have national significance in gaining understanding of how current systems work, and what problems may exist.
Source of News & Photos:
Ketchikan General Hospital
Web Site

E-mail your news & photos to editor@sitnews.us


Publish A Letter on SitNews Read Letters/Opinions
Submit A Letter to the Editor
SitNews
Stories In The News
Ketchikan, Alaska