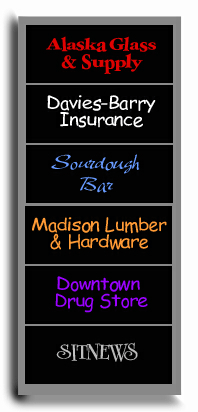 The June Allen Column
is made possible in part by these sponsors. Cick on each name to visit each web site.
June Allen Column

Betty King the Dog Lady; Ketchikan's one-woman humane society - There is an alley in downtown Ketchikan named Betty King Alley. It's a very narrow little mid-block lane that begins on Dock Street and cuts through to Mission and then to Mill Street. Mill is a comparatively new (1972) street named for the sprawling and now-gone Ketchikan Spruce Mill that buzzed and rumbled with activity at the site for some eighty years. A few years back, the previously anonymous alley was finally named. The name chosen was Daly Alley, chosen to honor one of the Spruce Mills pioneer families. It was a dubious honor, actually. And at least one member of that family may not have been delighted with the tribute. - Read the rest of this feature story by June Allen...
Wednesday - December 01, 2004

Ketchikan, Alaska - Let There Be Light! -- Citizens Light & Power and then KPU

The State Capitol and Its Marble and keeping the capital in Juneau

A Legendary Mountain of Jade; Just one of Alaska's Arctic Wonders

John Koel, Baker to Banker; An eccentric philanthropist

Harold Gillam: A Tragic Final Flight; Ketchikan remembers the search

Ketchikan's 'Fish House Tessie'; She was proud of the nickname

Fairbanks: Golden Heart City; A story of its founding

Remembering 'Swede' Risland (1915-1991);The town's most memorable logger

Read more feature stories by June Allen...

Copyright Applies - Please obtain written permission before reproducing photographs, features, columns, etc. that are published on SitNews.