Operation Christmas: Mission Accomplished
by M.C. Kauffman
December 25, 2004
Saturday

Ketchikan, Alaska - The Ketchikan Indian Community and the Boys and Girls Club of Ketchikan can say their mission to spread the joy of Christmas with at least 50 girls and boys has been successfully accomplished. Through the combined and dedicated efforts of these two organizations and through the generosity of community members, over 200 gifts were under the Giving Trees and ready to wrap by December 20th.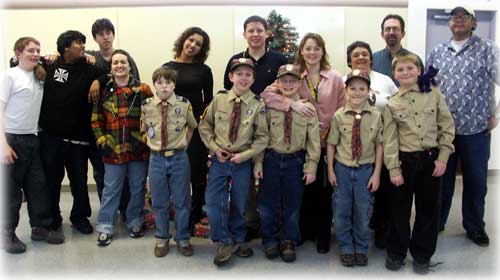 John Blackwell, Jeremy Zamora, Tyla Williams, Joel Azure, Sharyl Whitesides, Vivian Aldrich, Glen Fazakerley, Don Swink, Sean Faltz, Christy Miller, Eric Olsen, Jackson Landis, Craig DeBoar, Trevor Shaw, Ramzy Barker -- Ketchikan Indian Community Tyla Williams (IT, Media Content Specialist) Joel Azure (Housing dept., Operations Manager) Sharyl Whitesides (Social Services, Admin.Assistant) Glen Fazakerley (Social Services, Batterer's Intervention Program Facilitator) --- Boys and Girls Club John Blackwell, Jeremy Zamora, Christy Miller --- Other Volunteers Vivian Aldrich and Don Swink
Photo by Dick Kauffman

The sponsors of Operation Christmas decorated Giving Trees at various community locations with ornaments with the age and gender of underprivileged children in our community. To share the joy and love of the season with a child in need, community members selected an ornament from one of the Giving Trees and would then select a gift appropriate to the age and gender noted on the ornament. The gift was returned to one of the Giving Tree locations for "light up their eyes" distribution.
Ketchikan and Saxman are never short of people who are willing to help out one another. Among those volunteers helping with gift wrapping on Monday, December 20th, were the Boy Scouts of Pack 3, Webelos 1 &2. Dennis Olsen is the Cub Scout Master of this pack. In addition to experiencing the joy of helping others, the scouts will also receive credit towards their Citizen's Badges. The wrapping Webelos were Craig DeBoer, Trevor Shaw, Ramzy Barker, Jackson Landis and Eric Olsen. Volunteers from the Ketchikan Indian Community were Glen Fazakerley, Tyla Williams Sharyl Whitesides, Vivian Aldrich and Don Swink and members of the Boys and Girls Club helping out with wrapping included the Project Leader Christy Miller, John Blackwell and Jeremy Zamora.
These special people working together have shared the joy of giving and the joy of helping others in need. Yes, Operation Christmas has been accomplished.
Related Story:
E-mail your news & photos to editor@sitnews.us


Publish A Letter on SitNews Read Letters/Opinions
Submit A Letter to the Editor

Sitnews
Stories In The News
Ketchikan, Alaska