Operation Christmas: Share the joy of giving
by M.C. Kauffman
December 10, 2004
Friday
Ketchikan, Alaska - Share the joy! Operation Christmas is underway! Departments of the Ketchikan Indian Community and the Boys and Girls Club of Ketchikan have combined their efforts and are coordinating to strengthen the celebration of Christmas for disadvantaged youth in our community.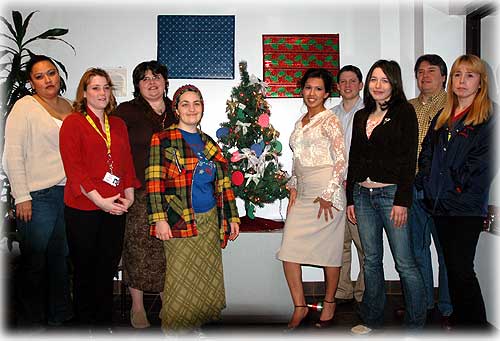 Volunteers pose for the camera after decorating one of the Giving Trees last Friday...
Pictured are: Tony Azure, Director of Boys and Girls Club; Brea Kenoyer, BGC; Christy Miller, BGC; Tyla Williams; Gerry Olmstead; Sharyl Whitesides; Alice Jackson and Janice Hulse...
Photo courtesy KIC

The mission of Operation Christmas is to provide Christmas gifts and spread the joy of the holidays with at least 50 boys and girls locally. Sponsors of the event say this mission's goal can be accomplished with your help.
The sponsors of Operation Christmas have decorated Giving Trees with ornaments with the age and gender of underprivileged children in our community. To participate in sharing the joy this holiday season with a child in need, visit one of the Giving Trees and select an ornament. After you've selected a gift appropriate to the age and gender noted on the ornament, simply return the gift to one of the Giving Tree locations and the program officials will see that the gift lights up the face of one of the many children in need this holiday season.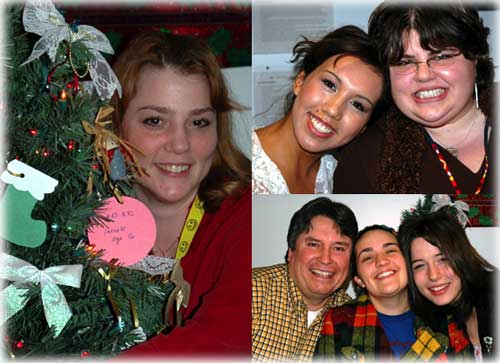 Sharyl Whitesides, Tyla Williams and Gerry Olmstead of KIC
Tony Azure, Director of Boys and Girls Club; Christy Miller, BGC and Brea Kenoyer, BGC...
Photos courtesy KIC
Giving Trees are located at the Ketchikan Indian Community lobby at 2960 Tongass Avenue and at the Boys and Girls Club of Ketchikan located at 723 Stedman behind Gas at Last. Officials of the program said donations will be accepted at both locations through December 20th and will be distributed to the boys and girls on December 22nd.
KIC and the Boys and Girls Club together encourage everyone who can contribute in any way to stop by or to contact one of the program officials:
Tyla Williams 228-5278 (KIC)
Sharyl Whitesides: 228-4917 (KIC)
Gerry Olmstead: 228-5216 (KIC)
Alice Jackson: 228-5150 (KIC)
Christy Miller: 247-4256 (Boys & Girls club)
Through mutual support and teamwork the sponsors say they believe that they will not only reach their goal, but thanks to the generosity of the people and businesses throughout Ketchikan, exceed it.
KIC and the Boys and Girls Club extended their "Happy Holidays" greetings and are looking forward to the community's help in making this program a joyful success.
E-mail your news & photos to editor@sitnews.org


Publish A Letter on SitNews Read Letters/Opinions
Submit A Letter to the Editor

Sitnews
Stories In The News
Ketchikan, Alaska