Fish Or Cut Bait
Christmas Traditions 1
by Bob Ciminel
December 25, 2004
Saturday

FLASH!
Dateline: Salt Lake City, Utah
People were stunned today to learn that the world-famous Mormon Tabernacle Choir may have lip-synched during their traditional Christmas Eve performance of Handel's "The Messiah."
Choir director Elder Abner Ebner refused to comment on the rumors. Elder Ebner would only say, "The Mormon Tabernacle Choir will prepare a formal statement regarding these malicious and totally unfounded accusations. We believe these rumors are being circulated by the well-known enemies of the Church of Jesus Christ of Latter Day Saints."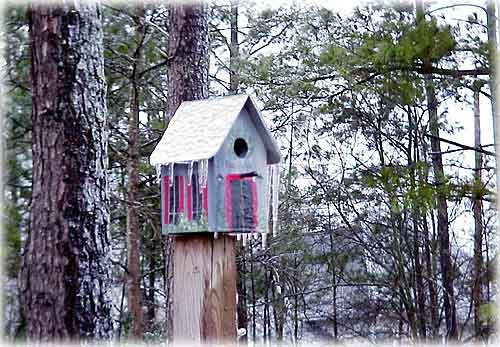 When asked specifically what CJCLDS enemies he was referring to, Ebner the Elder said, "I can't divulge any information at this time, but you know there are at least two religious denominations here in America that do not celebrate Christmas."
We pressed Elder Abner to tell us what these other denominations could possibly gain by impugning the Mormon Tabernacle Choir. Elder Ebner answered, "Well, we certainly sound better than those mullahs yodeling up there in their minarets, and we all know that there isn't a rabbi in the world who can sing anything on key, but I refuse to comment any further. All things will be revealed in due time."
This reporter spoke with former MTC tenor Tommy Tinney, who recently left the choir when members learned that he was moonlighting with a Southern Baptist church choir on Wednesday evenings.
Tenor Tinney's expulsion was a solemn affair with a ritualistic rending of his choir robe. Choir members became even more incensed when they discovered that tenor Tinney did not wear underclothing beneath his robe.
When asked specifically about the lip-synching rumors, Tommy the tenor related a most interesting tale.
It seems that as elderly choir members retired or passed away, Elder Ebner became concerned that younger choir members were not correctly pronouncing the word "hallelujah," which is repeated at least seven times in the famous "Messiah" Hallelujah Chorus, which is the most well-known piece in the Oratorio. Abner the Elder was extremely troubled because many of the singers had not taken Latin in school and thought "hallelujah" was pronounced "hal-a-luau," or "hell-a-lou-a," or "hal-o-weena."
Tenor Tinney said Elder Ebner unilaterally decided that the choir would lip-synch the lyrics to avoid embarrassment. "It probably was harder to teach the choir to lip-synch than it would have been to teach them Latin," remarked tenor Tommy.
Tinney said that Elder Ebner became so obsessed with perfecting the lip-synch that he forced choir members to spend hours upon hours watching Ashlee Simpson, Super Bowl halftime ceremonies, and Macy's Thanksgiving Day parades.




ciminel@sitnews.us
Bob Ciminel ©2001 - 2004
All Rights Reserved


Post a Comment View Comments
Submit an Opinion - Letter

Sitnews
Stories In The News
Ketchikan, Alaska