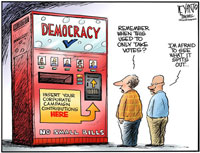 Vending Democracy
By Christopher Weyant ©2012
More cartoons...
Viewpoints
Commentary
Opinions/Letters
Basic Rules &
Freedom of Speech
Questions, please contact the editor at editor@sitnews.us or call 617-9696
Sitnews reserves the right to edit.

VP Debate By Rob Holston - CNN Wolf Blitzer, commenting on the VP debate, said one issue was "women's right to abortion." Is there anyone else out there who actually recognizes the liberal left wing position that Blitzer demonstrates with this supposedly "neutral" (CNN) comment? - More...
Monday PM - October 15, 2012

Support Rep. Peggy Wilson By Linda Koons Auger - I will be voting for Representative Peggy Wilson for House District 33 on Election Day, Tuesday, November 6th. For those of you that seem to be worried about a candidate being "LOCAL", I would say that "SENIORITY" is what you should be concerned about! Losing one House seat due to re-districting places our community and Southeast Alaska in a potentially precarious position in the Legislature. In a 40-member House of Representatives, the SENIORITY Representative Wilson brings to the table is invaluable. - More...
Monday PM - October 15, 2012

Theft By Jeff Lundberg - I must proclaim my disgust to the person who stole the donation jar from the Craig library on October 11 during business hours. - More...
Monday PM - October 15, 2012

Timely President's speech By A. M. Johnson - As a staunch conservative constitutional voting citizen who has NEVER voted Democrat for the obvious philosophical reasons allows me to suggest that a speech by this Democrat given in today's strain of Democrats would have current Democrats screeching much as finger nails on a black board to attempt shutting out the words. Doubt me? Then listen to that speech and you draw your conclusions of what the Democratic Party was and where it is today. - More...
Monday PM - October 15, 2012

The Bait-and-Switch on Alaskan Energy By U.S. Senator Lisa Murkowski - An alliance of environmental activists and Democratic politicians has spent decades blocking the efforts of Alaskans to access the rich energy resources of our state.
When Alaskans wanted to open the 1002 area of ANWR to exploration and production, opponents of progress stymied our efforts with fear-mongering and obstructionism. In so doing, they frequently pointed to the National Petroleum Reserve-Alaska in the northwest corner of the state as a preferable location for drilling. This, they argued, would protect the coastal plain of ANWR. - More...
Wednesday PM - October 10, 2012

New Trade Agreement Could Hurt U.S. Companies By Donald A. Moskowitz - The Obama administration is currently negotiating another free trade agreement, which will increase the likelihood of awarding federal contracts to foreign companies located on the Pacific Rim. Countries in Southeast Asia will benefit by the Trans-Pacific Partnership (TPP), add jobs, while the U.S. could lose more manufacturing jobs. - More...
Wednesday PM - October 10, 2012

Open Letter: Alaska Airlines & TSA By Donna Lewis - I flew to Seattle urgently due to a family emergency last Wednesday. The cost of my ticket $508.40. Being in the frame of mind that I was, I had not thought to look in my "wallet" on Alaska Air to discover that there was a 30% discount, and unfortunately since I had already booked the ticket I was not able to use that discount. I booked my flight last night to return today and used the 30% discount with this return flight. This cost was a total of $364.30. All in total, my round trip ended up costing me a total of $872.70 and that was for flying in coach. - More...
Wednesday PM - October 10, 2012

Fair Tax Plan By Roy T Newsom - The unemployment report at 7.8% with 32 days left before the election gives a false impression. Not counted were those who have stopped looking for a job, unemployment is closer to 14% with over 23,000,000 Americans unemployed or under-employed. - More...
Wednesday PM - October 10, 2012

Fair Tax By Irving B. Welchons III - Both presidential candidates are making noise about how their tax plan will help you and their opponents will harm you. Neither of them has talked about a plan that has been put before congress that would eliminate the income tax, payroll taxes and the IRS. - More..
Wednesday PM - October 10, 2012

We strengthen ourselves by voting By Ishmael Hope - In November of 1912, thirteen men and one woman gathered together in Juneau to organize the Alaska Native Brotherhood, which is now celebrating its momentous Centennial in Sitka where its first camp was organized. The Founders included Peter Simpson, Ralph Young, Frank Price, Paul Liberty, Seward Kunz, James Watson, Frank Mercer, Chester Worthington, James C. Johnson, George Fields, Eli Katanook, William Hobson, Andrew Wanamaker and Marie Orsen. The Founding Fathers and Mother of the Alaska Native Brotherhood likely couldn't have imagined in their wildest dreams the great achievements of the Brotherhood and the Sisterhood. They gathered together to protect their people, and they proved to be enormously successful. - More...
Friday PM - October 05, 2012

Matt Olsen for State Rep. By Karen Eakes - As a teacher in the School District, I have known Matt Olsen since he was an elementary school student at Valley Park School. As a parent, I have known Matt as a high school friend of one of our daughters and as a fine musician in the Concert Band. Then, years later I got to know him much better as an adult with a young family and a responsible job at the University. - More...
Friday PM - October 05, 2012

World Teachers' Day: October 5th By Arne Duncan - World Teachers' Day gives us an opportunity to celebrate the contributions of teachers across the globe. Education is recognized worldwide as the most important driver of economic growth and social change, and teachers are the ones leading the way. - More...
Friday PM- October 05, 2012

City of Ketchikan Taxes By Douglas Thompson - Well the city taxes are coming due once more. It is frustrating to give hard earned money to the city manager to waste. It is more so when one such tax is illegal. I refer to the city boat tax. A tax that the borough has dropped for its residents even though their boats may be in city harbors. Seems highly discriminatory although that is not why I refer to it as illegal. The city wishes us as citizens to follow its enacted statutes but they in turn do not seem to feel obligated to follow the higher laws that govern them (state and federal). - More...
Friday - September 28, 2012

TIME FOR ALASKA TO ALIGN WITH THE ASIAN MARKET By Bill Walker - Since the award of the AGIA contract, Alaska has funded Exxon/TransCanada in the amount of $188 million, yet Alaska has not been told the results of the first July 2010 open season. However, Asia's strong demand for Valdez LNG was confirmed on September 14th when the Alaska Gasline Port Authority submitted nominations, on behalf of Asian buyers, in response to ExxonMobil/ TransCanada's AGIA second solicitation of interest. As discussed below, the Port Authority has made those nominations public in the hope of encouraging open discourse about what steps must be taken immediately to monetize North Slope gas. - More...
Friday - September 28, 2012

Webmail your letter or


Email Your Letter To: editor@sitnews.us