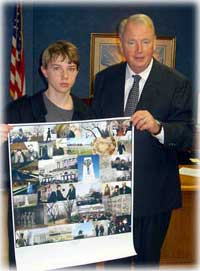 Ethan Cook & Governor Murkowski
Courtesy Office of the Governor
Thorne Bay: Thorne Bay Student Presents Gift to Governor - Alaska Governor Murkowski recently accepted a gift from Ethan Cook, a 14 year old student from Thorne Bay. Cook was invited by the White House to take part in the Presidential Inauguration as a result of his participation in the Presidential Youth Leadership Conference.
The conference organizer, LeadAmerica, forwarded Cook's name to the White House for consideration. Cook, pictured here at the Governors office, presented a poster to Governor Murkowski which he created using many of the photos he took while traveling in Washington D.C.
The governor's office provided financial support for boarding and per diem expenses while Cook was in Washington, D.C.
Cook is on track to complete all courses for high school graduation this year. He excels in math computation and is active as a volunteer in his community.
Monday - February 28, 2005
Columns - Commentary

Jason Love: The Magazine Rack - At the supermarket, we face the same dilemma a thousand times: Do I get the healthy version or go for taste? Being skilled in self-deception, I go for taste. "One cheesecake won't kill me." Times a thousand. - More...
Monday - February 28, 2005


Michael Reagan: Legalized Murder Looms in Florida - Unless Florida courts or the U.S. Supreme Court reverse themselves, Michael Schiavo will be allowed to kill his wife, Terri, and do it in the most horrific way. - More...
Monday - February 28, 2005


Dick Morris: Behind The Winning Bush Road Trip - After a week of touring Western and Eastern Europe, it could not be more evident to me that the balance of power on this continent is shifting in President Bush's favor.... More...
Monday - February 28, 2005