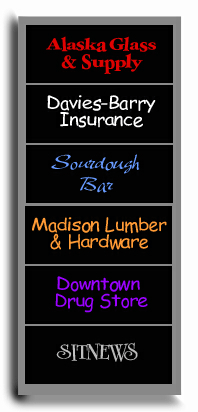 The June Allen Column
is made possible in part by these sponsors. Cick on each name to visit each web site.
June Allen Column

Sitka's Pioneer Home Statue; Whose face is cast in bronze? By June Allen - The little town of Sitka, the capital of Russian Alaska until the U.S. Purchase in 1867, is home to the first of Alaska's modern Pioneer Homes. Built in 1934, it is situated on the old Russian parade grounds. The earlier and comparatively ramshackle "pioneer homes" quarters in the gentler climate of Sitka were founded especially for down-on-their-luck Gold Rush veterans who decided to remain in Alaska after the glory days were over. They were largely a tough and grizzled lot, tobacco-chewing and fond of a good stiff drink or two. - Read the rest of this feature story by June Allen...
Thursday - February 10, 2005

L. Ron Hubbard's Alaska Adventure; His long winter in Ketchikan

ACS Bids for KPU Telecom: ACS a longtime presence

Betty King the Dog Lady; Ketchikan's one-woman humane society

Ketchikan, Alaska - Let There Be Light! -- Citizens Light & Power and then KPU

The State Capitol and Its Marble and keeping the capital in Juneau

A Legendary Mountain of Jade; Just one of Alaska's Arctic Wonders

John Koel, Baker to Banker; An eccentric philanthropist

Harold Gillam: A Tragic Final Flight; Ketchikan remembers the search

Ketchikan's 'Fish House Tessie'; She was proud of the nickname

Fairbanks: Golden Heart City; A story of its founding

Remembering 'Swede' Risland (1915-1991);The town's most memorable logger

Read more feature stories by June Allen...

Copyright Applies - Please obtain written permission before reproducing photographs, features, columns, etc. that are published on SitNews.