Saturday
February 19, 2005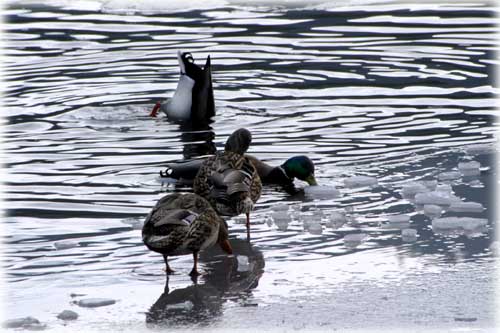 'Small Pleasures'
Front Page Photo by Lisa Thompson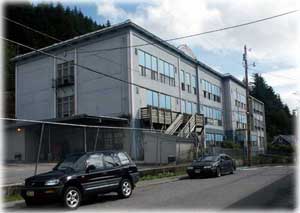 White Cliff School
File Photo by Dick Kauffman
Ketchikan: Redevelopment Project for White Cliff School Proposed; Ketchikan Community Center for the Arts, Ketchikan Senior Citizen Services, and Historic Ketchikan Collaborate - The White Cliff Redevelopment Committee, under the auspices of Historic Ketchikan, is developing a plan to reclaim White Cliff School, the oldest continuously operating school in the State, to create a vibrant multigenerational community center.
This cherished old school is under review as a facility that would bring together senior activities and arts programming in a model of community revitalization. For seniors, the White Cliff School would provide accessible space for day activities and meal programs, within a grand structure that has a strong sense of our community's history. According to Cleo Weston, Chair of the Senior Citizens Services Board, "The Senior Services building is a hub for some very important services in our community, and our senior community is proud of the home that it has built for those activities. The seniors care about White Cliff, and we can see a lot of great things happening under that roof." - More...
Saturday PM - February 19, 2005
Columns

Dave Kiffer: Good Old Days - Once upon a time, I would have gone into serious withdrawal if the National Hockey League season was cancelled like just happened this week. - More...
Saturday - February 19, 2005

Jason Love: E-Mail Snubs - I've never had a best friend. I've always been the best friend runner-up, as in, "You'll be my best friend if he dies." So I work extra hard to be pleasant in the hope that someday, when no one is looking, I'll catch the best friend bouquet. - More...
Saturday - February 19, 2005
Viewpoints
Opinions/Letters

State Capitol Move - "Smell Test" Should be the Measure
by Lynne Miller - Saturday pm


There must be a better way by Karen Ramsey - Saturday pm


Bridge Project: $315 Million Boondoggle by Don Hoff Jr. - Saturday pm


More Viewpoints/ Letters


Publish A Letter
February 2005
Click on the date for stories and photos published on that day...

| | | | | | | |
| --- | --- | --- | --- | --- | --- | --- |
| S | M | T | W | T | F | S |
| | | 01 | 02 | 03 | 04 | 05 |
| 06 | 07 | 08 | 09 | 10 | 11 | 12 |
| 13 | 14 | 15 | 16 | 17 | 18 | 19 |
| 20 | 21 | 22 | 23 | 24 | 25 | 26 |
| 27 | 28 | | | | | |
National: 60 years later, WWII's final year remembered by Lisa Hoffman - Scripps Howard News Service - Sixty years ago Monday, Marines began their historic assault on the island of Iwo Jima, a battle of such ferocity that it left 6,821 Americans dead and spawned one-fourth of all World War II medals of honor.
Commemorations of that turning-point battle in the Pacific will take place Monday, part of a series of events to be held around the country and overseas to remember the 60th anniversary of the last year of World War II.
At the Marine Corps' iconic Iwo Jima statue near Arlington National Cemetery, which depicts the raising of the U.S. flag on Mount Suribachi, hundreds will gather to pay tribute to the more than 60,000 Marines and other troops who fought there, and to the fast-thinning ranks of those still alive today.
Recognizing that reality, the Defense Department will stage six regional 60th-anniversary ceremonies across the country in areas with large numbers of World War II vets.
The first is Monday in Tampa, Fla., where a USO-style performance, speeches, the Navy Band and what may be the last reunions of many aged veterans will be featured. Florida is home to about 1.8 million veterans, of whom at least 300,000 served in World War II.
Other ceremonies will be held in veteran-rich San Antonio in March, San Diego in May, Boston in June, Chicago in July, and Vancouver, Wash., in August.
The fact that these commemorations come as America is engaged in another overseas war - albeit one of far smaller scope - adds significance, said retired Lt. Gen. Ed Soyster, head of the Pentagon's World War II anniversary effort.
"We're delighted ... to recognize these veterans who sacrificed much to assure the freedom of Western Europe and the Pacific ... and to remember not just the people but the ideas and lessons learned (which) help assure that freedom continues to flourish in the world _ much as the soldiers of today are doing in the Middle East," Soyster said.
These events are among those being held to honor the sacrifices that accompanied the last bloody year of the Big One. Already, the Dec. 16, 1944, start of the unimaginably brutal Battle of the Bulge - which took the lives of 50,000 soldiers and civilians - has been marked in Europe and at home. - More...
Saturday - February 19, 2005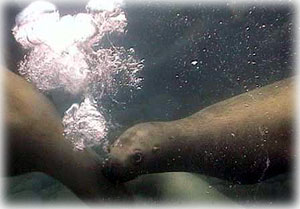 Steller Sea Lion releasing air underwater
Photo taken by Rolf Ream, NMML
Alaska: Killer Appetites by Doug Schneider - For more than a decade, scientists have puzzled over an environmental whodunit. Just what caused the decline of Steller sea lions and other marine mammals in Alaska's Aleutian Islands? Some scientists say it might be killer whales, and they've done some calorie counting to prove it.
Researcher Terrie Williams believes understanding what caused the crash of Steller sea lions and sea otters in Alaska's Aleutian Islands boils down to how many calories a 5,000-pound killer whale needs to stay fat and happy.
Williams said, "When you get a large predatory animal-killer whales weigh as much as 3,000 kilos-it's going to take a lot out of the environment in order to satisfy those metabolic fires." - More...
Saturday - February 19, 2005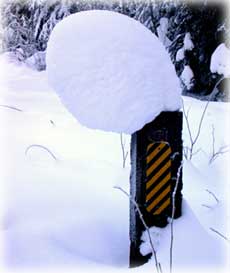 A leaning tower of snow on
a Fairbanks post.
Photo by Ned Rozell
Alaska: Leaning towers of snow explained by Ned Rozell - Pete Wilda, a Fairbanks reader of this column, wants to know how the snow here can bend off railings and loop from power lines without breaking. He grew up in eastern Wisconsin and doesn't remember the snow defying gravity there.
Snow tilts and bends in Interior Alaska because there's not much wind and because it's cold, said Matthew Sturm of the Cold Regions Research and Engineering Laboratory in Fairbanks. Sturm is one of a handful of Alaska scientists who study snow. He enjoys it so much that a few years ago he made a snowmachine traverse from Nome to Barrow, digging snowpits and taking samples along the way.
"At low temperatures, the snow deforms slower," Sturm said of the bending snow phenomenon. "In warmer places like Colorado, a dollop of snow that begins to lean may topple in a shorter time than the snow here."
A few other variables are responsible for our leaning towers of snow, Sturm said. The snow in Interior Alaska contains a lot of air, so gravity doesn't pull on it as strongly as it does wetter, heavier snow. Also, cold weather tends to prevent snow from thawing and lubricating the contact point between the snow and the wire or fencepost. - More...
Saturday - February 19, 2005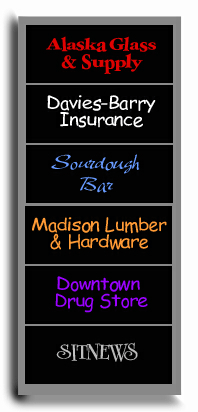 The June Allen Column
is made possible in part by these sponsors. Cick on each name to visit each web site.
June Allen Column

Sitka's Pioneer Home Statue; Whose face is cast in bronze? By June Allen - The little town of Sitka, the capital of Russian Alaska until the U.S. Purchase in 1867, is home to the first of Alaska's modern Pioneer Homes. Built in 1934, it is situated on the old Russian parade grounds. The earlier and comparatively ramshackle "pioneer homes" quarters in the gentler climate of Sitka were founded especially for down-on-their-luck Gold Rush veterans who decided to remain in Alaska after the glory days were over. They were largely a tough and grizzled lot, tobacco-chewing and fond of a good stiff drink or two. - Read the rest of this feature story by June Allen...
Thursday - February 10, 2005

L. Ron Hubbard's Alaska Adventure; His long winter in Ketchikan

ACS Bids for KPU Telecom: ACS a longtime presence

Betty King the Dog Lady; Ketchikan's one-woman humane society

Ketchikan, Alaska - Let There Be Light! -- Citizens Light & Power and then KPU

The State Capitol and Its Marble and keeping the capital in Juneau

A Legendary Mountain of Jade; Just one of Alaska's Arctic Wonders

John Koel, Baker to Banker; An eccentric philanthropist

Harold Gillam: A Tragic Final Flight; Ketchikan remembers the search

Ketchikan's 'Fish House Tessie'; She was proud of the nickname

Fairbanks: Golden Heart City; A story of its founding

Remembering 'Swede' Risland (1915-1991);The town's most memorable logger

Read more feature stories by June Allen...

Copyright Applies - Please obtain written permission before reproducing photographs, features, columns, etc. that are published on SitNews.
---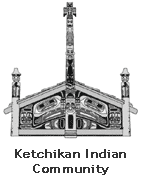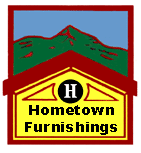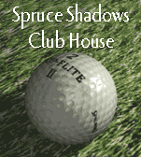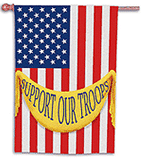 'Our Troops'