Redevelopment Project for White Cliff School Proposed

Ketchikan Community Center for the Arts, Ketchikan Senior
Citizen Services, and Historic Ketchikan Collaborate

February 19, 2005
Saturday

Ketchikan, Alaska - The White Cliff Redevelopment Committee, under the auspices of Historic Ketchikan, is developing a plan to reclaim White Cliff School, the oldest continuously operating school in the State, to create a vibrant multigenerational community center.
This cherished old school is under review as a facility that would bring together senior activities and arts programming in a model of community revitalization. For seniors, the White Cliff School would provide accessible space for day activities and meal programs, within a grand structure that has a strong sense of our community's history. According to Cleo Weston, Chair of the Senior Citizens Services Board, "The Senior Services building is a hub for some very important services in our community, and our senior community is proud of the home that it has built for those activities. The seniors care about White Cliff, and we can see a lot of great things happening under that roof."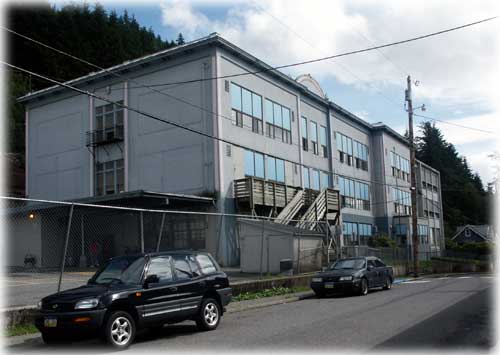 White Cliff School
File Photo by Dick Kauffman

For the arts, the White Cliff property would provide space for arts programming: a 300-seat theatre, dance studios, visual arts studios, gallery space, support spaces, and community arts organizations, and build on Ketchikan's foundation as one of "America's 100 Best Small Arts Towns". Kim Judge, Chair of the Ketchikan Community Center for the Arts, says, "We're very excited about the possibilities for this site: Ketchikan's arts community is thriving, and it needs a home. White Cliff could house the facilities that we need, and the senior programs bring a tremendous strength to the project."
For the community as a whole, this venerable building would be a vibrant gathering place: seniors crossing paths with young dancers on their way to class, generations of families viewing rotating gallery exhibits that are easily accessible, and new programs that would engage people from all segments of the community. This project would meet immediate and long-term facilities needs in the arts and seniors programs and would build on the strength of the vital arts and senior programs that currently serve Ketchikan. Dawn Allen-Herron, Chair of the White Cliff Redevelopment Committee, says, "This project is grounded in compassion, respect, innovation, and sustainable economics. We look forward to the next phase in the history of this building--when White Cliff will once again be filled with laughter, love, and creative energy. "
The Ketchikan Community Center for the Arts (KCCA) and Ketchikan Senior Citizen Services (KSCS) have identified White Cliff School as their preferred site and have recognized that many benefits that would come from sharing a facility. They have developed a Strategic Plan for site review, and established a timeline for decision making. A total project cost estimate will result from this site review.
If you would like to be involved in the White Cliff Redevelopment Project, contact the White Cliff Redevelopment Committee at 225-2211 or e-mail artcenter@ketchikanarts.org.
Source of News:
White Cliff Redevelopment Project / Ketchikan Community Center for the Arts
KCCA Office for Planning and Design - Ketchikan, Alaska




E-mail your news & photos to editor@sitnews.us


Publish A Letter on SitNews Read Letters/Opinions
Submit A Letter to the Editor

Sitnews
Stories In The News
Ketchikan, Alaska