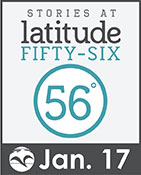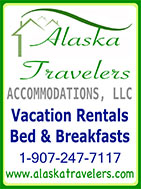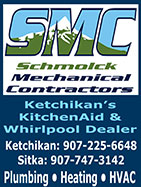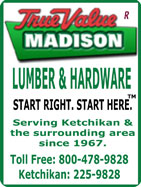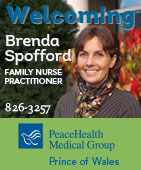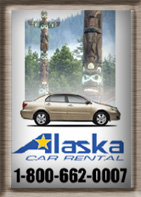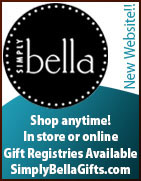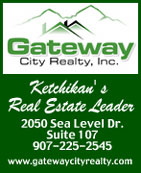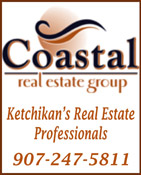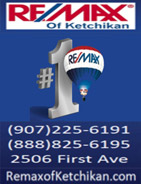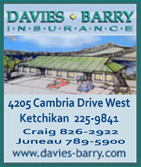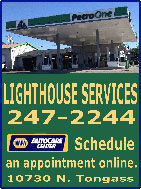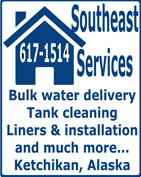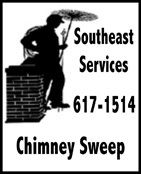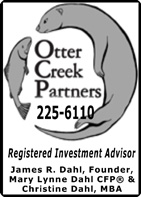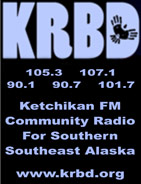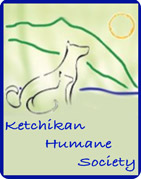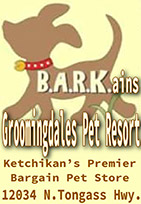 Contact


Call 617-9696


Webmail Letters


News Tips


Copyright Info


Archives
Quick News Search


Alaska


Ketchikan


SE Alaska


Alaska News Links
Columns - Articles


Dave Kiffer


Fish Factor


Money Matters
Historical Ketchikan


June Allen


Dave Kiffer


Louise B. Harrington
Ketchikan Arts & Events


Ketchikan Arts


Ketchikan Museums


KTN Public Library
Sports


Ketchikan Links
Public Records


FAA Accident Reports


NTSB Accident Reports


Court Calendar


Recent Filings & Case Dispositions


Court Records Search


Wanted: Absconders


Sex Offender Reg.


Public Notices


AST Daily Dispatch


KTN Police Reports


Juneau Police Reports
Weather, Webcams


Today's Forecast


KTN Weather Data


AK Weather Map


AK Weathercams


AK Earthquakes

TV Guide


Ketchikan
Ketchikan Phone Book


Yellow Pages


White Pages
Government Links


Local Government


State & National

Evie at Carlanna Lake
Front Page Feature Photo By JODI ALBERTSON ©2016

Select your favorite Photo of the Month. The photographer with the most likes for the Month of JANUARY 2016 will receive $100. (Selections may be made on the SitNews' FaceBook page or emailed to the editor@sitnews.us.)




Fish Factor: Reversing the outmigration trend of fishing permits By LAINE WELCH - Fishing issues will take a back seat to budget cutting when the Alaska legislature convenes on January 19 for its 90-day session, but two early fish bills (and one hold-over) already are getting attention.

One new measure aims to stop the migration of fishing permits outside of the state.
We lost over 50 percent of our permits over the 1973 original issuance of permits," said Robin Samuelsen of the Bristol Bay Economic Development Corporation (BBEDC), speaking at a two day Alaska Sea Grant workshop last week in Anchorage titled Fisheries Access: Charting the Future.

Forty years ago at Bristol Bay, 36 percent of the more than nearly 2,000 permits were held by locals and 64 percent by nonresidents. By 2013, the numbers were 19 percent local and 81 percent nonresident. Similar trends, by varying degrees, are happening in other regions as well.

Rep. Jonathan Kriess-Tomkins (D-Sitka) said he intends to introduce a bill that would establish a permit bank to reverse the outmigration trend. The bank would buy nonresident permits and lease them to young fishermen who otherwise could not afford them. It would offer several types of fishing permits (Alaska has 65) that would be proportional and reflective of regional fisheries. A permit bank would not cost the state any money, he said, because it would fall to local communities to raise the money.

"Rural Alaska communities are really struggling, and there aren't a lot of solutions that get talked about for how you solve the underlying problem, which is creating economic opportunity in rural Alaska," Kreiss-Thomkins said, which was live streamed from the workshop. "I think this is a rare solution that we in the legislature, and as Alaskans, can enact to help these communities."

Samuelsen said the BBEDC is already sponsor permits for young fishermen and that a permit bank would help facilitate that effort.

A fish bill that has already been pre-filed would let Alaskans take fisheries enhancement efforts into their own hands. HB 220 by Representative David Talerico (R-Healy) would allow "fisheries enhancement permits" as a "tool to support Fish and Game."

The permits would allow people to take eggs, grow them into smolt and release them wherever they want into the wild. The permit also would allow groups or individuals to "enhance habitat and augment nutrients" in state waterways to support fish," according to the bill language.

If many smaller facilities can do the work of a handful of larger, more costly facilities, it will help Alaska's budget, Talerico told the Juneau Empire.

The enhancement permits also would be available to Native organizations and sportsmen's groups, Talerico said, adding "Those guys know how to raise money in a hurry."

Another tool intended "to help fish managers" will resurface this year – "The Alaskans-First Fishing Act," which aims to give personal use (PU) fisheries a priority over sport and commercial users when restrictions are imposed to achieve a management goal. As it stands now, the three fisheries all are on equal footing in the eyes and actions of state managers. - More...
Monday PM - January 18, 2016

Alaska: Alaska Elections Division Now Offers Online Voter Registration - Hundreds of Alaskans are taking advantage of a new online voter registration available through the Alaska Division of Elections.

"I was pleased to see that since the system went live at the end of November, 592 voter registrations have been completed by citizens across the state," said Lt. Governor Byron Mallott who oversees the division. The online system is part of the new elections management system that has been in the works for several years.
As an added bonus, the division partnered with the Department of Revenue's Permanent Fund Dividend Division to provide a link for Alaskans to register to vote after they finish their 2016 dividend application.

"It is our hope that Alaskans completing a PFD application will take the opportunity to register to vote or update their name, address or political affiliation" said Elections Director Josie Bahnke. - More...
Monday PM - January 18, 2016




Alaska: Constitutional Amendment Proposed to Limit Legislative Sessions to 90 Days - With the second regular session of the Alaska Legislature set to convene Tuesday, January 19th, three members of the Alaska House of Representatives have pre-filed legislation to strengthen the 2006 ballot initiative that limits regular sessions of the Alaska Legislature to 90 days.

"I respect the will of the voters, and in 2006 they asked the Legislature to get the job done in 90 days, so I think we need to get the job done in 90 days," said Rep. Dan Ortiz (I-Ketchikan). "We can't afford to waste thousands of dollars because we were a week late getting our jobs done."

This fall is the tenth anniversary of the ballot initiative passed by Alaskans voters in 2006 that limits the Alaska Legislature's regular sessions to 90 days. However, the Alaska Constitution still includes language setting the length of legislative sessions at 120 days. House Joint Resolution 27 is sponsored by Rep. Matt Claman (D-Anchorage) and co-sponsored by Rep. Ortiz (I-Ketchikan), and Rep. Adam Wool (D-Fairbanks). HJR 27 would place an amendment on the November 2016 ballot to align the Alaska Constitution with the Alaska voters' 2006 decision to limit the regular legislative session to 90 days. - More...
Monday PM - January 18, 2016

Alaska: Legislation Proposed to Spur Timely Action on Alaska Budget - In light of Alaska's urgent need to get its fiscal house in order this session, Senator Bill Wielechowski (D–Anchorage) and Representative Scott Kawasaki (D–Fairbanks) will introduce cost-saving legislation to ensure that if legislators do not pass an operating budget within the voter-mandated 90-day session, they will not receive salary or per diem until the work is accomplished. They hope to incentivize legislators to buckle down and focus on the task at hand.

While the State's constitution allows for the Legislative Session to last 120 days, in 2006 the issue was brought to a vote of the people by way of a ballot initiative, and Alaskans opted to shorten the annual session to 90 days.

"Alaskans voted for a 90-day legislative session. It is our job to pass a budget within that timeframe," said Sen. Wielechowski. "I'm hopeful and optimistic that my colleagues support the concept of keeping expenses down, not procrastinating, and getting our work done in the mandated, 90-day session." - More...
Monday PM - January 18, 2016




Southeast Alaska: The Tongass Rainforest is Alaska's First Line of Climate Change Defense - A logging plan on the Tongass National Forest in Southeast Alaska conflicts with President Obama's commitments to the Paris climate change agreements reached in December according to a new report.

A small glimpse of the nearly 17 million acres, of the Tongass National Forest in Southeast Alaska
Photo courtesy Geos Institute

In November 2015, the U.S. Forest Service issued a Draft Environmental Impact Statement to transition the Tongass out of old-growth logging but the agency plans to continue logging carbon-rich, old-growth rainforests as it slowly transitions logging to younger trees.

When rainforests are logged, most of the carbon stored in dense foliage, old trees, and soils is emitted as carbon dioxide pollution, the main culprit in heating the planet. A new report by the Ashland, Organ-based Geos Institute, a climate change organization, shows proposed would release global warming pollution equivalent to the emissions from 4 million vehicles annually at a time when the nation is striving to cut emissions.

Report author, Dr. Dominick A. DellaSala, Chief Scientist of Geos Institute, stated, "Cutting down Tongass old-growth rainforest is like smoking cigarettes, it harms the ability of rainforests to filter greenhouse gases contributing to the melting of Alaska's magnificent glaciers." - More...
Monday PM - January 18, 2016

Southeast Alaska: Douglas Indian Association Lawsuit Against Tribe Dismissed - The Juneau-based Douglas Indian Association's lawsuit against Central Council of the Tlingit and Haida Indian Tribes of Alaska (Central Council) was dismissed on January 13, 2016 by the State of Alaska's Superior Court. Judge Louis Menendez affirmed Central Council has sovereign immunity from suit, and dismissed all of Douglas Indian Association's arguments to the contrary, including claims against Central Council President Richard Peterson and Tribal Transportation Manager William Ware.

"The court ruling was an important victory for Alaska tribes by its affirmation of jurisdictional tribal sovereignty for tribes and tribal officials, said President Peterson. "The lawsuit was dismissed due to sovereign immunity defense of the Tribe. However, had the suit gone to trial, the Tribe would have prevailed because DIA's claims were entirely without merit. Tribal sovereign immunity is a key protection for all tribal governments, and is critical to our right of self-determination as Alaska Native peoples."

The lawsuit involved Douglas Indian Association's claim that it was owed tribal transportation funds after leaving Central Council's Tribal Transportation Consortium in January 2012. When DIA left the consortium, it took responsibility for its shares of Central Council's Federal Highway Administration (FHA) Program Agreement. Douglas Indian Association later demanded that Central Council give Douglas Indian Association its entire amount of tribal shares for the years of 2005-2012, which Douglas Indian Association claimed was approximately $1M without deductions for amounts spent or for Douglas Indian Association's share of the consortium's expenses for those years. There was no legal, factual or contract basis for this request. - More...
Monday PM - January 18, 2016

Alaska: Alaska Residents Among Worst at Managing Money - Montana residents are the best at managing money and Marylanders are the worst ranking at #50, according to a new CreditCards.com analysis. Alaska residents are close behind at #48, following Washington, D.C. residents at #49.

The study compared each state's average credit score with its median income. "Conventional wisdom is that people with more money have better credit scores, but we found this is not always the case," said Matt Schulz, CreditCards.com's senior industry analyst. - More...
Monday PM - January 18, 2016




Pacific Northwest: Thousands of landslides in Nepal earthquake raise parallels for Pacific Northwest - Research teams have evaluated the major 7.8 magnitude subduction zone earthquake in Gorkha, Nepal, in April 2015, and identified some characteristics that may be of special relevance to the future of the Pacific Northwest.

Most striking was the enormous number and severity of landslides.

Many people understand the damage that can be caused to structures, roads, bridges and utilities by ground shaking in these long-lasting types of earthquakes, such as the one that's anticipated on the Cascadia Subduction Zone between northern California and British Columbia.

But following the Nepal earthquake – even during the dry season when soils were the most stable – there were also tens of thousands of landslides in the region, according to reconnaissance team estimates. In their recent report published in Seismological Research Letters, experts said that these landslides caused pervasive damage as they buried towns and people, blocked rivers and closed roads.

Other estimates, based on the broader relationship between landslides and earthquake magnitude, suggest the Nepal earthquake might have caused between 25,000 and 60,000 landslides.

The subduction zone earthquake expected in the future of the Pacific Northwest is expected to be larger than the event in Nepal.

Ben Mason, a geotechnical engineer and assistant professor in the College of Engineering at Oregon State University, was a member of the Geotechnical Extreme Event Reconnaissance team that explored the Nepal terrain. He said that event made clear that structural damage is only one of the serious threats raised by subduction zone earthquakes.

"In the Coast Range and other hilly areas of Oregon and Washington, we should expect a huge number of landslides associated with the earthquake we face," Mason said. "And in this region our soils are wet almost all year long, sometimes more than others. Each situation is different, but soils that are heavily saturated can have their strength cut in half."

Wet soils will also increase the risk of soil liquefaction, Mason said, which could be pervasive in the Willamette Valley and many areas of Puget Sound, Seattle, Tacoma, and Portland, especially along the Columbia River.

Scientists have discovered that the last subduction zone earthquake to hit the Pacific Northwest was in January 1700, when – like now - soils probably would have been soggy from winter rains and most vulnerable to landslides. - More...
Monday PM - January 18, 2016

Editorial Cartoon: Oil Prices Sink Wall Street
By Daryl Cagle ©2016, CagleCartoons.com
Distributed to subscribers for publication by Cagle Cartoons, Inc.




Real Time U.S. Debt Clock
http://www.usdebtclock.org/

U.S. Inflation Calculator
Easily calculate the buying power of the US dollar & inflation rate from 1913-2014

U.S. Energy Info. Admin.
Heating Oil & Propane Update

Public Meetings & Info

Ketchikan Borough Assembly

Live video stream of current meeting
Archived videos
Agenda and Information Packets
Assembly Meeting Minutes
Borough Records
Calendar

Ketchikan Planning Commission

Live video stream of current meeting
Agenda, Information Packets & Minutes

Ketchikan City Council

View a Video of Meeting
Agenda & Information Packets

Ketchikan School Board

Live video stream of current meeting
Agenda & Information Packets


Gravina Access Project SEIS Alternatives Development

Gravina Access Website

Police Dispatches

AK Troopers Daily Dispatch
Ketchikan Police Reports
Juneau Police Reports

Ketchikan

Jobs
Today's Forecast
Satellite
Today's Weather Images
Marine Forecasts
AK Weathercams
Ketchikan Weather Data
Current AK Weather Map




CLASSIFIEDS' CATEGORIES

Announcements
Help Wanted
For Sale / Free Stuff
Garage Sales
Homes / Apts/ Property
Pets
Wanted
Lost & Found
Publish Your Ad

Front Page Archives
Letter Archives
Dec. 2015 - Jan. 2016

| | | | | | | |
| --- | --- | --- | --- | --- | --- | --- |
| S | M | T | W | T | F | S |
| 29 | 30 | 01 | 02 | 03 | 04 | 05 |
| 06 | 07 | 08 | 09 | 10 | 11 | 12 |
| 13 | 14 | 15 | 16 | 17 | 18 | 19 |
| 20 | 21 | 22 | 23 | 24 | 25 | 26 |
| 27 | 28 | 29 | 30 | 31 | 01 | 02 |
| 03 | 04 | 05 | 06 | 07 | 08 | 09 |
| 10 | 11 | 12 | 13 | 14 | 15 | 16 |


Viewpoints
Commentary
Opinions/Letters
Basic Rules &
Freedom of Speech

Questions, please contact the editor at editor@sitnews.us or call 617-9696
Sitnews reserves the right to edit.

What We Heard During Six AMHS Community Engagement Meetings By Michael Neussl - The Alaska Marine Highway System (AMHS) held six community engagement meetings across coastal Alaska last month. During this time the department also held numerous meetings with AMHS vessel and terminal staff. The purpose of the meetings was to involve Alaskans in the decision making process that AMHS is facing due to the reality of a declining operating budget. - More...
Monday PM - January 18, 2016

THE STATE FINANCIAL CRISIS IS A SHAM & A SCAM AND SO IS THE PROPOSED SOLUTION By David G Hanger - The average price paid for North Slope oil in fiscal year 2015 was $73 a barrel which exceeded by a fair margin the state's forecast of $67 a barrel. In the meantime in the second half of calendar year 2015 North Slope oil production was 20,000 barrels per day more than last year. (Figures from State of Alaska, various reports.) Total production levels for 2014 exceeded 95.25% of the production levels of 2013. - More...
Wednesday PM - January 13, 2016

Transportation Funding Fallacies Deserve Correction By Marc Luiken - Alaskans are facing a sobering reality: we can no longer afford the same service levels from state government. An oil revenue-induced state deficit resulted in the Alaska State Legislature reducing government's fiscal year 2016 general fund budget by $404.1 million. These cuts affected every state agency. The Legislature directed the Department of Transportation and Public Facilities (ADOT&PF) to reduce its general fund operating budget by $34.6 million. - More...
Monday AM - January 11, 2016

GOP & NRA By Jim Dornblaser - I can identify with both GOP & NRA because I support our constitution TOTALLY as written. If you see any humor in name calling (cry baby, etc.) when reason & common sense fail, go stand with your 'unilateral' acting leader (isn't that a dictator?) He surely isn't representing the will of the majority (as in democracy). - More...
Monday AM - January 11, 2016

Correctional Officers' Actions Misrepresented By Brad Wilson - The video of Mr. Kobuk recently released by the State contained images of Correctional Officers performing required duties as directed by Department of Corrections' Policy and Procedure and in accordance with their training. Without educating the public, or even giving the policies that govern Officers' actions, the Governor's Investigator, Dean Williams' publication and analysis of the video is deceptive. We had asked Dean Williams, prior to the release of this latest video, to let us do a report and explain to him the inaccuracies in his Administrative Review. Correctional Officers believe that the Governor has not been given accurate information about State polices dictating Correctional Officer's actions. - More...
Monday AM - January 11, 2016

Sealaska's Logged Off Heritage By Joe Sebastian - Last fall in Petersburg, Alaska's newest enviromental group ' The Greater Southeast Alaska Conservation Community' [GSACC.net] gave a slideshow on the latest industrial logging now taking place on Sealaska land, state land, and other land grant interests.Images from Google-earth satillight overviews were used of Sealaska mega-clearcuts on the Cleveland Penensula, and also P.O.W.'s Election Creek, and other examples made the truth crystal clear. The all-out push by Senator Lisa Murkowski to privatize land from the Tongass National Forest, in order to rapidly de-forest and export round logs as fast as possible, was shocking and upsetting and holds dire consequences for the future of Alaskans. - More...
Monday AM - January 11, 2016

Alaska Marine Toll Ferry By Patrick Jirschele - We have to pay to take the Alaska Marine Highway. We pay a toll. The toll for two people and a nineteen foot car from Bellingham to Ketchikan is $1204 or about $1.80 a mile. Ketchikan to Wrangell is $101 or a toll of $2.06 a mile. Wrangell to Petersburg, $3.40 a mile. Petersburg to Juneau about $3.00 per mile. - More...
Monday PM - January 04, 2016

Webmail your letter or
Email Your Letter To: editor@sitnews.us

---

Articles & photographs that appear in SitNews may be protected by copyright and may not be reprinted or redistributed without written permission from and payment of required fees to the proper sources.

E-mail your news & photos to editor@sitnews.us

Photographers choosing to submit photographs for publication to SitNews are in doing so, granting their permission for publication and for archiving. SitNews does not sell photographs. All requests for purchasing a photograph will be emailed to the photographer.

The Local Paper is now available online.
Click here for this week's printed edition.