Saturday
November 13, 2004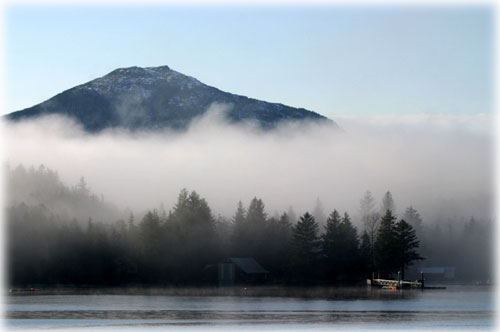 'Foggy Morning'
Front Page Photo by Carl Thompson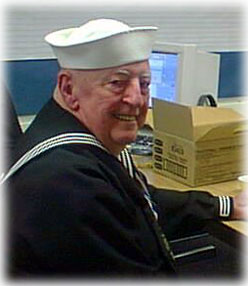 Joe Sadlier
Photo by Mark O'Brien

Ketchikan: Students Learn From WWII Veteran Joe Sadlier - WWII veteran Joe Sadlier visited the 5th grade class at Houghtaling Wednessday and gave a first person account of the meaning of Veterans' Day. Sadlier discussed his part in World War II and his service aboard one of over 1,000 LSTs (Landing Ship,Tanks). - More...
Saturday - November 13, 2004

Ketchikan: Steppin' Out - The Ketchikan Community Chorus will be performing "Steppin' Out," at 8:00 p.m. on Friday November 19th at the Ted Ferry Civic Center. A short, toe-tapping, 1940's era concert, directed by Lallette Kistler, is designed make the audience want to get up and dance. Popular jazz band, "Lush Life," has been hired to help the audience do just that. To add to the delight, additional 40's era solos and trios will be sung by various talented chorus members throughout the night, and a no-host bar and snacks will be provided. - More...
Saturday - November 13, 2004
Alaska: Lindamood-Bell Learning Processes Partner With Alaska District - Three agencies have joined together to replicate a successful comprehensive school reform model aimed at significantly increasing student achievement. - More...
Saturday - November 13, 2004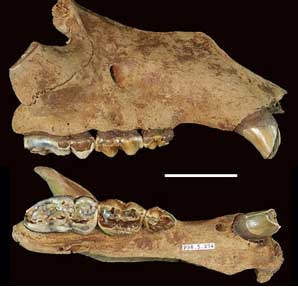 26,000 year old brown bear fossil...
Photo by Paul Matheus
Alaska: Ancient fossil offers new clues to brown bears past by Carla Browning - While nosing around the Quaternary mammal collection at the Provincial Museum of Alberta two years ago, Paul Matheus, a paleontologist with the Alaska Quaternary Center, came across a brown bear fossil that seemed out of place. The fossil had been collected by Jim Burns, curator of Quaternary mammals at the PMA a few years earlier near Edmonton, Alberta, in gravels that date to before the last ice age (older than 24,000 years). If this was true, Matheus thought, it could be a very important find. Burns loaned the specimen to Matheus so he could take it back to the University of Alaska Fairbanks to confirm its age using radiocarbon dating methods. Results showed the bear was indeed about 26,000 years old, and the two researchers realized the fossil's signficance-the history of brown bears in North America would have to be rewritten. - More...
Saturday - November 13, 2004
Viewpoints
Opinions/Letters

Hats off to Joe! by Shirley McDonald - Saturday


RE: Saving Time by Dave Kiffer - Saturday


Don't take Ketchikan for granted by Toni Hannah Bianco - Saturday


Personal Property Tax? by Robert McRoberts - Saturday


RE: SAVING TIME MAY BE HAZARDOUS TO YOUR HEALTH by Hunter Davis - Saturday


More Viewpoints/ Letters


Publish A Letter
November 2004
Click on the date for stories and photos published on that day...

| | | | | | | |
| --- | --- | --- | --- | --- | --- | --- |
| S | M | T | W | T | F | S |
| | 01 | 02 | 03 | 04 | 05 | 06 |
| 07 | 08 | 09 | 10 | 11 | 12 | 13 |
| 14 | 15 | 16 | 17 | 18 | 19 | 20 |
| 21 | 22 | 23 | 24 | 25 | 26 | 27 |
| 28 | 29 | 30 | | | | |
Alaska: Walter Kirkness Honored for Contribution to Alaska - Alaska Governor Frank H. Murkowski has ordered that a state flag be flown over the capitol in honor of Walter Kirkness, a pioneer Alaskan fisheries biologist and former Fish and Game commissioner who died in Seattle Nov. 6th at the age of 84.
"More than any individual, Kirkness was responsible for helping set the policy course of local control over fish and game resources in the Alaska Department of Fish and Game," Governor Murkowski said. - More...
Saturday - November 13, 2004
Columnists

Dave Kiffer: "The Smell of Money" - My mom likes to talk about the "good old days" when a dozen canneries clogged the Ketchikan waterfront and the "Smell of Money" was in the air all summer long.
I suppose it is a happy memory to recall a time when industry in Ketchikan was based on truly industrious activities like fishing and timber rather than the reselling of trinkets and gewgaws, but being able to smell the economy doesn't necessarily seem like a great idea. I've been to towns where the dominant industry had a distinct aroma (pig farms, sulphurous pulp mills, fertilizer plants) and about the only one I would return to would be Hershey, Pennsylvania - for obvious reasons.- More...
Saturday - November 13, 2004

Bob Ciminel: My Position on Gun Control - I prefer a two-handed stance, with my feet spread about a yard apart, sighting with both eyes open. I like to use armor piercing, incendiary ammunition because it is good for a variety of situations. I use small-capacity magazines because you shouldn't need more than one shot to hit your target. If there are more than eight targets, you probably couldn't hit them all, even with a 30-round clip.- More...
Saturday - November 13, 2004
---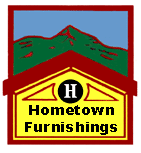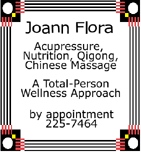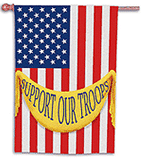 'Our Troops'