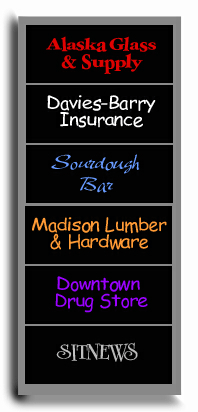 The June Allen Column
is made possible in part by these sponsors. Cick on each name to visit each web site.
June Allen Column

The State Capitol and Its Marble and keeping the capital in Juneau - A recent news item in the Anchorage daily paper mentioned that a group of Juneau boosters, chaired by Mayor Bruce Botelho, hope to build a new Alaska Capitol building to be leased to the state at completion. They call themselves the Capitol Planning Commission and expect to announce a nationwide design competition in November. A new Capitol building would replace Juneau's present six-story Art Deco treasure. The old six-story building, its imposing façade featuring four gracious marble columns quarried in Southeastern Alaska, is a stately structure matching the grandeur of the setting that is home to picturesque downtown Juneau. - Read the rest of this story by June Allen...
Wednesday - October 20, 2004

A Legendary Mountain of Jade; Just one of Alaska's Arctic Wonders

John Koel, Baker to Banker; An eccentric philanthropist

Harold Gillam: A Tragic Final Flight; Ketchikan remembers the search

Ketchikan's 'Fish House Tessie'; She was proud of the nickname

Fairbanks: Golden Heart City; A story of its founding

Remembering 'Swede' Risland (1915-1991);The town's most memorable logger

Read more stories by June Allen...

Copyright Applies - Please obtain written permission before reproducing photographs, features, columns, etc. that are published on SitNews.