Thursday
March 17, 2005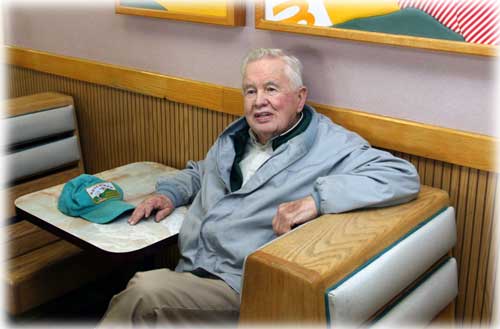 A Personal Tribute to Tom Coyne
on St. Patrick's Day
By June Allen
Front Page Photo by Carl Thompson
Ketchikan: St. Patrick's Day makes me think of Ketchikan's city councilman Tom Coyne and of famous author Frank McCourt. They even look a lot alike -- faces like maps of Ireland! Of course I've never met Frank McCourt, author of Angela's Ashes, but his book lays bare the bittersweet memories of his childhood. And I've interviewed Tom Coyne on several occasions and I see some of the similarities in their impoverished early years. And they both, like everyone in the Irish land of their bloodlines, are poets at heart. - Read the rest of this story by June Allen....
Thursday - March 17, 2005
News
Ketchikan: SEAPA Installs New Hi-Tech Cruise Ship Simulator; Ketchikan Pilots First in U.S. to have Azipod Trainer - The Southeast Alaska Pilots' Association (SEAPA) has announced the delivery and installation of a new propulsion technology simulator at its headquarters in Ketchikan, Alaska. The new azipod simulator, the first of its kind in the U.S., was engineered by Electronic and Marine Research Industries (EMRI) in Copenhagen, Denmark.
Azimuthing podded drives, or azipods, is new marine propulsion technology where power and rotation are incorporated into one unit, thus ships with azipods are steered without a rudder. The pods incorporate built-in electric propeller motors attached to the vessel by a freely rotating steering gear. This enables 360 degrees of steering angle with controlled power output during maneuvering. The term "azipod" is an acronym incorporating azimuth (distance in angular degrees measured clockwise from a standard direction) and pod (a streamlined compartment). - More...
Thursday - March 17, 2005
Ketchikan: Southeast Conference Mid-Session Summit Highlights Canadian & Southeast Alaska Issues - Economic development for Southeast Alaskan communities and cross-border issues will take center stage when the Southeast Conference Mid-Session Summit assembles in Juneau March 22-24.
Highlighting this year's list of speakers will be Rep. Don Young (R-AK), Denali Commission co-chair Jeff Staser, USDA-Rural Development State Director Bill Allen, USFS Regional Forester Dennis Bschor and the newly appointed Director of Marine Operations Robin Taylor. - More...
Thursday - March 17, 2005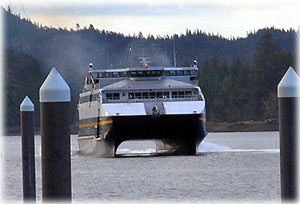 Fairweather departing Ketchikan Tuesday morning...
Front Page Photo by Mimi Eddy
SE Alaska: M/V Fairweather Back in Service - Alaska Marine Highway System officials announced Tuesday that the fast vehicle ferry M/V Fairweather departed the Ketchikan shipyard for Juneau Tuesday morning. It resumed its schedule of service between Juneau and Haines and Skagway this morning. It will sail to Sitka on Friday.- More...
Thursday - March 17, 2005
National: Bush pushes private accounts, energy policy By Bill Straub - President Bush challenged Congress to "permanently fix Social Security" during a surprise press conference Wednesday, but continued to dance around how he would propose addressing the retirement system's solvency problems. - More...
Thursday - March 17, 2005
National: Will congressional hearing hurt baseball? By David Nielsen - As the accusations and questions about steroids in baseball continue to mount, congressional investigators are hopeful that they can uncover some answers at the hearing of the House Government Reform committee Thursday. - More...
Thursday - March 17, 2005
National: Dog cropping bill causes uproar By Cynthia Hubert - Mia, an elegant Doberman pinscher, has ears that stand ramrod straight, pointing skyward as she prances and poses on the dog show circuit. -- They were not always that way. - More...
Thursday - March 17, 2005
Viewpoints
Opinions/Letters

REVILLA ROAD CLEANUP! by Jerry Cegelske - Thursday


White Cliff replacement project by Scott R. Davis - Thursday


Bridge to nowhere? by Kent Milaeger - Thursday


ANWR, simply a tool for the takeover by the greedy? by Clay Turnbull - Thursday


Survival of the Iranian regime and nuclear energy by Bahman Aghai Diba - Thursday


More Viewpoints/ Letters


Publish A Letter
March 2005
Click on the date for stories and photos published on that day...

| | | | | | | |
| --- | --- | --- | --- | --- | --- | --- |
| S | M | T | W | T | F | S |
| | | 01 | 02 | 03 | 04 | 05 |
| 06 | 07 | 08 | 09 | 10 | 11 | 12 |
| 13 | 14 | 15 | 16 | 17 | 18 | 19 |
| 20 | 21 | 22 | 23 | 24 | 25 | 26 |
| 27 | 28 | 29 | 30 | 31 | | |
Alaska: Big Oil, Big Whales, Big Trouble by Doug Schneider - The world's insatiable thirst for oil may threaten a little known population of gray whales with extinction in the Russian Far East. At more than $50 a barrel, oil has become one of the world's hottest commodities. No wonder then that oil companies are sinking new wells as fast as possible.

In the Russian Far East, just off Sakhalin Island, companies such as Shell, Exxon, and BP, are planning a massive project aimed at extracting an estimated 30 billion barrels of oil and 18 trillion cubic feet of natural gas from beneath the region's seabed. Rick Steiner is a conservation specialist with the Alaska Sea Grant Program who's visited the island.- More...
Thursday - March 17, 2005

Editorial

Nation needs ID theft notification law The Providence Journal - For some time, Congress has refused to take meaningful action against the problem of identity theft. But the recent fraud against data-collection giant ChoicePoint, along with other developments, may at last inspire badly needed reform. - More...
Thursday - March 17, 2005

Columns - Commentary

Betsy Hart: Have a nice day vs. 'you're in our prayers' - "You're in our prayers." I have noticed this phrase being offered more and more lately. Whether coming from newscasters, movie stars, politicians and other public figures as in, "we're sorry to report that Joe at the station has cancer - Joe, please know you are in our prayers," or, "to all the service men and women out there, please know you are in our prayers," to what I've often heard or overheard in private conversations, as in, "I'm so sorry to hear that - know you are in our prayers." - More...
Thursday - March 17, 2005

Deroy Murdock: Terrorists thrive north of our border - Without neglecting the U.S.-Mexican border, American officials better eye the northern frontier, too. While most Canadians are as friendly as Labrador retrievers, that attitude is not universal. - More...
Thursday - March 17, 2005

Clifford May: Waging the 'War of Ideas' against terrorism - President Bush's appointment of Karen Hughes and Dina Powell to the two top communications jobs in the State Department tells us this: He recognizes that perception is as important as reality - not just in domestic politics but also in the most critical area of foreign policy, the "War of Ideas" against terrorism and the ideologies that drive it. - More...
Thursday - March 17, 2005

Michael Reagan: Death Wish - It seems the Democrats have forgotten the old adage that those who refuse to learn from history are doomed to repeat it, and the history they are now scorning is very recent ­ it goes back to election day 2004, when Tom Daschle, the exalted Senate Minority Leader lost his seat in the upper body. - More...
Thursday - March 17, 2005

Dick Morris: Designer Social Security Lets People Control Their Futures - President Bush has to answer the question all of America is asking: How are we going to pay for his privatization proposal and for the current expected deficit in the Social Security system? - More...
Thursday - March 17, 2005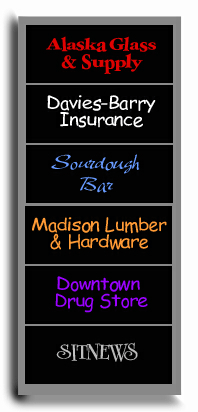 The June Allen Column
is made possible in part by these sponsors. Cick on each name to visit each web site.
June Allen Column

Copyright Applies - Please obtain written permission before reproducing photographs, features, columns, etc. that are published on SitNews.
---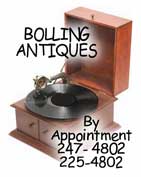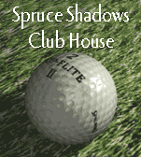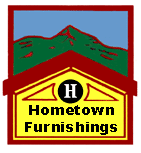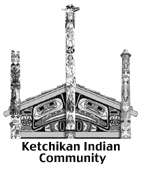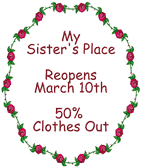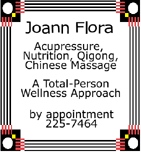 Ketchikan Charter Commission
Next Meeting:
Friday, March 25, 2005 at 6:00 pm
City Council Chambers
KCC Web Site