Big Oil, Big Whales, Big Trouble
by Doug Schneider
March 17, 2005
Thursday

The world's insatiable thirst for oil may threaten a little known population of gray whales with extinction in the Russian Far East. At more than $50 a barrel, oil has become one of the world's hottest commodities. No wonder then that oil companies are sinking new wells as fast as possible.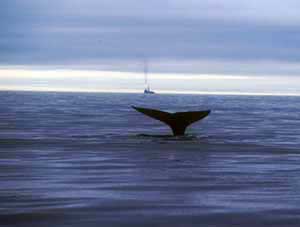 An international scientific review panel says planned oil development threatens endangered western gray whales that feed in waters off Sakhalin Island in the Russian Far East. (Courtesy Pacific Environment)

Listen to this story (MP3)
In the Russian Far East, just off Sakhalin Island, companies such as Shell, Exxon, and BP, are planning a massive project aimed at extracting an estimated 30 billion barrels of oil and 18 trillion cubic feet of natural gas from beneath the region's seabed. Rick Steiner is a conservation specialist with the Alaska Sea Grant Program who's visited the island.
Steiner said, "We could classify it as a super-giant reservoir primarily off the northeast part of the island, but there are oil and gas deposits that wrap around the island. Geographically it is located just north of Japan, and just east of the Okhotsk Sea off of the Russian mainland."
To get the oil and gas to market, oil companies will spend billions on offshore oil platforms and hundreds of miles of undersea pipeline that can operate even when the surrounding seas are covered with ice.
But presenting a problem for the oil industry are the region's critically endangered western gray whales. Steiner says only about 100 of the whales remain, and their primary feeding area is the shallow waters around Sakhalin Island.
Steiner said, "Oil is extraordinarily valuable right now, and they want to get this sub­sea infrastructure in place and pipeline down the island so they can make fabulous profits. But while that might be fine, this is the first time a critically endangered population of animals has come up against big oil in such a direct way, and it's going to be very interesting to see who wins."
Steiner was part of an international scientific panel convened by the World Conservation Union to draft a recently released report, paid for by the oil companies, on the impact of oil and gas development on Sakhalin Island. Steiner says the report focused on one project in particular, the Shell­led Sakhalin Energy Investment Company plan to build an oil platform adjacent to the western gray whale's only known feeding area.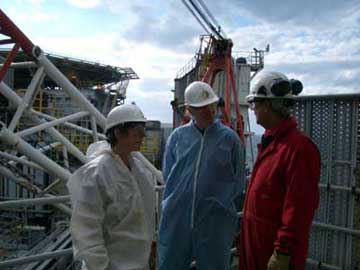 Steiner meeting with international scientific review panel member
Rick Steiner, center, and another member of an international scientific review panel, meet with an official on an offshore oil rig now producing off Sakahlin Island. (Courtesy Rick Steiner)
Steiner said, "You've got this new oil and gas production platform they want to site just a few miles outside the only known critical feeding habitat for this population of animals. If there is any disruption or damage to the environment or habitat or to the whales themselves, it's a great risk. It's the proximity of this development to an area where they concentrate that is the big concern."
Steiner says noise from construction activities, increased vessels in the area that could strike whales, pollution, and risk of oil spills all threaten the gray whale's survival.
Steiner said, "The population dynamic work done in the context of this panel demonstrated that the loss of one of the reproductive females could cause the population to spiral into extinction. It's a very highly vulnerable population of organisms."
Unlike Sakhalin's gray whales, which have no place else to go, Steiner says the oil companies could locate their platform and pipelines further from the whale's feeding area. He says they also could carry out construction in the winter, when whales aren't around, and put in place protections against oil spills and other hazards.
But according to a Shell news release, the company plans to go ahead with its planned $10 billion development efforts, despite the go­slow recommendation from the scientific panel.
This story is courtesy of Arctic Science Journeys. Arctic Science Journeys is a radio service highlighting science, culture, and the environment of the circumpolar north. Produced by the Alaska Sea Grant College Program and the University of Alaska Fairbanks.
E-mail your news & photos to editor@sitnews.us


Publish A Letter on SitNews Read Letters/Opinions
Submit A Letter to the Editor

Sitnews
Stories In The News
Ketchikan, Alaska