Friday
March 11, 2005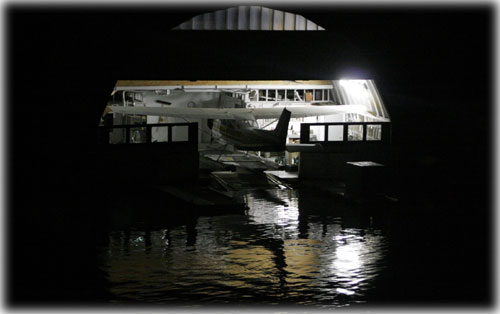 'At Rest'
Front Page Photo by Carl Thompson
National: Bid to bar drilling in ANWR defeated By Richard Mauer - Republicans held off an attempt Thursday to strip the Senate budget resolution of its provision to open the Arctic National Wildlife Refuge to oil exploration, setting the stage for a battle on the Senate floor, probably next week. - More...
Friday - March 11, 2005
National: Congress considers more regulation of data-collection industry by Margaret Talev - After years of pressure from consumer groups and several recent cases affecting hundreds of thousands of Americans, some members of Congress now seem intent on cracking down on identity theft, not just by going after computer hackers or educating consumers but by imposing stricter regulations on the companies collecting and selling personal information. - More...
Friday - March 11, 2005
National: U.S. official secrets multiplying at fast pace By Lance Gay - Federal agencies are drawing protests from news organizations by removing previously public documents from their Web sites and creating new national security secrets at an accelerating pace. - More...
Friday - March 11, 2005
National: FOIA offers citizens access to government data By Thomas Hargrove - Ever wanted to take a peak into the inner working of the federal government? Or perhaps you're just curious about what bureaucrats have written about you and your family? - More...
Friday - March 11, 2005
Washington Calling: Ides of March ... Kevlar shorts ... dogfight ... more By Lance Gay - Syrian President Bashar Assad should beware the Ides of March.
The runes being read in Washington aren't looking good for the son of Syrian strongman Hafez al-Assad. A computer geek and technocrat, Bashar never really wanted the job as Syria's leader, and is in office thanks to his late father's geriatric cronies. - More...
Friday - March 11, 2005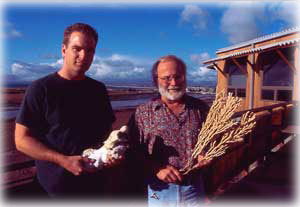 Deep-Sea Coral
by Doug Schneider
Scientists Allen Andrews, left, and Gregor Cailliet of Moss Landing Marine Laboratories are studying the age and growth of corals that thrive in the deep sea. Photo Courtesy Doug Schneider, Alaska Sea Grant.
Alaska: Deep-Sea Coral by Doug Schneider - Probably few of us can imagine living to be well over one hundred years old. Yet in nature, many species often live this long. Bowhead whales can live more than 150 years, as can land tortoises and rockfish, to name just a few. Scientists recently discovered that the deep-sea corals in waters off Alaska also live a long time, and may play a key role in maintaining healthy fish stocks. - More...
Friday - March 11, 2005
Alaska: Exports Rebound to $3.2 Billion High in 2004 - Alaska businesses exported $3.2 billion in goods to foreign countries in 2004, topping the $3 billion mark for the first time in more than a decade, according to data compiled by the state Department of Commerce, Community and Economic Development. - More...
Friday - March 11, 2005
Alaska: Young Tells Congress "It's My Way, Not Your Highway" say Alaska Conservation Groups - Transportation Committee Chairman Don Young (R-Alaska) on Thursday oversaw the passage of H.R. 3, a $284-billion transportation bill that will authorize spending on highway and transit projects for the next six years. A staggering $721.9 million is earmarked for 39 wasteful transportation projects in Alaska, including $423 million for two massive bridges say Alaska conservation groups. - More...
Friday - March 11, 2005
Alaska: State, Public Safety Union Reach Accord on Contract - Alaska Governor Frank H. Murkowski on Thursday praised a new three-year labor contract approved for state troopers, airport police and fire officers who are represented by the Public Safety Employees Association, calling it a balanced agreement. - More...
Friday - March 11, 2005
Alaska: Alaska is "Going Wild" - The State of Alaska and the Alaska Department of Commerce, Community and Economic Development are co-hosting a one-of-a-kind, invite-only event, showcasing the best that Alaska has to offer. Held on Sunday, March 13, 2005, the event will take place in the elegant Sheraton Boston Hotel, located in the heart of downtown Boston. - More...
Friday - March 11, 2005

Ketchikan: Listen to this KRBD story... A Ketchikan Group still hopes to keep recreation lands in the Leask Lakes areas from being logged. The Mental Health Trust Authority has already said it will award the timber contacts to Alcan. Jay Marble reports.
KRBD - Ketchikan Public Radio - Friday - March 11, 2005
Viewpoints
Opinions/Letters

Aerial Spraying of Pesticides: Decision Questioned by Elroy Edenshaw Jr.- Friday


School construction costs - Tom LeCompte - Friday


Proud of Revilla by Tanner W. Birch - Friday


More Viewpoints/ Letters


Publish A Letter
March 2005
Click on the date for stories and photos published on that day...

| | | | | | | |
| --- | --- | --- | --- | --- | --- | --- |
| S | M | T | W | T | F | S |
| | | 01 | 02 | 03 | 04 | 05 |
| 06 | 07 | 08 | 09 | 10 | 11 | 12 |
| 13 | 14 | 15 | 16 | 17 | 18 | 19 |
| 20 | 21 | 22 | 23 | 24 | 25 | 26 |
| 27 | 28 | 29 | 30 | 31 | | |

Front Page Archives
Columns - Commentary

Dave Kiffer: Nostalgia like that... For my birthday, my darling wife Charlotte bought me a video of the movie "Ray."
There is a scene in the movie where Ray Charles is performing before a packed auditorium and it takes me back to the old Kayhi Auditorium in the early 1970s, when Charles brought his big band to Ketchikan. It was one of the great moments of my youth and changed my life. - More...
Friday - March 11, 2005

Dale McFeatters: Changing the rules on bankruptcy - The bankruptcy bill that just passed the Senate and is assured of House passage is being described as "the most sweeping" and "most significant change" in bankruptcy laws in 27 years and as a political victory for President Bush.
A political victory for Bush and the credit-card and banking industries, yes. But as for "sweeping" and "significant," only time will tell. - More...
Friday - March 11, 2005

Linda Seebach: Stuck with Social Security as we know it - I wish Social Security had been set on track toward a sustainable financial future years ago, when it might have done me some good. But I turned 65 in December, and now I'm stuck with it.
By "sustainable" I mean, to be entirely non-technical about it, that the system is in actuarial balance as far as projections go, with projected revenues sufficient to pay projected benefits forever. Depending on who's counting, the system is several trillion dollars short of that now. - More...
Friday - March 11, 2005

Marsha Mercer: When dinner can do you in - The cat shot him.
The Associated Press reported one day last week that a man in Michigan was standing at his stove, cooking, about 6 p.m. when one of his cats knocked a loaded, 9mm handgun to the floor. - More...
Friday - March 11, 2005

Joseph Branco: The Minimum Wage should be abolished - Who has the right to assign a minimum amount of money an employer can pay an employee? The government? By what authority? There are no provisions in the constitution that grant the government that kind of power. It is my contention that the concept of a "minimum wage" should be abolished. - More...
Friday - March 11, 2005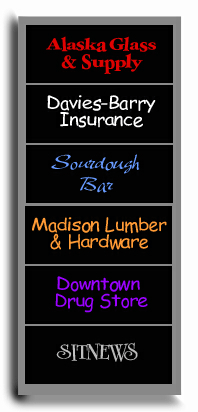 The June Allen Column
is made possible in part by these sponsors. Cick on each name to visit each web site.
June Allen Column

Copyright Applies - Please obtain written permission before reproducing photographs, features, columns, etc. that are published on SitNews.
---