GAVEL ALASKA: Live coverage of the Alaska legislature, including committee meetings, Alaska senate and house floor sessions, press conferences and other legislative events. In addition, oral arguments before the Alaska Supreme Court are covered, administration press conferences and briefings, general government activities, and other meetings about legislative issues or of political interest.Watch Live or Watch Archives 360North.org
Alaska Legislature - Schedule, live meetings, archived videos, documents. - Click here...
Ketchikan: Public Meetings
Ketchikan: Upcoming Events
Historical Ketchikan

June Allen


Dave Kiffer


Louise B. Harrington
Ketchikan Weather

Ketchikan's Forecast


March 2019 History


Ketchikan's High/Low Records


Feb 2019: Precip Stats:
Feb Total Precip: 0.65 in
Feb Avg Precip: 12.43 in


Nat Weather Service KTN


Ketchikan Tides & Currents


Sunrise - Sunset Ketchikan
Search the News



Ketchikan


Alaska
Fish Factor: Plan to Pull Fish Taxes From Coastal Towns Subject of Hearing By LAINE WELCH ) - None of the members of the Senate Community and Regional Affairs committee (CRA) lives near the sea, but at a hearing last week they were not impressed by Governor Dunleavy's plan to pull millions of dollars in fish taxes from remote coastal towns.
Bills submitted to the legislature by the governor would remove the ability of towns to keep their share of local fisheries business and landing taxes. For decades, the taxes have been split 50/50 with the state. Dunleavy wants to take all of the funds for state coffers, meaning a combined loss of $29 million to fishing towns come October.
Over 20 mayors, financial officers, harbormasters and fishermen testified against the tax grab at the CRA and outlined how it would devastate coastal Alaska.
"The share of fish taxes is used to ensure sustainable communities," said Nils Andreassen, executive director of the Alaska Municipal League. "They contribute to general funds, operate and maintain ports and harbors, many of which the state transferred in neglect to municipalities 10 years ago, they support education, hospitals, public works, solid waste, grants to local nonprofits and to replace gaps in state capital investment."
Jon Erickson, Yakutat City/Borough manager, said the loss would likely close down the community's lone fish plant.
"What part of shutting down rural Alaska equates to Alaska is open for business?" he asked.
Pat Branson, Kodiak City Mayor, called the tax loss "cost shifting and revenue grabbing" and a "quick fix to a long-term problem of the state budget deficit."
"Every municipality and every Alaskan should have in-depth research and analysis," Branson said. "This budget approach lacks the understanding and awareness of the realities of living in a resource economy and in a geographically remote location."
"Moorage rates in Wrangell would increase from 43-57 percent to cover the loss of money dedicated to our harbors," said Lee Burgess, financial manager of the City and Borough of Wrangell. "It's an example of arbitrarily picking winners and losers and causing disproportionate harm to certain communities relevant to how much of their economic platform is made up by commercial fishing."
"Fisheries is our only industry and fish tax revenues make up 26 percent of our $31 million general fund revenues, over $8 million annually. We use fish and sales taxes to pay our own way," said Frank Kelty, mayor of Unalaska/Dutch Harbor, the nation's top fishing port for over two decades. "If the state takes away the share of fish taxes, who will step up to assist communities across Alaska with projects needed to support the seafood industry, which is the economic engine of all fishery dependent communities?"
"If you're looking for money to run the state why not revise the oil subsidies to Big Oil that collect more profits per barrel than any other oil field in the world. We fish hard and pay our taxes. We deserve our taxes to benefit our communities," said Shawn Dochtermann, a longtime Kodiak fisherman.
"You took oaths to defend Alaskans," said Jeff Guard, a Cordova city council member. "We are under attack and you have the power of the purse to defend us from these draconian budget cuts."
Fisherman Stosh Anderson of Kodiak closed his testimony with a haiku. "Fishermen pay tax, Absconded by the government. Infrastructure fails."
And so it went as Alaskans from Petersburg, Akutan, Bristol Bay, Adak, Homer, St. Paul, Kenai and more shared their concerns.
Senators Bishop (R-Fairbanks), Birch (R-Anchorage) and Gray-Jackson (D-Anchorage) asked Dept. of Revenue Commissioner Bruce Tangeman if there had been any communication with communities about the fish tax loss, or any economic impact analyses done.
The answer was no.
Tangeman said the governor intends to share 50 percent of state alcohol tax revenues through a community assistance program to soften the loss, about $20 million.
Senator Birch asked about the motivation behind allocating alcohol taxes to the fishing towns.
"I don't know what the policy call was," Tangeman responded.
(Rep. Louise Stutes (R-Kodiak) nor Dunleavy policy advisor, John Moller both said they were unaware of the alcohol tax proposal at subsequent public meetings in Kodiak.)
"The thinking behind this is we need to bring all our revenue streams together to benefit all Alaskans," Tangeman said. "Obviously, these folks are seeing this from their backyards. I hope they can all appreciate the state is really struggling and we have a budget that is unsustainable."
"Is this bill a priority of the Dunleavy administration?" asked Senator Bishop.
"Yes, it is," Tangeman said.
"I want to tell you how much I appreciate and respect your comments that the state is struggling," said Senator Gray-Jackson. "But you can't punish communities because the state is struggling. That is just not the way to handle this." - More...
Tuesday PM - April 02, 2019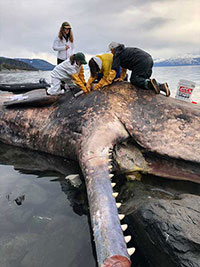 A team of marine mammal experts perform a necropsy on a male sperm whale.
Photo By Johanna Vollenweider/NOAA
Southeast Alaska: First time NOAA Fisheries has had a report of a dead sperm whale in Alaska's Inside Passage - It was a rare find: a dead sperm whale washed up on a beach in Alaska's famed Inside Passage in Southeast Alaska. Sperm whales, which are endangered, usually hang out in deeper, offshore waters. This one-a 48-foot long male-was found beached on the east side of Lynn Canal, north of Berners Bay near Juneau.
This is the first time NOAA Fisheries has had a report of a dead sperm whale in the Inside Passage. Its discovery provided a unique opportunity for marine mammal experts from NOAA Fisheries, Alaska Department of Fish & Game, Sitka Stranding Network, and University of Alaska to perform a necropsy (or animal autopsy).
"This is an exceptional opportunity for a marine mammal biologist," said Kate Savage, NOAA Fisheries lead veterinarian on the necropsy. "There are a lot of unknowns around sperm whale biology and life history in Alaskan waters, so we could learn a lot from this stranding."
On March 20, 2019 a team led by Savage collected the whale's teeth to determine age, blubber to check for contaminants, and a variety of tissue samples to examine DNA and other health indicators.
Only two other sperm whales have been necropsied in Alaska since 1990. The first was a partial necropsy of a whale that stranded in Resurrection Bay in 2006, the second was a calf that stranded near Homer in 2009.
Known Individual

Researchers with the Southeast Alaska Sperm Whale Avoidance Project (SEASWAP) are working to determine if the dead sperm whale is one of three known individuals to frequent Chatham Strait and Lynn Canal, based on tagging data collected in the past five years.
"We have photos of only three individual sperm whales which have been sighted in Chatham and Lynn Canal, and we would love to know if it is one of those individuals," said necropsy team member Lauren Wild, a doctoral student with the University of Alaska Fairbanks College of Fisheries and Ocean Science who works with SEASWAP.

SEASWAP is a unique collaboration between commercial fishermen, scientists, and fisheriesmanagers. They use acoustics, tagging, tissue sampling, and photo-identification to learn more about sperm whales in Southeast Alaska. Their ultimate goal is to test deterrents and strategies to minimize interactions between the whales and fishermen.

Wild says nearshore waters are not typical sperm whale habitat, but the canyon-like depths of Chatham Strait make it highly productive. Lynn Canal gets narrower and shallower, but if there are abundant food sources, whales could be expected to explore farther north. The first official sighting of a sperm whale in Chatham Strait was in 2008 during an Alaska Department of Fish and Game sablefish survey, but there are anecdotal reports from before that time.

Scientists suspect the sperm whales first found the waters of the Inside Passage by following longline vessels into southern Chatham Strait. Most satellite tagging data indicate they have stayed in inside waters after the sablefish season closed, perhaps pursuing an abundant food source. In fact, the stomach of this animal contained almost exclusively beaks of squid, which Wild believes were magister armhook squid and have been seen in large quantities by fishermen in Lynn Canal. - More...
Tuesday PM - April 02, 2019