Ketchikan's 'railroads' have faded into history
By DAVE KIFFER
December 27, 2016
Tuesday PM

Ketchikan, Alaska - For decades, Ketchikan residents have been amused by questions on the state driver's test dealing with railroad crossings. Because, like nearly all the other towns in Southeast Alaska, there are no railroads: Except for Skagway which has the famed White Pass and Yukon railroad, which takes tens of thousands of visitors each summer from tidewater to the top of the nearby White Pass.
But what many locals may not remember is this: Ketchikan and Saxman have both had industrial "railroads" in recent decades.
Neither "line" was more than a few hundred yards long and both were tied to industrial parks in Ward Cove and Saxman.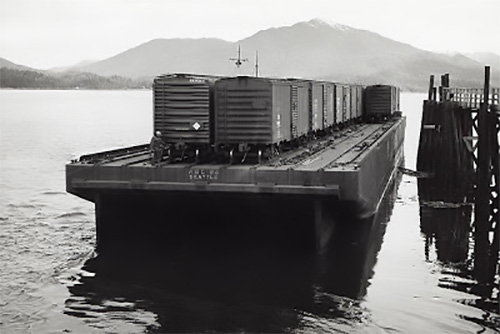 March 1958: Car barge rail bridge, Prince Rupert. Most folk think of Prince Rupert as being the western terminus of the Canadian National Railways. But CNR had a customer 100 miles north and west at Ketchikan Pulp and Paper's Ward Cove Complex, a few miles north of Ketchikan.
Photo courtesy Oil Electric www.oil-electric.com

The Ward Cove "railway" was a quarter mile of track used to move supplies from rail barges into the Ketchikan Pulp Company plant. The rail cars were pulled off the barge and shunted around the plant by a 50 ton, 500 horsepower Whitcomb diesel industrial locomotive, which was in operation from 1954 until the pulp mill closed in 1997.
The rail barges came from the Canadian National Railway line which reached into Prince Rupert. The rail barges, which contained up to 24 rail cars, made the 14 hour, 110 mile trip from Prince Rupert and then returned to Prince Rupert with raw materials for industries in Canada.
The second Ketchikan area "railroad" was in Saxman, at the Saxman Seaport. In the 1960s, the Seaport was built to facilitate container shipments into Ketchikan and initially, at least, it was determined that most of the container shipments would be via rail barges, so a transfer facility was needed.
The small facility had a couple hundred feet of track and single siding. It was completed in 1967 and the rail cars were pulled by a small engine similar to a trackmobile. By the mid 1970s, the Ketchikan and Northern Terminal was handiling about 25 percent of Southeast Alaska's freight, which was taken off the larger rail barges and repackaged for regional barges. One of the largest items the Seaport handled was propane, of which nearly 4,000 tons came in each year.
Eventually less expensive methods of container shipping were developed and the rail transfer barge and side were removed from the Seaport.
But even more interesting in Ketchikan's history have been the numerous mini railroads, or tramways, that were in operation primarily in the first half of the 20th Century. It turned out that the most reliable way to move ore, wood and other things back and forth from tideland into the mountains were trams, primarily wooden ones built from the inexhaustible supply of timber.
An exhaustive history of these mining trams can be found in Funter Bay native Gabe Emerson's wonderful internet blog "Saveitforparts."
Dozens of trams operated for mines and other operations on Revillagigedo, Gravina, Prince of Wales and other locations in the area.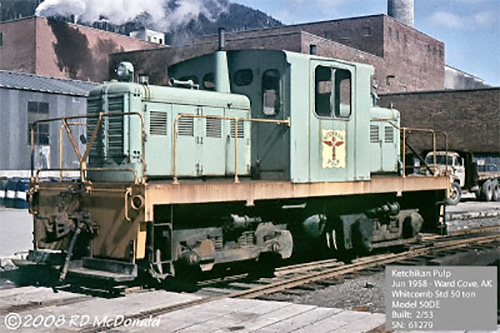 June, 1958: Louisiana-Pacific was the parent company of Ketchikan Pulp Company. In 1954, they completed a $54m viscose-process mill. Construction of the mill took nearly 1,000 workers many of whom moved to Ketchikan for the duration of the two-year construction project. It was a huge financial boom to Ketchikan, housing was at a premium and local developers took advantage of a change in Federal law that offered economic incentives for large apartment complexes. L-P shut the mill down in 1997. No ones seems to know what became of her when the pulp mill was closed.
Photo courtesy Oil Electric www.oil-electric.com

Going back into Ketchikan's early history, there was a "tramway" from Ketchikan Creek up into Bear Valley, primarily to service the sporadically active Schoenbar Mine. The tramway was built in 1904 by mine superintendent James Hart, who was an engineer. That tram had a 10 foot wide right of way beginning at the Spruce Mill and heading up what was then called Market Street, now Mission Street, across Cedar and Helm streets to Bawden. It then went up Park Avenue to Harris Street and up what is now Schoenbar Road to the main mine site on what is now Peyton Place.
In a 1904 edition of the Mining Journal, the line was referred to as a "plank" tramway and its construction reportedly caused Ketchikan Creek to become narrower at certain points. Total length of the tramway was a little more than 1.25 miles. At one point it went through the townsite of Altamont. A townsite that Schoenbar had intended to establish in Bear Valley but never came to fruition.
The Schoenbar mine continued to operate sporadically until 1911 when Colonel Schoenbar left town, allegedly to avoid creditors.
A second "tramway" was also built along Ketchikan Creek. It was owned by Ketchikan (or Citizens) Power and Light, the forerunner of Ketchikan Public Utilities. It was part of a flume structure that brought water from Ketchikan lakes to the town powerhouse. It ended at the Water Warehouse near the intersection of Park Avenue and Bawden Street.
Ketchikan "oldtimers" used to occasionally reference a "railroad" in the City Park in the late 1930s. During an "industrial fair" in 1937, a small tourist railroad was built, looping between the park ponds. It was about 1,000 feet long and crossed over several small bridges and went into a tunnel. It had a small gasoline engine and two coaches. It operated until 1941.
Another fairly large tramway, parts of which existed well into the latter part of the 20th Century, was the Alaska Packers Association tramway betweet Loring and the Fortmann Hatchery on the Naha River. The tramway was several miles long and was basically a plank road that went around Roosevelt Lagoon. There was were also smaller tramways that connected the operation with up to Heckman and Jordan lakes.
One of the largest mines in the area, the Rush and Brown Mine at the head of Kasaan Bay had a nearly full sized railroad to carry ore from the copper-nickel mine three miles to its wharf. The Porter 0-4-2 locomotive was featured in Alaska Sportsman magazine in the 1950s and was eventually salvaged and sold to a train collector in Nevada.
The mining community of Dolomi near Moira Sound on Southeast Prince of Wales had numerous mining operations and the area was criss-crossed with trams in the early decades of the 20th century. Three different trams show up in a Federal survey from 1908 and at least two others were known to operate in Dolomi in those years.
A gasoline locomotive was used on a tram at the Cymru Mine, also in Moira Sound. According to a story in the Ketchikan Mining Journal, the Cymru tram was more than two miles long, making it one of the longest in the region.
Hadley, a full fledged town that grew up on Eastern Prince of Wales, south of what is now Thorne Bay, had a large copper smelter and a railroad that connected mine sites and a sawmill. The locomotives were apparently big enough to haul "5 ton slag cars" to and from the smelter. Their was also, reportedly, an aerial tram in Hadley that serviced the smelter as well.
Small tramways were also built to service some of the isolated lighthouses in the region, so that supplies could be more easily brought up from the water.
One of the more interesting tramways in Southeast was built during World War II. Forrester Island is an uninhabited island 20 miles west of Dall Island in the open ocean. It is currently a wildlife and seabird refuge and at different times was home to a small fishing fleet. But during World War II it was seen as bulwark in the area defenses and a radar installation consisting of 20 buildings was planned for one of its mountains and a 3,000 tramway was constructed to service the installation. But funding lagged and the remote installation was never completed or made operable, although "coast watchers" were briefly located on the island during the war.
On the west side of Prince of Wales and the neighboring islands were several marble quarries. One of them, just north of Shakan, had a rariety, a funicular, an inclined cable railway. It was some 3,000 feet long and was powered by a cable and a winch. It's modern day descendent, sort of, lives on in Ketchikan, where a 130-foot-long funicular transports passengers from Creek Street to the Cape Fox Lodge, overlooking downtown Ketchikan.
On the Web:
Save It For Parts: Lesser Known and Obscure Railroads of Alaska
https://saveitforparts.wordpress.com/projects/
lesser-known-and-obscure-railroads-of-alaska/
On the Web:
Columns by Dave Kiffer

Historical Feature Stories by Dave Kiffer
Dave Kiffer is a freelance writer living in Ketchikan, Alaska.
Contact Dave at dave@sitnews.us
Dave Kiffer ©2016

Representations of fact and opinions in comments posted are solely those of the individual posters and do not represent the opinions of Sitnews.
E-mail your news & photos to editor@sitnews.us


Publish A Letter in SitNews Read Letters/Opinions
Contact the Editor
SitNews ©2016
Stories In The News
Ketchikan, Alaska

Articles & photographs that appear in SitNews may be protected by copyright and may not be reprinted without written permission from and payment of any required fees to the proper sources.