Saturday - Sunday
September 27 - 28, 2003
'Last Ship'
photo by Dick Kauffman
Airman 1st Class Brian Pyles
Photo courtesy Terry Pyles
Ketchikan: Pyles Home Safely From Middle East - Airman 1st Class Brian Pyles, the son of Terry and Cheri Pyles of Ketchikan, recently returned safely from his second deployment to the Middle East to his unit's home base at Hurlburt Field in Florida.
Pyles served over a year and a half in the Gulf region in one of the United States Air Force's elite Red Horse Squadrons performing various essential infrastructure construction jobs and building bases necessary for deploying air assets in the war against Saddam.
According to public information provided by the United States Air Force, the Rapid Engineer Deployable Heavy Operational Repair Squadron Engineer (RED HORSE) Squadrons provide the Air Force with a highly mobile civil engineer response force to support contingency and special operations worldwide.
The USAF reports the RED HORSE units are self-sufficient, 404-person mobile heavy construction squadrons capable of rapid response and independent operations in remote, high-threat environments. ......- Read more...
Sunday - September 28, 2003 - 12:50 am
Juneau: Juneau GI injured on Iraq patrol - Spc. Josel Carrillo, a former Juneau-Douglas High School soccer player, was seriously injured last week in Iraq, his family said. - Read more...
Juneau Empire - September 28, 2003 - 12:50 am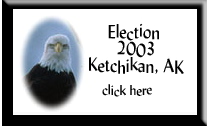 About the Candidates
Candidates' Forum
Election Information
Readers' Questions

Ketchikan

Ketchikan: Saturday's Front Page Photo - 'Last Ship' - With the departure of the Veendam around 6:00 pm Friday evening, the 2003 cruise season came to an end.
According to information obtained from the Ketchikan Visitors Bureau's 2003 Cruise Ship Calendar, the 2003 season projected a "potential" of 757,374 passengers visiting Ketchikan with a "potential" of 538 stops made by 37 cruise ships. Past arrival data... Read more...
Saturday - September 27, 2003 - 12:30 am
Alaska: State Gaming:Too Much of a Gamble or a Good Way to Raise State Dollars - Some say State gaming may very well be part of the answer to bridging the State's fiscal gap. Others say the social consequences outweigh any benefits. - Read more...
Saturday - September 27, 2003 - 12:30 am
Alaska: Kenai Peninsula Youth Facility Opened Sept. 26 - The Alaska Dept. of Health & Social Services (DHSS) and DHSS Division of Juvenile Justice (DJJ) hosted dedication and opening ceremonies Friday for the new Kenai Peninsula Youth Facility in Kenai. - Read more...
Saturday - September 27, 2003 - 12:30 am
Alaska: Governor's Awards; Employers, Organizations and Individuals Recognized - On Thursday, October 2, 2003, the Governor's Committee on Employment & Rehabilitation of People with Disabilities will hold its Annual Awards Ceremony honoring individual Alaskan's, employers and organizations that have helped advance the employment of people with disabilities. - Read more...
Saturday - September 27, 2003 - 12:30 am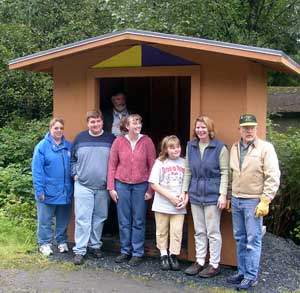 Mark and Lisa Davey, Martha Davey, Marvin Hill, Cher'e Klein, Courtney Enright, and Dick Coose
Photo courtesy Gretchen Klein
Ketchikan: Ketchikan Lions Club Seeks New Members by Gretchen Klein - The Ketchikan Lions Club (KLC) is seeking to increase its membership. There are many reasons for becoming a KLC member. The Ketchikan Lion's Club (KLC) sponsors a variety of events, programs, and projects in Ketchikan. The Ketchikan Lion Club's membership has declined from the 1980's; however, at the same time more responsibility has been placed at the realm of the KLC to continue community events. - Read more...
Saturday - September 27, 2003 - 12:30 am
Ketchikan: Meth Facts by Marya Tyler - All of the ingredients are toxic. One of the ingredients is battery acid. This is meth... also called ice, crank, crystal, and lith. ...... Users can expect anxiety, paranoia, delusions and users can expect to become addicted and expect a permanently dumbed-down brain. - Read more...
Saturday - September 27, 2003 - 12:30 am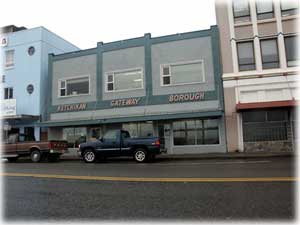 Reid Building's New Look
photo by Dick Kauffman

Ketchikan: New Look - The 73-year-old Reid Building has a bright appearance thanks to Ketchikan businessman Terry Wanzer who offered to pay for the painting of the Ketchikan Gateway Borough office building's front.
The work was underway in August and just recently completed. The Reid Building was built in 1930 and hasn't been painted in a little over a decade. - More...
Saturday - September 27, 2003 - 12:30 am

NW: Without thinning the worst is yet to come for fire-prone forests - When fires turn eastern Washington and Oregon forests into wastelands, valuable wildlife habitat is lost and it costs between $1,300 and $2,100 per acre in fire-fighting costs, lost buildings, economic suffering by nearby communities and degraded waterways, say University of Washington researchers in a recently published report. - Read more...
Saturday - September 27, 2003 - 12:30 am
Go to Sitnews (view previous front pages)
Sitnews
Stories In The News
Ketchikan, Alaska