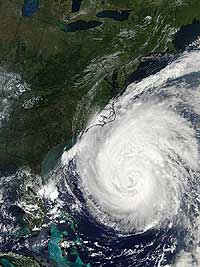 Hurricane Isabel; Sept. 17, 2003 PM
Credit: NASA/MODIS Land Rapid Response Team
Science: Hurricane Isabel - NASA satellites capture many different perspectives of Hurricane Isabel. Twice a day, every day, two satellites fly over the planet capturing highly detailed images of the Earth.
View a larger photogaph and view an animated sequence showing eight days of high-resolution images of Hurricane Isabel. These images are so detailed that you can see the wind vortices inside the eye. These images were captured September 8, 10,11,12, 14, 15, 16, and 17, 2003. NASA's Moderate Resolution Imaging Spectroradiometer (MODIS) instruments onboard NASA's Terra and Aqua satellites acquired the data for these images. - More...
Thursday - September 18, 2003 - 12:20 am
Ketchikan: Fred Trout Instructs Northwest Coast Design I - Tlingit Carver Fred Trout will be instructing Northwest Coast Design I September 22-October 3, 2003. Students will discover how to correctly create original Northwest Coast Designs. This course is a 30- hour course and is a prerequisite for many classes at the Totem Heritage Center. - Read more...
Thursday - September 18, 2003 - 12:20 am
Dick Morris Columnist: Terror Fears Fade Too Fast - The 9/11 attack is a wound that healed too quickly. The skin has knit over the gash; only a scar remains visible. Yet, underneath, infection still roils and an abscess oozes.
Terror has not gone away, but fear of it has subsided. Terrorists are still at large, but the determination to catch them has ebbed. Osama and Saddam still excite our attention, but we read of the almost weekly arrests in America of potential terrorists with the same calcified apathy with which we react to drug busts. - Read more...
Thursday - September 18, 2003 - 12:20 am
Washington: Buyer hasn't paid for Kalakala - The Buck Rogers-era ferry Kalakala might remain in Puget Sound waters after all - if the second-highest bidder can ante up the money. - Read more...
The Seattle Times - Thursday - September 18, 2003
Go to Sitnews (view previous front pages)
Sitnews
Stories In The News
Ketchikan, Alaska