'Coral Princess Tender'
Photo by Gigi Pilcher
Ketchikan: Front Page Photo - This photo was taken last Thursday. The Coral Princess tender was ferrying passengers out to the Coral Princess which was anchored in the Tongass Narrows.....
Wednesday - September 17, 2003 - 1:15 am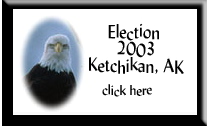 Ketchikan
Alaska: State Argues Rural Public Safety Case Before Alaska Supreme Court - The State of Alaska presented its arguments in Alaska Intertribal Council v. State before the Alaska Supreme Court Tuesday afternoon, stating that assignments of Alaska State Troopers is a matter for the Legislature and Department of Public Safety rather than the courts to resolve.
The claims in the case allege that the state under allocates police protection provided by Alaska State Troopers to isolated communities in comparison to communities on the road system also protected by Troopers. - Read more...
Wednesday - September 17, 2003 - 1:15 am
Alaska: Attorney General Files Petition For Rehearing With The Alaska Court of Appeals In Noy Decision - Attorney General Gregg Renkes provided direction on Tuesday to Public Safety Commissioner Bill Tandeske and state district attorneys regarding the treatment of marijuana possession cases in light of the recent appeals court decision in Noy v. State. The Attorney General filed a petition for rehearing in that case with the Alaska Court of Appeals Monday, September 8, 2003.
Noting that possession of any amount of marijuana remains a federal crime, Attorney General Renkes advised law enforcement officials to "continue to investigate these cases in a manner that would allow for federal prosecution. This includes seizing evidence of the crime, the marijuana, and writing reports documenting the investigation. These cases should be referred to the local district attorney office for review and coordination with the U.S. Attorney's office." - Read more...
Wednesday - September 17, 2003 - 1:15 am
Alaska: SEMCO ENERGY to Sell Alaska Pipeline Company for $95 Million - SEMCO ENERGY, Inc. (NYSE: SEN) and Atlas Pipeline Partners, L.P. (Amex: APL) announced Tuesday that SEMCO has entered into a definitive agreement to sell Alaska Pipeline Company (APC) to Atlas Pipeline Partners, L.P. for $95 Million. - Read more...
Wednesday - September 17, 2003 - 1:15 am
Ketchikan - Saxman: Sen. Murkowski To Hold Town Meeting In Juneau To Solicit Views On Cape Fox Land Exchange Bill - According to a news release, U.S. Sen. Lisa Murkowski, honoring a commitment she made to Juneau residents during an economic development forum in August, will return to Juneau on Saturday, Sept. 20th to hold a 2 1/2-hour town meeting to gather public views on her proposed Cape Fox land exchange bill. - Read more...
Wednesday - September 17, 2003 - 1:15 am