Friday
August 01, 2003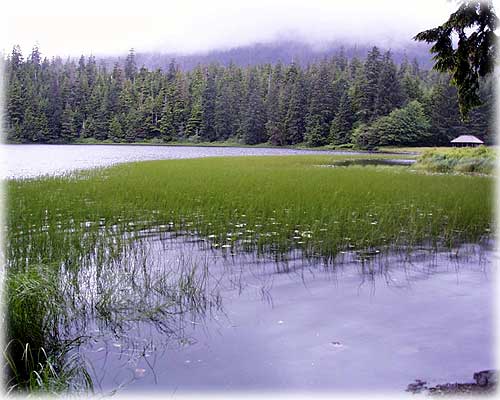 Ward Lake
by Rick Grams
Today In Ketchikan: Blueberry Arts Festival - Schedule of Events for the 2003 Blueberry Arts Festival...
For more Ketchikan events, click on The Arts This Week...
Ketchikan: IFA Traffic Up - Traffic for the year to date aboard the M/V Prince of Wales is up 15% over the same period a year ago, according to Inter-Island Ferry Authority chair Dennis Watson of Craig. The IFA passenger/vehicle ferry M/V Prince of Wales provides year-round daily service between Ketchikan and Hollis, on Prince of Wales Island. Twice daily round-trips are offered during June, July and August. "Considering that in 2002, our first year of operation, we generated almost as much traffic as the Alaska Marine Highway System did with the M/V Aurora in 1992, which was their top year, we are very pleased with the way traffic is growing", said Watson. The Hollis-Ketchikan ferry route is now Alaska's busiest, according to IFA research. - Click here to read more...
Friday - August 01, 2003 - 1:00 am
People of Ketchikan: 'Life after retirement...' - Retired Ketchikan Gateway Borough School District prinicpal, Charlie Arteaga took a few minutes to pose for the camera in front of the tour bus he drives during the summer months. Arteaga has been driving buses during the summer for three years. - Click here to view a larger photo...
Friday - August 01, 2003 - 1:00 am
USA: FAA Administrator Unveils New Airman Certificate - Beginning July 31st, the U.S. Department of Transportation's Federal Aviation Administration (FAA) will begin issuing new, security-enhanced airman certificates to the nation's 650,000 active pilots. FAA Administrator Marion C. Blakey unveiled the new certificate before hundreds of aviation enthusiasts at the Experimental Aircraft Association (EAA) AirVenture.
The new credit card-sized certificates are made from high-quality composite PVC media card stock and incorporate new security features, such as a hologram of the FAA seal. They will replace the existing paper airman certificates which can be easily damaged.- Click here to read more...
Friday - August 01, 2003 - 1:00 am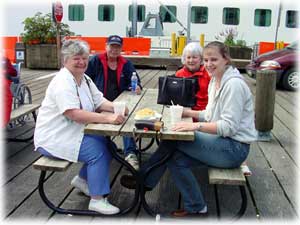 Connie Wingren and her daughter Rebecca Bates...
Back row: Dick and Virginia Adams...
Photo by Gigi Pilcher
People of Ketchikan: 'Lunch on the docks...' Ketchikan residents Virginia and Dick Adams enjoyed lunch on Thursday on the dock. Sharing a table with the couple was Connie Wingren and her daughter, Rebecca Bates.
Rebecca and her husband William returned home this year to live in Ketchikan after living in Iowa. Rebecca Bates hopes to follow in her mother's footsteps and teach in one of the elementary schools in Ketchikan. William Bates, an artist, is working this summer for Alaska Airlines. One of his art pieces will be featured in the 2003 Blueberry Art Show. Earlier this year, William donated one of his works to the Ketchikan Annual Cancer Auction fundraiser.
Rebecca reports she is very happy to be home again and is looking forward to being able to have lunch with her mom on a regular basis. - Click here to view a larger photo...
Friday - August 01, 2003 - 1:00 am
Alaska: Governor Urges Congressional Panel to Weigh Alaska Gas Potential - Governor Frank H. Murkowski this week extended an invitation to the special congressional task force assessing the nation's alternatives for an affordable natural gas supply to come to Alaska and find out how this state can help meet the nation's need for gas.

In letters to Energy Committee Chairman Billy Tauzin and House Committee on Resources Chairman Richard Pombo, Murkowski said that members of the panel would benefit from learning firsthand "how Alaska can assist in providing much needed natural gas to the rest of the nation."

Tauzin and Pombo co-chair the Speaker's Task Force for Affordable Natural Gas, which is charged with "considering short- and long-term ideas to encourage a stable supply of natural gas to ease prices." - Click here to read more...
Friday - August 01, 2003 - 1:00 am

People of Ketchikan: 'Crossing Guard At Work...' Ashley Skidmore, a 2002 Ketchikan High School graduate, is working this summer as a downtown crossing guard to earn money for her college expenses. Skidmore attends college in Las Vegas, Nevada. She said she enjoys being able to return home to Ketchikan during the summer. - Click here to view a larger photo...
Friday - August 01, 2003 - 1:00 am

Go to Sitnews (view previous front pages)

Sitnews
Stories In The News
Ketchikan, Alaska