People of Ketchikan
'Lunch on the docks...'
photo by Gigi Pilcher
August 01, 2003
Friday - 1:00 am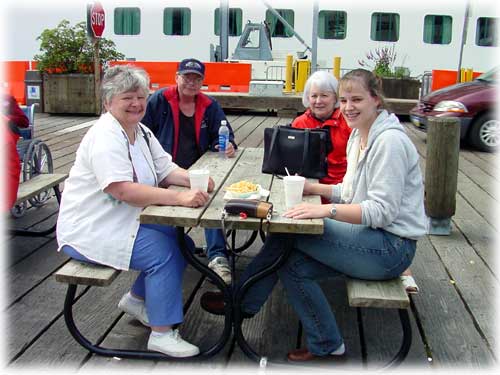 Connie Wingren and her daughter Rebecca Bates...
Back row: Dick and Virginia Adams...
Ketchikan residents Virginia and Dick Adams enjoyed lunch on Thursday on the dock. Sharing a table with the couple was Connie Wingren and her daughter, Rebecca Bates.
Rebecca and her husband William returned home this year to live in Ketchikan after living in Iowa. Rebecca Bates hopes to follow in her mother's footsteps and teach in one of the elementary schools in Ketchikan. William Bates, an artist, is working this summer for Alaska Airlines. One of his art pieces will be featured in the 2003 Blueberry Art Show. Earlier this year, William donated one of his works to the Ketchikan Annual Cancer Auction fundraiser.
Rebecca reports she is very happy to be home again and is looking forward to being able to have lunch with her mom on a regular basis.


gigi@sitnews.org
Gigi Pilcher ©2003
Submit your photos for publication to photos@sitnews.org.
Post a Comment View Comments
Submit an Opinion - Letter
Sitnews
Stories In The News
Ketchikan, Alaska