The 'King of Cruising' and the Princess Patricia
Stanley McDonald got the idea for Pacific cruising at the 1962 Seattle World's Fair
By DAVE KIFFER
April 01, 2020
Wednesday PM

(SitNews) Ketchikan, Alaska - It isn't often that an entire industry can be pegged to the creative drive of one person. But while there were "cruise ships" before Stanley McDonald took a small Canadian steam ship and began making runs between Los Angeles and Mexico in 1965, there is a reasonable argument that the $134 billion cruise industry would not be where it is today without him.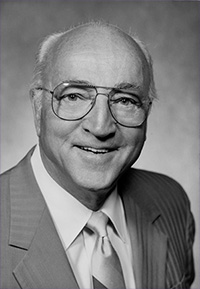 Stanley B. McDonald
wikipedia.org
Creative Commons
McDonald was born in Alberta, Canada in 1920. He was raised in Yakima, Washington. Eventually, he ended up in Seattle and attended the University of Washington. During World War II he became a US Navy pilot.
After the war, he founded a company called Air Mac, a Northwest company that specialized in material handling equipment. The company expanded with offices in numerous foreign companies and was eventually purchased by Hertz.
In the early 1960s, McDonald was one of the executives in charge of making the 1962 World's Fair happen. One of his tasks was developing enough visitor housing in the city, which was taking its first steps from being a regional hub to be an international destination.
McDonald realized that Seattle was lacking in visitor accommodations and came up with the idea of renting several small cruise industry ships from the Caribbean and bringing them to the Pacific Northwest for the Fair. During the Fair he decided used one of the ships to make runs up and down the coast from Washington to California to bring visitors to the Fair. But the only available ships were foreign flagged and required stops in Canada. So, the ships would make a 10-day circuit between San Francisco, Victoria, B.C. and Seattle, that included spending four days berthed in Seattle for the Fair.
"This was a howling success and it continued operation during the entire fair," McDonald is quoted in a 2005 Question and Answer session on the Princess Cruises website.
It got McDonald to thinking that cruise ships could be a popular option for people wanting to see the Pacific Coast of north America. Small cruise ships had operated along the coast since the late 1940s, but it was generally the province of wealthy visitors and the ships resembled high class yachts more than the floating hotels the industry would eventually be known for. (See "Back When Cruising Was Real Luxury" SITNEWS, May 3, 2018)
"I saw that people really loved to cruise," McDonald said during the Q and A. "And remember jet service had just come in. Before, cruise ships were merely transportation – now they were going to be something for a vacation. And, so, we searched around and came up with a ship we could operate as a cruise ship – the Princess Patricia."
The Princess Pat, as she was known on the Inside Passage, had been built in 1948 for the Canadian Pacific Steamship line and initially operated as a day boat between Seattle, Vancouver and Victoria. In the late 1950s she transitioned to the run from lower British Columbia to the small towns in the Alaska Panhandle. She was 365 feet long and carried 90 passengers in staterooms. Although well-appointed, the Princess Pat was primarily a ship to carry passengers and freight to Southeast Alaska. She did carry tourists, but they were generally less than half of the ship's business.
By the 1965, the Canadian Pacific's share of the Alaska run was declining, particularly after the Alaska Marine Highway System came on-line in 1963. Cheaper, more regular air travel was also cutting into the CN's margins. The company jumped when McDonald offered to rent the ship for his new idea, three-day cruises between Los Angeles and Mexico.
"It turned out the be very successful," McDonald said in 2005. "We operated between Los Angeles and Mexico and had an office in San Francisco. I liked the (Princess Patricia) very much and I got permission to use the name."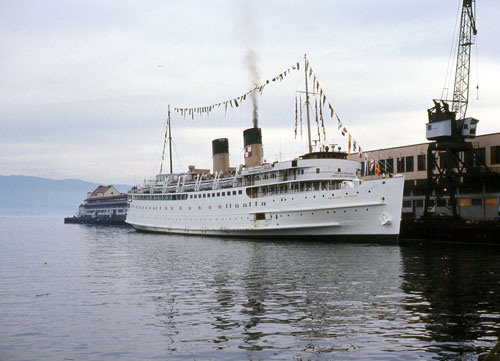 First Princess ship in the fleet. (In service for Princess 1965–1966)
Built in 1949 and scrapped in Taiwan in 1995.
Princess Patricia on her first Princess Cruise - docked in San Francisco - heading south to Los Angeles.
Courtesy cruiselinehistory.com
That first year was a learning experience for everyone, McDonald said.
"The Princess Patricia didn't have a laundry onboard because it wasn't a big enough ship," McDonald remembered in forty years later. "So, we told guests they could have their laundry done in Acapulco. We got down to Acapulco and all the laundry was sent out and we were going to sail the next morning. But the laundry came back as one owner: 'Princess Patricia' with hundreds of people's laundry all mixed together. So, we had to set up tables in the lobby and take out the clean laundry so people could come down and identify their clothes."
Although the Princess Pat was returned to CP the next year as McDonald sought larger ships, Princess Cruises became the name of his new venture.
"We had to have something (a name) that was well liked, that had quality in it," he said. "And this is what we determined the name Princess would be."
The first larger ship the company purchased was a brand-new Italian cruise ship called, naturally, the Italia. McDonald dubbed her the Princess Italia.
"The builder went bankrupt, so I negotiated with the bank that held the ship to finish it." McDonald said. "We took it on a long-term charter and brought it to the United States where it was a success from the beginning."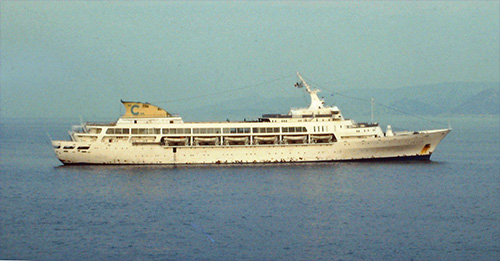 Princess Italia (1967-1973 in service for Princess)
Sailed as MS Sapphire between 2002 and 2010 with Louis Cruise Lines.
Sold for scrap in 2012.
Gordon Dalzell -- wikipedia.org
Creative Commons
The Princess Italia was not a large ship, carrying just 460 passengers, but it was a sign that the market had room to grow. McDonald said it was the first ship that had been built specifically with cruising in mind. Other "cruise" ships, he said, we basically converted ocean-going steamships.
Other ships were soon brought into the fold such as the P&O Line's Spirit of London which was renamed the Sun Princess. By 1969, McDonald had expanded Princess Cruises into the Alaskan market and was soon competing with the more established lines on the lucrative Caribbean Market which still accounts for more than one third of all cruising world-wide. But he also realized that his line was outgrowing its ability to compete with much larger cruise lines.
In the late 1960s, Boise Cascade purchased an ownership stake in the company, but after a year, McDonald bought the line back.
In 1974, he sold Princess to P&O Lines.
"When we sold to P&O it was my feeling that there was an opportunity to grow," McDonald said in 2005. "They had the ability to build the new ships that were necessary to support growth for cruising in the U.S. And they were willing to do that. Under the agreement, I would stay and manage the company and be president of P&O North America for five years. I enjoyed very much working with them to build the company so it would be attractive to people in the U.S. And that was exactly what happened -- we did it the way Americans wanted and it worked."
The biggest publicity coup that happened for Princess – and the cruise industry in general - happened during the years that he managed the company for P&O. It involved a certain television show called "The Love Boat" that would dominate American television for a decade and bring hundreds of millions of dollars of "free" publicity to both Princess Cruises and the industry itself. During the years The Love Boat was on, 1977 to 1987, the American cruise industry sextupled in size as "middle America" was introduced to the glamour of cruising and began booking cruises. Foreign re-runs of the program also spurred significant international growth.
And yet, Princess Cruises almost said "no" to the Love Boat, McDonald said.
Since the early 1970s, the film and television industry had been interested in plot lines involving cruise ships and since Princess was the "local" line for Hollywood, it was often asked for permission to film on its ships.
"It was fine, but they took up guest cabins which was bad because we were sold out," McDonald said. "It gave us exposure, but they were somewhat of a nuisance, from the viewpoint of the guests who could be irritated because they were out on the deck. It didn't turn out to be too big of a problem. but it was costly."
Then one of the Princess Cruises cruise directors, Jeraldine Saunders, wrote a non-fiction book about cruising called "Love Boats."
"It was submitted to us as a movie, onboard Island Princess," McDonald said. "But it required 106 cast and crew, I believe, who we had to carry at our cost. We debated this quite a while because it was a huge commitment for us and certainly for the studio. Subsequently it was at Spelling that they decided to make a T.V. show of it."
Still, Princess was not totally sold on the disruption the filming could cause. It's ships were already full, the industry didn't seem to need the potential publicity boost.
"I will never forget the time when a (Princess) executive came in to tell me: 'I got rid of this person who wanted to make a deal with us on putting a T.V. show aboard the ship.' McDonald remembered. "He told me a little bit about what it was, and that night I left the office and came back the next morning and said, 'Hey, I've been thinking about this more -- let's put this back on the front burner.' It was a big commitment for us, the small company that we were. And carrying this 100-some crew was costly. It turned out that it was "The Love Boat" that we nearly threw out -- but it was an incredible success. And the show made the cruise industry jump way ahead, years and years with that one program."
Within weeks of the 1977 premier, the Pacific Princess became one of the most famous ships afloat and bookings Princess and other lines skyrocketed, further spurring the creation of new and larger ships. It is a trend that continues to this day.
In 1980, McDonald fulfilled his commitment to P&O and stepped away from Princess Cruises after 16 years. But he did not stay out the business for long.
In 1983, he founded Sundance Cruises, which would eventually merge with Royal Caribbean.
Although McDonald was often called the "father of cruising" and sometimes even the "king of cruising," he said in 2005 that, in reality, there were several "fathers" of cruising.
"I am very proud that we (Princess) were at the forefront of it and I would say one of the leaders -- if not the leader -- of cruising," he said. "We were certainly proud of the ships. Others just had a few cruise ships down in the Caribbean out of Miami and they were old ships that were transportation ships. We said 'Hey, this is cruising, it's entirely different.' The hardest thing was getting people to understand what a cruise was all about. Today it is common knowledge."
Princess pioneered such amenities as gyms, shore excursions, and onboard gambling during McDonald's watch. The company also coined the phrase "Mexican Riveria" to promote cruises there.
"We all know the French Riviera -- the Mexican Riviera was something we had in the western hemisphere." He said. "When we first started cruising to Mexico it was unknown what was going to happen. The one port that no ship had ever gone to was Puerto Vallarta -- a beautiful place. I traveled down there from Mexico City and it took me more than a day on an airplane. Because the airplane had to stop at this little town, then that one, and we changed engines -- it was unbelievable. And here was this quaint little town with people doing their washing out at the creek and so on. Well, this was going to be an interesting port of call!"
After leaving the industry for good in the late 1980s, McDonald poured his entrepreneurial spirit into real estate and finance. He continued those activities up until he died in Seattle in 2014 at the age of 94.
Articles: