'People still have to eat'
A history of grocery stores in the First City
By DAVE KIFFER

September 02, 2021
Thursday PM


(SitNews) Ketchikan, Alaska - With the announcement, ealier this year, that Tatsuda's Supermarket would not reopen after a landslide destroyed its Stedman Street store last year, it not only marked the end of a century old local business, it also marked the first time in 130 years that Downtown Ketchikan would be without a grocery store.

The first store to sell groceries in "Ketchikan" was the pioneer store of Clark and Martin, in the late 1880s. George Clark and Mike Martin had the first store when Ketchikan was still a handful of shacks on Ketchikan Creek. And the nearby wharf they built helped turn Ketchikan into a permanent community.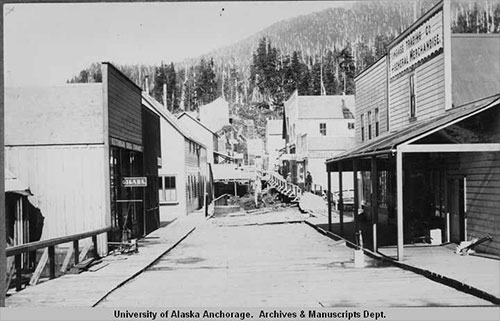 View of the main street of Ketchikan, Alaska between 1890 and 1910. Four people are standing just to the right of the center of the photo. Signs read: "Ketchikan Drug Company", "Cigars", Tongass Trading Co. & General Merchandise", "News Stand", "Drug Store", "Meals, Beds", and "Meat Market & Produce depot, Confectionery & book exchange, curios".
Courtesy Julia Willma Weber papers, Archives and Special Collections, Consortium Library, University of Alaska Anchorage
By the 1910s, Ketchikan had numerous small grocery stores, as it spread out north and south from the Creek. Most only had had a handful of items, some specialized in meats, some in dairy, others in dry goods. Many came and went with the seasons, the names of most lost to history. Two prominent early stores that carried groceries and did last for several decades were Tongass Trading and J.R. Heckman's.
Tongass, which formed in 1898, was a true department store, and one of those departments was groceries. Between the Coast Guard base and the north end of town, out toward Sunny Point Cannery, there were an estimated 15 small stores selling groceries in Ketchikan by 1920. That number rose as the town population grew and the economy surged with the booming of the salmon canning industry in the 1920s and 1930s.
In 1937, the number of grocery stores in Ketchikan was pegged at more than 20. Why is that year important? That was the year that the biggest name in Ketchikan grocery history, Paul Wingren, opened his own store on Front Street with his brother Al.
When Paul Wingren retired from the grocery business in 1975, he sat down with Lew Williams Jr, of the Ketchikan Daily News and talked - at length - about how the grocery industry had changed since he arrived in Ketchikan in 1929.
Although Tongass and Heckman's had the larger grocery stores in the community, as did Forest Hunt, they were not like the giant, multi-aisled supermarkets of the modern day.
Paul Wingren came to Ketchikan in 1929 to work for United Groceries and Markets. He was transferred by the chain from its store in Mount Vernon, Washington. Two years later, Don Amour bought United Groceries. Amour also owned the Piggly Wiggly Stores in Ketchikan, Juneau and Petersburg.
In 1936, a fire destroyed the Zimmerman Building where the store was located. It was on the site of the current Reid Building in Downtown Ketchikan.
Wingren told the Daily News in 1975 that Amour wanted to retire rather than rebuild but building owner Wanda Zimmerman decided to rebuild and the Wingren brothers decided to open a new store in the new building. Al left to join Gaffney's Men's Wear a few years later, but Paul stayed in the grocery business until 1975.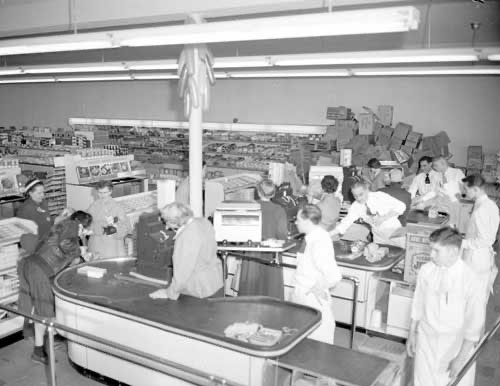 Check out counter at the Wingren Supermarket, February 25, 1954
Photographer: Paulu T. Saari
Donor: Paulu T. Saari, Courtesy Ketchikan Museums
SitNews File Copy 2006
In 1937, it was long before the days of checkout lanes and customers shopping for themselvess.. Customers would at stand the counter and tell the clerks what they wanted and the clerks would go get it. Most of the orders came in over the phone. A housewife would place an order and it would be delivered. Families would receive their bills at the end of the month.
Wingren moved away from the "on credit" approach to shopping. He also ended free delivery.
He told Williams that a long-time customer objected.
"Us old timers won't go for that, Paul," Wingren quoted the old timer. "My answer was 'there ain't many of us oldtimers left. We have to cater to the modern customer.'"
In 1975, when Wingren retired, there were still half a dozen long-time grocery stores in Ketchikan including Wingren's, Log Cabin, Ferry's Food Store, Paul M. Hansen and Federal Market. There were other smaller stores including Minute Mart, Bayside Grocery, Alder Park Grocery, Ward Cove and Lighthouse Grocery as well.
Wingren said that there were at least 20 different stores in 1937, when he opened his own store.
The New England Fish Company ran a store south of Downtown and the Tatsuda's had a store on Stedman Street. The Ohashi family also had a store on Stedman. Federal Market was called the Olympic Market and was located on Mission Street. It was operated by Bill Nickey.
Hjelmar Rolie had the Progress Market on Stedman Street and Sam Light had the Mutual Grocery near where Front Street becomes Mill Street. The Ketchikan Grocery was located in the old Redmen Building, at the corner of Mission and Main streets.
The Bon Marche sold groceries, as did Tongass Trading. Bill Temple had a grocery store on Front Street. Wingren said Temple ran an "old fashioned Greek market" with an open produce display out front. The open display tended to encourage the occasional shoplifter, according to Wingren.
North of the bluff that would become the tunnel, was Sunde d'Ever's, later Paul M. Hansen's, selling groceries and other supplies to the Newtown fishing fleet. Next door was Otto Anderson's grocery.
Minnie Sparhawk and her sister, Adah Sparhawk Young, ( See "Adah Sparhawk Young, Woman Pioneer" SITNEWS, Mary 31, 2006) had two grocery stores in Newtown and Ferry's Food Store was on Water Street. Farther along Tongass Avenue were stores owned by Jimmy Burgen, Elizabeth Tauve and Trella Bailey.
Further out toward what eventually became the "West End" were the Skidmore Grocery, Bert Houghtaling's Log Cabin Grocery and a store owned by Ben Kunz. At Jefferson and Tongass was Gustafson's Grocery which was run by Mike Cusack.
By the late 1940s, it was clear that the West End was growing and Wingren looked to build a much larger market in that area two miles north of Downtown. When the pulp mill came in the early 1950s, Wingren was able to realize that dream and also take part in building a 10-story apartment building that would house the workers for the new mill. James Vanderwheele, then the owner of Log Cabin Grocery, did something similar next to the Log Cabin property at the corner of Washington and Tongass. Vanderwheele had purchased Log Cabin from Bert Houghtaling in 1955.
In the 1960s, though, Wingren went ahead and built the first "supermarket" in Ketchikan, on fill on the water side of Tongass. it was called the Port West Shopping Center and opened in 1970. It would later be called SeaMart (when it was owned by the Hames family of Sitka) and Carrs. It is now the Ketchikan Safeway store.
Shortly after that, Vanderwheele moved Log Cabin Grocery to the water side of Tongass, just to the north of Wingren's store. It would later be called Market Place and Mark-It Foods. The Tongass Marine Store in that area is built on what remains of the Log Cabin development.
Also in the early 1970s, Tatsuda's built Ketchikan's third supermarket, on Stedman Street. The Tatsuda family had been operating grocery stores on Stedman Street since 1916 and celebrated their 100th anniversary in 2016 with a major remodel of the store. But then came the landslide in February of 2020. Nearly a year later, the family announced that it would not rebuild.
In his "retirement" story in 1975, Wingren noted that the grocery business can be affected by hard economic times, but that "people still have to eat" and they just reallocate their money away from eating out, which benefits grocery stores. He noted that economies of scale would favor larger stores going forward and that was proven true as most of the smaller local stores did not survive the latter part of the 20th Century. Longtime local stores like Hansen's, Ferry's, Federal Market and the Bayside eventually succumbed.
In 2021, Safeway and Alaskan and Proud - across the street from the Vigor Shipyard in the Charcoal Point area of Ketchikan - are the two remaining "supermarkets" in Ketchikan. Lighthouse Grocery, Ward Cove Market and South Tongass Service still carry the banner for the smaller grocery stores that once dotted the local landscape.





Related Article: