Adah Sparhawk Young: Woman Pioneer
By DAVE KIFFER
May 31, 2006
Wednesday

Ketchikan, Alaska - The history of Ketchikan is full of stories of the pioneering men who built the community out of the rainforest. But little is known about the pioneer women who also made Ketchikan what it is today.
One of those women was Adah Sparhawk Young who came to Alaska to teach, got married and ended up running her own Newtown business for nearly four decades after her husband died.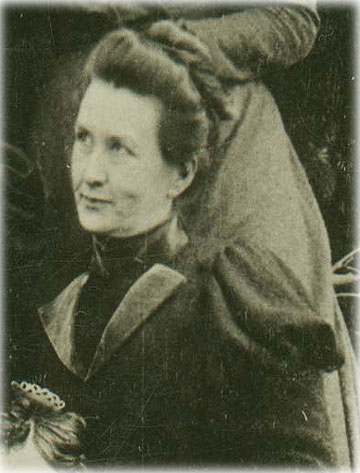 Adah Sparhawk Young at Wrangell, Alaska, 1898
Photographer: A. C. Pillsbury
Donor: Bertha Hunt Wells
Photograph courtesy Tongass Historical Society
In 1992, Dorothy Braithwaite - a great niece of Adah Young's - presented the Tongass Historical Museum with a 250 page manuscript detailing Young's life history and also including her diary and numerous poems. This story is primarily based on that manuscript.
Adah Ann Sparhawk was born on March 10, 1853 in Oswego, New York, the oldest daughter of Maine native Ambrose Sparhawk and Alice Sparhawk of Virginia. Her father was wounded in the Civil War and her mother suffered from a variety of illnesses and therefore Adah was often called upon to care for her younger siblings.
After graduating from high school, she began teaching in the early 1870s. Eventually, when her mother's rheumatoid arthritis worsened, she accompanied her to Battle Creek, Michigan to undertake the "cures" at the sanitarium of Dr. John Harvey Kellogg. The sanitarium cure - based on nutrition - didn't help the older woman, but Adah and two of her sisters did complete a two-year nursing course in Battle Creek.
Also during this time, Braithwaite wrote, it is likely that Adah Sparhawk conceived a child with a young doctor. The child, also named Adah Ann, was raised by Sparhawk's married sister and called Adah her aunt, even though members of the family generally believed her to be Adah's child. The younger Adah Ann Sparhawk Fox was still alive - at age 106 - when Braithwaite researched her history in 1990
"You know the story is that Aunt Ady is my mother," Adah Sparhawk Fox told Braithwaite in 1990. "I remember we sat there one night talking I said 'Aunt Ady, don't you know that I know you are my mother?' 'Why Adah, you'd be illegitimate if you was.'
One of 'Aunt" Adah's younger brothers was also there and begged her tell the young girl the truth, but she refused. Braithwaite also reported that Adah Sparhawk frequently sent money for her "niece," another tell-tale sign that she was probably her birth mother.
In 1889, Adah moved her mother out to Oakland, Calif. It was there that Adah apparently met missionary S. Hall Young, who would eventually convince her to move to Alaska to teach.
Several of Adah's relatives were at a religious community in Oregon and Adah Sparhawk moved there in the early 1890s.
It was during this time, that Adah Sparhawk also apparently adopted a young child, but the child died.
By the late 1890s both of Adah Sparhawk's parents had died and - since her siblings were now grown - she had little reason to stay in Oregon.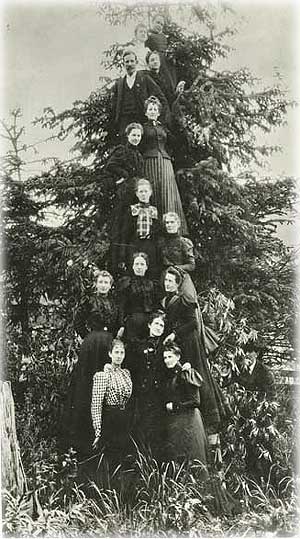 Ladies Aid Society at Wrangell, Alaska, 1898
Photographer: A. C. Pillsbury
Donor: Bertha Hunt Wells
Photograph courtesy Tongass Historical Society
Notes from Back
Taken at Wrangell about 1898
Ladies Aid Society at Wrangell, Alaska
Top to bottom
Millie Green, from Kansas, and school teacher at the government school
Mrs. Stedman, moved to Ketchikan later and Mr. Stedman built the Stedman Hotel, then moved back to Wrangell.
Mrs. John Garrett, later moved to Ketchikan, then to Seattle
Alec Varette (Sister Varette) married Nina Wooden after Frank died.
Mrs. Lamereaux
Mrs. Thuring, wife of the Presbyterian minister
Mrs. Roundtree
Mrs. Barnes
Mrs. Weymouth with of one of the partners of the law firm Clark, Ingersoll and Weymouth, (I think)
Left, Mrs. Deppe, later lived in Ketchikan, and then in Oregon
Right Adah Sparhawk, married Reverend J.W. Young of Ketchikan
Mrs. Bennett, Her husband worked in the Wrangell Mill
Left, Mrs. Thomas
Right, Mrs. Cagle, later moved dot Ketchikan, then to Auburn, Washington
Judge Thomas is hiding in back. Judge Thomas was U.S. Marshal later and would come to Ketchikan on business.
Taken by Pillsbury I think don't think Carlyon had this sized camera, his was 6 x 8
Mr. Carlyon of New York but maybe the not camera his size
Eugenia Lamereaux
Glady Roundtree were in Sunday school classes that I taught while in Wrangell.
S. Hall Young had founded a government school in Wrangell in 1878. The government school had moved to Sitka in 1888, but Young had continued his boarding school.
On April 20, 1898 - at the height of Klondike gold "fever" - Adah Ann Sparhawk boarded the steamer Topeka in Portland for the trip north. She was 45 years old.
She arrived in Wrangell on April 24.
"Adah cried when she reached Wrangell," Braithwaite wrote. "Perhaps it was the result of weariness from an ocean voyage or that 'she was all alone in hectic times.' It was a city of tents. She used to say even the hotel was a sort of tent."
Sparhawk quickly threw herself into the hustle and bustle of the "tent city." At some point during her first year, she met James W. Young, the brother of S. Hall Young and the teacher at a similar school in Saxman, the native community just south of Ketchikan. James Young had been the teacher in Saxman since 1895.
"There are no stories handed down about their courtship," Braithwaite wrote. "It is possible James and Adah had met during the late spring or early summer of 1898. But when classes resumed in the late fall both must have been quite occupied with students and lessons. Romance seems to have prevailed for they were married by the Presbyterian minister in Wrangell on the first of February in 1899."
It was a somewhat unusual marriage. James Young was 56 and a widower with several grown children. Adah was soon to turn 46 and had never been married.
"The ten years difference in their ages was minor compared to the differences in their way of life," Braithwaite wrote. "James had been a missionary school teacher in Alaska with a wife and several children. Adah had devoted her life to the care of her mother and younger siblings. Having never married, she would have to make some major adjustments."
One adjustment, Braithwaite wrote, was in cooking.
"It seems she could never prepare the right amount of food for two people," Braithwaite wrote. "Sometimes she would fix a special meal and the portion was so small that James would go away hungry. Then she would fix more the next time only to have leftovers."
Adah told her niece Rachel that she finally decided it was better to have too much than too little, but James disagreed.
"She began to serve the same leftovers meal after meal," Braithwaite wrote. "After James said grace over their meal one evening, Adah raised her head she spied a folded note on her leftover casserole. Opening the note, she read 'To Be Returned Until Devoured.' The message from James was clear, leftovers were not welcome at his table."
After their marriage, Adah joined James in Saxman. Adah replaced James as the teacher at the school, while James concentrated on running the community store. Adah's nursing training also quickly came in handy as a small pox epidemic struck the community.
During this time, at least one Adah's younger brothers, Charles, moved to the area. Charles had a business in the town of Revilla, which was on the east side of Ward Cove and hoped to supplant Ketchikan as the "city" in the area. Revilla folded when the Alaska entry customs station was moved from Mary Island to Ketchikan in 1900.
James Young was an early booster of Ketchikan and soon opened a store along the banks of Ketchikan Creek. It was located near what is now the PATH homeless shelter at 640 Park Avenue.
"It wasn't very long, however, until James relocated in the section of Ketchikan known as Newtown which is about eight blocks north of downtown," Braithwaite wrote, also noting that the new store building had likely been the Sparhawk store in Revilla and was "floated" down Tongass Narrows and put ashore in Newtown.
"James Young's business venture demonstrated a favorable profit." Braithwaite wrote. "This is evidenced by the various improvements which were made to the store building.."
Young's large white store was soon one of the most prominent landmarks in Newtown. But Young would not live long enough to see the young community prosper.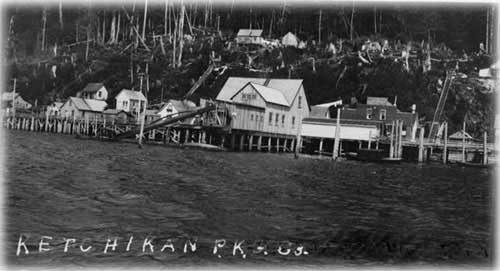 Ketchikan Canning Company or J.W. Young and Co. in Newtown
Pioneer Igloo Number 16 Collection
Photograph courtesy Ketchikan Museums

James Young contracted typhoid fever, probably from vegetables brought in Seattle that had been fertilized with human waste. Adah wrote to her brother Lafe in Oregon and asked him to come north to help run the store so she could take James south for treatment.
Adah and her husband went south to Oakland, arriving in the summer of 1904, but James died there on September 16th. He was buried in Mountain View Cemetery in Oakland next to Adah's brother and parents. Adah spent the winter in Oakland and then returned to Ketchikan the next spring.
When she returned to Ketchikan, Adah set about establishing the Seventh Day Adventist church in Ketchikan. Adah had been a member of the church for many years but had not practiced since marrying Young - who had worked to establish the Methodist Church in Ketchikan after leaving the Presbyterian mission in Saxman.
In 1908, Lafe Sparhawk also came down with typhoid fever and had to move south to Washington. Adah contacted her youngest brother Ed - who was a dentist in Oakland. He went to work as both businessman and dentist in Ketchikan. Adah's sister Minnie and brother Charles also helped her out from time to time.
"The store of J.W. Young and Co. in Newtown is a demonstration that the Alaska women are capable of conducting large enterprises successfully," read an undated article in the Ketchikan Miner newspaper. "Mrs. Young manages the business of this institution taking care to see that stock is kept complete in all lines; groceries, hardware, kitchen utensils, stoves, dry goods, clothing, rubber boots and shoes etc. This is one of the oldest establishments in Ketchikan. To say that she is a woman of enterprise would fall far short of describing her ability. She is at the head of every department of the store and finances the business with great success."
In addition to the store, Mrs. Young also owned several other properties that she rented out and also managed a nine-unit apartment building.
In compiling her manuscript, Braithwaite also spoke to several Ketchikan old-timers to get their memories of Mrs. Young. Libby Oaksmith remembered going with her mother to the Young store to purchase dress fabric.
"It was the best place to go because of the variety of notions that were always stocked in the store," Braithwaite wrote. "Libby could never decide which buttons she wanted on her dress because there were so many to choose from. She remembers Adah Young as a 'tall and stately person who was always friendly, but never chummy. She always had a smile for me.'"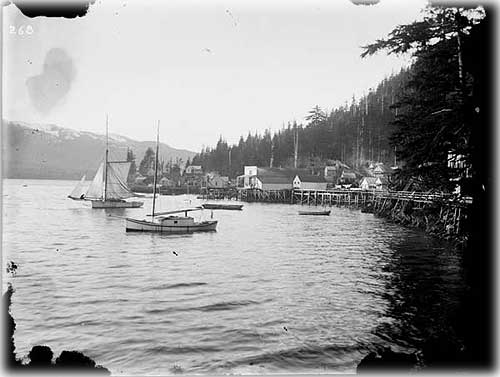 New Town, 1903
Donor: Mary Ginger
Photograph courtesy Tongass Historical Society

Sometime after the 1906 San Francisco earthquake, Adah's sister Minnie left her nursing career in Oakland and joined Adah in Ketchikan - after first briefly having a store in Stewart, B.C.
"She (Minnie) operated her own business (in Ketchikan) in a building rented from her sister, Adah," Braithwaite wrote. "Although sisters Adah and Minnie shared the same living quarters above the store year after year they never shared the same faith. The nieces and nephews do not recall ever hearing religious discussions between the two sisters."
While Adah worked to established the Seventh Day Adventist Church in Ketchikan, Minnie was an equally fervent Christian Scientist.
Braithwaite also interviewed another of Adah's nieces, Dorothy Sparhawk Holmes in 1991 and learned that Adah Young was a meticulous dresser who often wore beautiful, modern dresses with elaborate lacy "dickies" that covered her neck. The dresses were ankle length and she usually wore black, high topped lace shoes.
"She always had a pocket in her petticoat, down toward the hem, in which she kept a coin purse," Braithwaite wrote. "If she wanted money she stepped over to one side, away from people, reached down and slowly gathered up her skirt and took out the coin purse. The same procedure followed when she returned the purse to its hiding place."
Dorothy Holmes also remembered that Adah Young was very proud of her Model T Ford sedan.
"It was a great delight for her to hire a man to take her for rides on either side of Ketchikan," Braithwaite wrote. "There were about 10 miles of road north and about the same toward the south."
In 1932, Adah Young kept a daily diary which is also part of Braithwaite's manuscript at the Tongass Historical Museum. It is a wonderful time capsule of the daily events in Ketchikan in those days. The manuscript also includes numerous poems and a couple of short stories that Adah Young wrote that were clearly based on her own experiences in Ketchikan.
As she entered her 80s, Adah Young - who had led a peripatetic existence before rooting in Ketchikan three decades before - got the wanderlust again. First, she traveled to southern California and Mexico. Then at 84, she went on a lengthy trip to the East Coast and New England, visiting relatives she hadn't seen for nearly half a century.
In 1941, Adah's health began to fail and she went to Seattle in the late summer for treatment. She died of heart failure at 88 at her brother Lafe's home on the afternoon of December 7, 1941.

Dave Kiffer is a freelance writer living in Ketchikan, Alaska.
Contact Dave at dave@sitnews.us
Dave Kiffer ©2006

Post a Comment View Comments
Submit an Opinion - Letter

Sitnews
Stories In The News
Ketchikan, Alaska