New airline brings echoes of former Ketchikan carriers
By DAVE KIFFER
December 20, 2014
Saturday PM

Ketchikan, Alaska - The recent news that Delta Airlines is planning seasonal service to Ketchikan in the summer of 2015, means that the airline DNA of three former Ketchikan air carriers is returning to the First City.
Once upon a time, Pacific Northern Airways, Pan American World Airways and Western Airlines also served Ketchikan. All of those airlines were eventually absorbed by Delta Airlines.
Of course, Ketchikan's longtime server, Alaska Airlines, also has local "genes" as it absorbed Alaska Coastal-Ellis in the late 1960s. Ellis was Ketchikan's primary local airline for decades and merged with Alaska Coastal out of Juneau in the early 1960s.
Pan American Airways
Pan American was the first to begin service to Ketchikan. (See "Pan Am: Once Ketchikan's Link to the Outside World," SITNEWS, Dec. 29. 2006)
In 1934, Pan Am purchased Alaska Southern Airways, which had been operating sporadically in Southeast Alaska. The idea was to pioneer a Seattle to Juneau route, eventually using the larger, longer range planes that were being developed by aircraft manufacturers like Boeing, Lockheed and Douglas.
In the meantime, Pan Am wanted to start a preliminary service and in 1938, the first Sikorsky Flying Boat arrived in Ketchikan. The Flying Boats operated off and on between Seattle and Southeast Alaska until 1940, when they ended flights because Pan Am was able to use long range McDonnell-Douglas D-3s to go directly from Seattle to Juneau. At the time, Ketchikan had no landing facilities for large land based planes.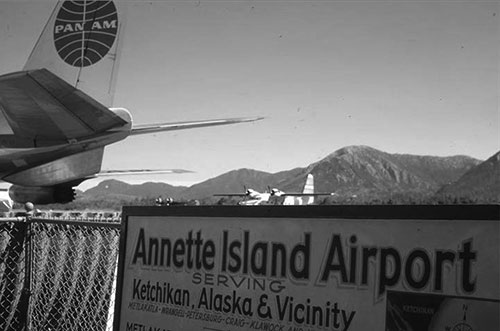 Sign at Annette Island Airport, 1962. A Pan American World Airways' plane is pictured on the left. Bob and Marie Logan slides, circa 1945-1962.
Photo courtesy Archives and Special Collections, Consortium Library, University of Alaska Anchorage.

During World War II, an airport was built on Annette Island near Metlakatla as a part of the war effort making it possible to get from Seattle to Ketchikan by plane, with last leg on an amphibian plane that landed in the narrows in front of Ketchikan. Amphibs like the Grumman Goose and the Consolidated PBY would continue to fly between Annette and Ketchikan up until the Gravina Island airport opened in 1973.
Because of the new Annette field, Pan Am returned to Ketchikan with DC-3 flights In July of 1945, a month before the war came to a close.
Within a decade Pan Am had upgraded to larger DC-4s and DC-6s and in 1961, jet travel came to the area with Boeing 707s. What had once been a four plus hour flight from Seattle to Ketchikan was now around 90 minutes.
Then in 1965, the rug got pulled out from under Pam Am, as far as service to Alaska was concerned.
In the 1930s and 1940s, Pam Am had benefited from tight federal government regulation of the air transport industry. Numerous favorable rulings from the Civilian Aeronautics Board (CAB) had given Pan Am a near monopoly on many overseas routes and Pan Am was, essentially, the United States flag carrier for most overseas routes.
But in 1965, the CAB controversially ended Pan Am's service to Alaska.
Deciding that three large carriers was more than Alaska needed, the CAB pulled Pan Am's license to serve Alaska. It awarded its routes in northern Alaska to the rapidly expanding Alaska Airlines. And the CAB decided that Pan Am's routes to Southeast Alaska would be taken over by Pacific Northern Airlines.
Pan Am fought the ruling but was forced to pull out of the state. For many years, Pan Am attempted, unsuccessfully to reenter the Alaska market, even making a bid for PNA, which was eventually absorbed by Western Airlines.
Pan Am continued on as the dominant overseas American carrier for many years until deregulation on many of its routes and other financial factors caused it finally cease operations in 1991. Pan Am's remaining assets and routes were sold off and the majority of those assets and routes were purchased by Delta Airlines.
Pacific Northern Airlines
Pacific Northern Airlines was founded by Arthur Woodley as Woodley Airways in 1932 with a US mail contract to fly between Anchorage, Kodiak, Bristol Bay and the Kuskokwim area.
When air travel expanded in Alaska following World War II, Woodley sought out investors and renamed the company Pacific Northern Airlines. In 1946. PNA was awarded the Anchorage, Cordova, Yakutat, Juneau route and in 1953, it was allowed to fly from Seattle to Ketchikan and Juneau. At the time, PNA was using DC-4s for its service and wanted to upgrade.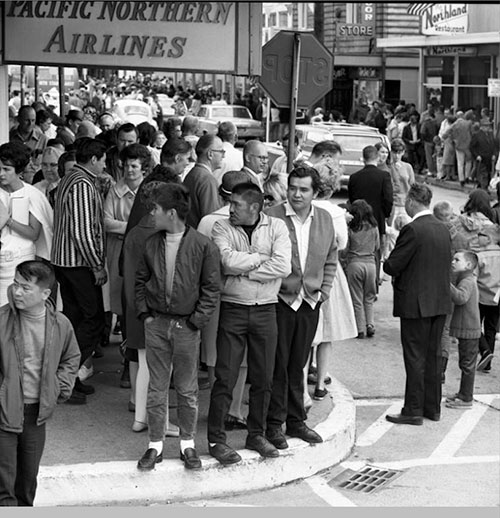 People on the street in Ketchikan in front of Pacific Northern Airlines building, July 5, 1967 - Steve McCutcheon, McCutcheon Collection, Anchorage Museum, B1990.14.5.TV.93.118
Photo courtesy Anchorage Museum at Rasmuson Center
It found a willing partner in Delta Airlines which wanted to sell three Lockheed Constellations. The four engine prop Connies, as they were called, proved to be very popular on the Seattle to Southeast run, until the jet age arrived in the early 1960s.
PNA eventually purchased Boeing 720s for its Seattle to Southeast runs and continued to operate into the area through the mid 1960s.
Initially, PNA benefitted when Pan Am was pulled from the Alaska market, but it was only a short reprieve. Believing his airline couldn't compete long term with Alaska Airlines, Woodley looked for larger suiters.
Western Airlines, which had service into Seattle and was interested in expanding into Alaska, was a logical partner and PNA was absorbed into the larger airline in July of 1967.
Western Airlines
Western Airlines had been founded as Western Air Express in Los Angeles in 1925, one of the many air transport operations that sprung up primarily to take advantage of the new mail service contracts. Originally, Western Air Express served Los Angeles and Salt Lake City, but over the next decade expanded to other western routes.
Eventually it merged with Trancontinental Air Transport to form TWA, which was originally called Transcontinental and Western Air.
In 1934, Western Air Express pulled back out of TWA. In 1941, it took on the name Western Air Lines and began moving toward being one of the largest air transport companies in the western part of the country.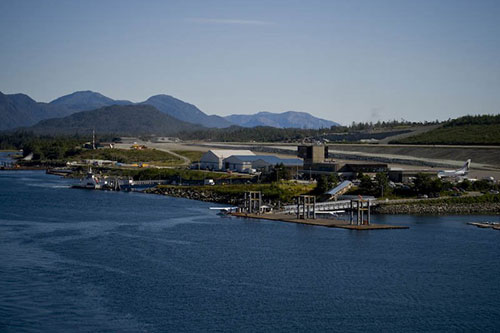 Ketchikan International Aiport
File photograph

After its merger with PNA, Western would also eventually expand to provide service to Mexico and Hawaii.
But deregulation also convinced its ownership to seek other partners. A plan to merge with Continental in the late 1970s reportedly fell apartment when the two airlines disagreed over whether the airline should be Continental-Western or Western-Continental. A coin flip was held to determine the name and when Continental lost, it allegedly kiboshed the merger.
Then in the early 1980s, Air Florida attempted to purchase Western but couldn't raise enough cash for majority ownership. Finally, in 1986, Delta purchased Western.
By that point, Western was no longer serving Ketchikan but was still flying into Anchorage, Fairbanks and Juneau.
All of these airlines were eventually absorbed by Delta Airlines, bringing them back to Ketchikan under another name. Delta will begin one seasonal daily flight to Ketchikan on May 15, 2015, operated by Delta Connection carrier SkyWest Airlines.


Related:
DELTA ADDS KETCHIKAN, SITKA FROM SEATTLE FLIGHTS
http://www.sitnews.us/1114News/111914/111914_delta.html

On the Web:
Columns by Dave Kiffer

Historical Feature Stories by Dave Kiffer
Dave Kiffer is a freelance writer living in Ketchikan, Alaska.
Contact Dave at dave@sitnews.us
Dave Kiffer ©2014

E-mail your news & photos to editor@sitnews.us


Publish A Letter in SitNews Read Letters/Opinions
Contact the Editor
SitNews ©2014
Stories In The News
Ketchikan, Alaska

Articles & photographs that appear in SitNews may be protected by copyright and may not be reprinted without written permission from and payment of any required fees to the proper sources.