Pan Am: Once Ketchikan's Link to the Outside World
By DAVE KIFFER
December 29, 2006
Friday

Ketchikan, Alaska - In 1991, the original Pan American World Airways ceased operations. After going under in December of 1991, Pan American World Airways' name was purchased out of bankruptcy court.
Pan Am hasn't flown any flights since 1991, but the company has continued to maintain a small presence while negotiations continued with the government of Libya over payments due the airline from the Libyan-sponsored bombing of a Pan Am flight over Lockerbie, Scotland in 1988. Those negotiations ended last year with Libya agreeing to pay Pan Am and its insurance companies more than $30 million.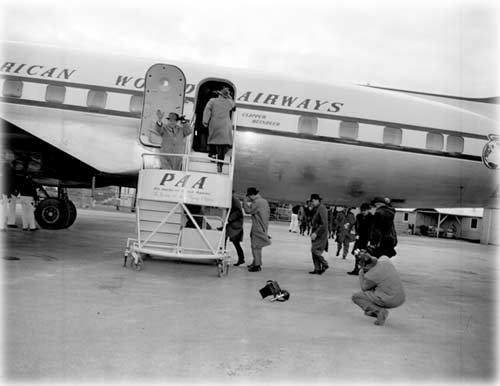 January 21, 1954 First DC-6B Stops at Annette
Despite strong winds, the Clipper Reindeer, first of the PAA pressurized DC-6Bs to be put on the Alaska run, stopped at Annette airfield yesterday on its "shake-down" flight. Boarding the plane (above) at the first port of entry in Alaska are company officials and northwest press and newsmen who are making the trip. Waving a farewell from the staircase is W.K. Boardman, secretary of the Ketchikan Chamber of Commerce. The plane is trying for a record southbound trip today.
Paulu T. Saari photo - Photograph courtesy Ketchikan Museums

The last checks from those payments are going out to creditors and former employees this month and that is the end of Pan Am, which brings a nostalgic pang to Ketchikan old-timers because for two generations Pan Am was Ketchikan's main air link to the Outside world.
Pan Am was founded in 1927, a scant five years after Ketchikan saw its first commercial airplane flight, Roy Jones' "Northbird" in 1922.
Originally Pan Am was a merger of three smaller air companies and served the Miami to Havana mail run. It was founded by the legendary Juan Trippe who had plans to create a world-wide airline empire. He succeeded.
While other fledgling American airlines were concentrating on domestic routes, Trippe rightly saw a lucrative future in international flights. Initially, Trippe concentrated on routes in the Caribbean and South America, primarily using the first of the Pan Am Clippers or flying boats.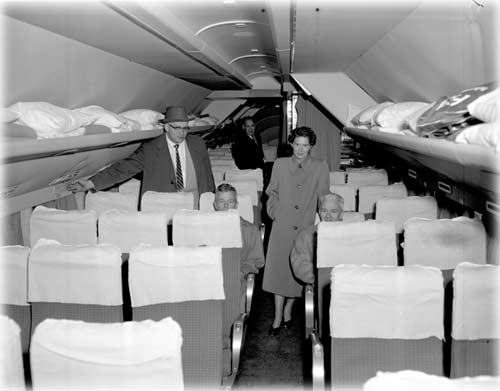 Passengers Bob Ellis, mayor George H. Beck and others aboard the inaugural flight of Pan Am DC-6 Clipper service to Annette Island Airport, January 1954
Paulu T. Saari photo - Photograph courtesy Ketchikan Museums

But he also had an eye toward Pacific routes and he was encouraged in that direction by Charles Lindbergh. Almost immediately after returning from his famous solo Atlantic crossing in 1927, Lindbergh turned his attention toward the Pacific and Asia. He believed in a mostly overland route that would take advantage of northwest Alaska's proximity to Russia.
In the summer of 1931, Lindbergh and his new wife, Anne Morrow Lindbergh, pioneered what later was called "The Great Circle Route," which remains the fastest route from New York to Tokyo.
The journey was chronicled in Morrow-Lindbergh's best selling book "North To the Orient." The couple flew - Morrow-Lindbergh was also a pilot - from Long Island north into Canada's Northwest Territories to Nome. They crossed over the Bering Sea into the Russian Far East and then down to Japan and China.
"The Arctic, my husband remarked as we studied the globe, heretofore had been explored chiefly for its own interest," Morrow-Lindbergh wrote in "North to the Orient." "But why the Orient?.The indisputable importance of future air routes between America and Japan, China and Siberia."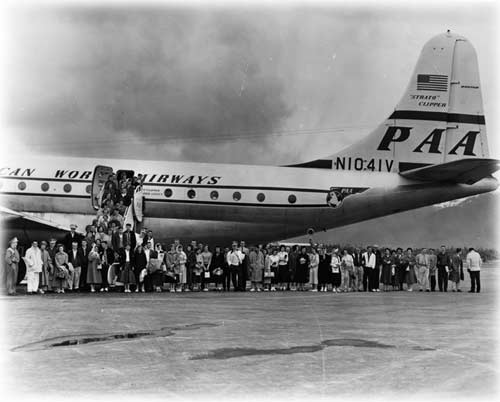 Ketchikan High School Students Going to Southeast Alaska Music Festival,
circa 1955 Annette Island Airport
Donor: Gail Alguire - Photograph courtesy Ketchikan Museums

The journey was made with the help of Juan Trippe who was interested into establishing air service to Asia over the "circle" route. Lindbergh's flight showed that the route would be successful. But pre "Cold War" politics intervened.
The cooperation of the Soviet Union was necessary because the limited range of airplanes in the early 1930s meant that flights from Alaska would have to stop in Siberia.
Unfortunately the Soviets said "nyet" to the new route, primarily because the United States government still had not officially recognized the Soviet government that had come to power in Russia more than a decade before.
So Trippe and other Pan Am officials decided to work on the establishment of seaplane or flying boat routes that could access Asia via the Hawaiian Islands and other locations further south. Many of the military bases in places such as Hawaii, Midway and Guam were established by Trippe and his flying boats.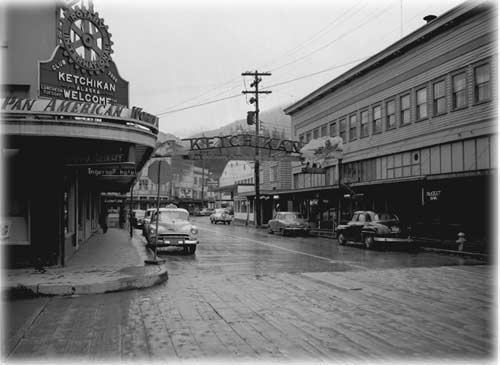 Pan Am Office on Mission Street, 1955
Paulu T. Saari photo - Photograph courtesy Ketchikan Museums

That was Pan Am's official public position, but behind the scenes Pan Am continued to negotiate with the Soviets via intermediaries and covert contacts, according a report on its Alaska operations that Pan American made to the Civil Aeronautics Board (the forerunner of the Federal Aviation Administration) more than a decade later.
In 1932, Pan Am decided to officially enter the Alaska aviation market. It purchased two existing carriers, Alaska Airways and Pacific International Airways. The new airline was called Pacific Alaska Airways and initially it began operating between Anchorage, Fairbanks and Whitehorse, with occasional flights to Juneau.
In 1933, the US government finally recognized the Soviet Union and that led to Pan Am expanding its service in Alaska in anticipation of eventually beginning its great circle route through the territory.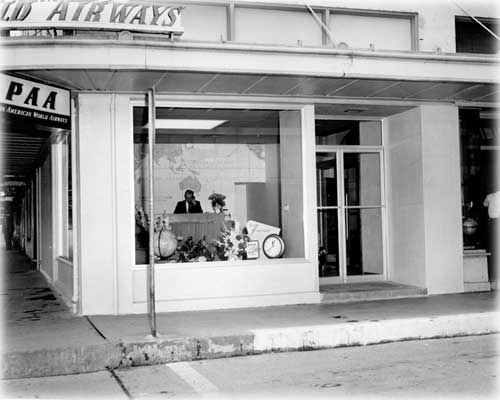 Pan American Airways city ticket office in Ingersoll Hotel, Ketchikan, 1957
Donor: Mrs. Marge Goding

In 1934, PAA purchased Alaska Southern Airways, a small company that had been operating sporadically between Juneau, Ketchikan and Seattle. In 1935, Pan Am built the first land airport in Juneau. Previously land planes had been using tide flats.
By April 1935, PAA was offering the first scheduled service between Fairbanks and Juneau with a stop in Anchorage. But often on nearly empty planes.
"Apart from operating problems, the idea of scheduled operations (in Alaska) was met initially by indifference and even antagonism on the part of the traveling public, which being used to dealing for transportation on an individual basis, as often as not on credit and at ad hoc rates, was not entirely enthusiastic about air carrier methods," Pan Am wrote in its later report to the CAB. "The idea of reservations was novel and it was often necessary to send messengers to assure that passengers would appear at the airport at the departure time."
But as service to Juneau increased from the north, Pan Am began planning service as well from the south.
As far back as 1933, Pan Am told the CAB, the success of its Alaska operations were completely dependent upon a link with Seattle.
Initially Pan Am considered helping the major aircraft companies develop long range four-engined land planes that could reach Southeast (the new field in Juneau) from Seattle. They looked to Boeing and its new S-307. The delivery date for the new planes was 1938 , but Pam Am was concerned about production delays and wanted to pioneer as much of the route as early as possible.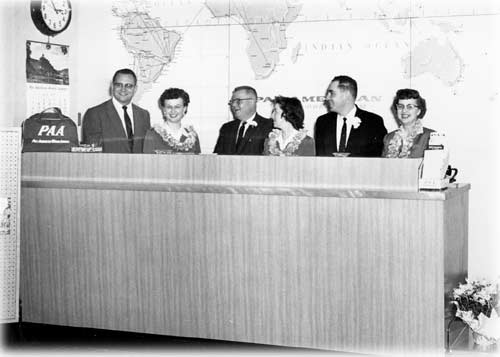 PanAm ticket office in the Inersoll Hotel Lobby at Ketchikan prior to 1958.
Left to Right Joe Goding, Disrict Sales Manager, Unknown,
Mary Hodges MacDonald, Carl Porter, Unknown
Donor: Mrs. Marge Goding, - Photograph courtesy Ketchikan Museums

It gained federal permission to use twin-engined Sikorsky S-43 amphibian aircraft to make several freight and mail runs between Seattle and Juneau with a stop in Ketchikan.
On August 7, 1938 Ketchikan was abuzz in anticipation of the arrival of the first Pan Am "baby clipper."
For some time, local float plane operators such as Bob Ellis had been making occasional runs to Seattle, but the arrival of Pan Am signaled to many local residents that Ketchikan was truly entering the age of flight.
The flying boat was scheduled to arrive shortly after noon. But it was delayed by what the Ketchikan Chronicle called one of the worst hailstorms that had ever been seen in town.
In addition to the hail, there was thunder and lightning.
As the weather cleared around 4 pm, the Clipper flew into view around Pennock and landed near the City Float docks.
"Dozens of photographers were on hand to take still and motion pictures of the Clipper's arrival," wrote local historian June Allen in the Ketchikan Daily News in 1991. "But many were disappointed when they were unable to get on City Float. Police stopped people as a precaution against the float sinking."
The plane stayed only briefly to take on fuel and then left for Juneau. On the return flight the next day, the plane landed again at City Float but then spent the night moored near Wacker City on the west side of Wards Cove because Pan Am officials felt that moorage was safer for what was the largest plane to have landed in Ketchikan up to that time.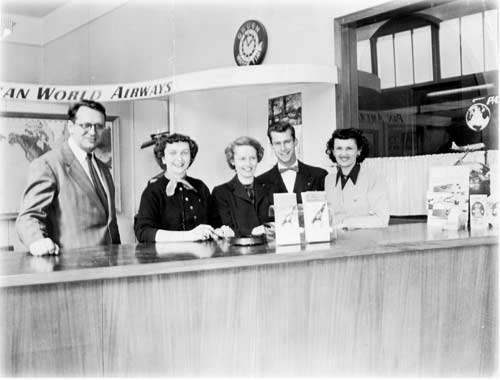 PanAm ticket office in Ketchikan after 1957 refurbish
Pan Am ticket office in Ingersoll Hotel after 1957 refurbish
Left to right Joe Godding, District Sales Manager, Millie DeMan, Cashier, Rex Snider, Sales rep., Unknown, Don Peques, Sales Rep., Unknown
Donor: Mrs. Marge Goding, - Photograph courtesy Ketchikan Museums

During the visit Pan Am and government officials also took time out to look at Bostwick Inlet on Gravina as the possible site for a land airfield, according to local aviation historian Don Dawson.
Pan Am had already expressed its preference to use land planes and Ketchikan officials were worried about getting bypassed.
Which is exactly what would have transpired, if World War II hadn't intervened.
Pan Am made several more flying boat test flights up the coast and even carried some passengers along with the mail and freight. One way passenger fare from Seattle to Ketchikan was $75.
Pan Am also decided to replace the twin-engined Sikorskys with four-engined S-42 models that could carry more passengers and freight. The four-engined planes landed and docked exclusively in Wards Cove.
But then - in 1940 - the flights stopped and PAA announced that it planned to use McDonnell-Douglas DC-3s, to go directly from Seattle to Juneau.
Ketchikan officials, led by Mayor Harry McCain, vigorously protested the decision.
"Ketchikan is the most important industrial and manufacturing city in the territory," McCain wrote in a October 29, 1940 letter to PAA officials in Seattle that reported in the Oct. 30 Alaska Fishing News. "The airmail service reduces the time from 50 hours to five hours between here and Seattle. After having enjoyed the airmail service and having our business activities geared toward the faster service afforded by Pan American now to be thrown back on the old slower steamer service will constitute a tremendous handicap."
But Pan Am ended its flying boat service to Ketchikan anyway, contending that high costs and frequently bad weather made it unfeasible. Radio communications and weather reporting were also somewhat rudimentary and Pan Am was unwilling to pay for the necessary improvements.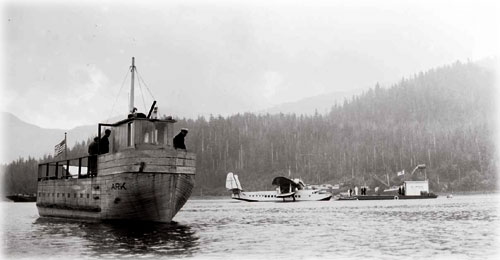 Four-Engine Pan American Sikorsky S-42B, 1940
Fueling at Ward Cove. Pan American ran passenger flights through
Ketchikan from June 20 - November 8, 1940.
Otto Schallerer Photo - Donor: Don Dawson - THS
Photograph courtesy Ketchikan Museums

The next year, America entered World War II and soon a military airport was built on Annette to handle the tremendous volume of planes headed north to Russia and Asia. PAA continued to operate in the territory under the aegis of military. The government also spent several hundred thousand dollars to improve communications in the region.
With a brand new "local" airfield, Ketchikan was back on the map when the war ended.
In July of 1945 (actually a month before the war officially ended), PAA began regular passenger service between Seattle and Ketchikan using DC-3s. The Seattle to Ketchikan fare was still $75 but included a shuttle flight from Annette to the Ketchikan waterfront. Flight time from Seattle to Ketchikan was now a little more than four and half hours.
A year later, the first Grumman Goose made its appearance in Ketchikan. The Goose and the PBY would handle the vast majority of the Annette-Ketchikan shuttle flights until the Gravina Island airport opened in 1973.
In 1946, the larger, faster DC-4s were added to the PAA Southeast run. Flights were now reduced to under four hours.
But in 1947, tragedy struck when a DC-4 aborted its landing attempt at Annette because of bad weather and hit Tamgas Mountain as it tried to gain altitude in the storm. It took five days before the wreckage and the bodies of 18 passengers and crew were located and involved a major search and rescue effort by both the military on Annette and many local Ketchikan volunteers. That crash and recovery operation led to the formation of the Ketchikan Volunteer Rescue Squad.
In 1954, PAA began using DC-6s for the run and flight time was cut to under three hours.
The on-board repast was also something that modern day fliers - even in first class - can only dream about.
A menu from a DC-6 demonstration flight in January, 1954 offered champagne cocktails, hors d'oeuvres, Alaskan Crab Louis, broiled filet of beef/Bearnaise, baked potato, garden peas au Beurre, poppy seed rolls, butter rum cake, and coffee, tea or milk.
Later that year, PAA also started employing Boeing B-377 Strato Cruisers (renamed Strato-"Clippers" by PAA) which further cut the flight time from Seattle to Ketchikan to two hours and 30 minutes. A round trip flight now cost $104.
But as the 1950s progressed PAA found it had competition on the increasingly lucrative Southeast run. Pacific Northern Airlines had expanded from its Anchorage base and was now flying from Seattle to Juneau with a stop in Ketchikan.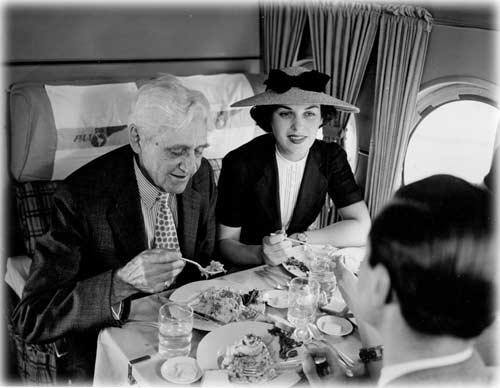 Pan American Airways System in flight food service aboard a S-42B Sikorsky
Donor: Mrs. Marge Goding - Photograph courtesy Ketchikan Museums

PNA was using the Lockheed Constellations on most of it Alaska flights and many local residents remember the "Connies" distinctive three-pronged tails.
In the early 1960s, the jet age reached Southeast when Pan Am heralded its first Boeing 707 jet flight to Annette on April 26, 1961. Suddenly the flight time between Seattle and Ketchikan just about 90 minutes. PNA countered with the slightly smaller Boeing 720 jet and both airlines engaged in a spirited battle with local residents benefiting with increased service and lower fares.
But within six years, neither PAA or PNA would operating in Alaska.
Before airline deregulation, the federal government strictly controlled air carriers, frequently determining which airlines could operate which routes. The idea was to prevent airlines from "competing" themselves into bankruptcy. Thus the Civil Aeronautics Board wielded vast power over the industry and often made decisions to limit air service in areas to "prevent" airlines from going under.
Over the years, the CAB had created Pan Am's almost complete monopoly on international routes by preventing most other US carriers from flying abroad..
In 1965, it made a very controversial decision to revoke Pan Am's license to fly into Alaska. The CAB ruled that current economics could not support multiple airlines on state routes and that Alaska Airlines should take over Pan Am's routes in the northern part of the state and that PNA should take over the routes between Southeast and Seattle.
Pan Am vigorously protested the seven year suspension, but to no avail. It pulled out on June 1, 1965.
Ironically, at the time, Pan Am was operating the Alaska service without any form of government subsidy while Alaska and PNA were both requiring federal subsidies to operate in Alaska. Even forty years later, Alaska Airlines still gets federal subsidies to continue to operate jet service into smaller Alaskan airports.
For several years after its Alaska certificate was revoked, Pan Am contended that it would return to Alaska as soon as possible. But by the time deregulation finally arrived a decade later, Pan Am was struggling to hold onto routes and couldn't return.
PNA's victory in Southeast was short lived. By 1967, it had been absorbed by Western Airlines, which itself would be chased out of Southeast Alaska by the early 1970s after Alaska Airlines absorbed Alaska Coastal-Ellis and became a true statewide carrier with routes to Seattle as well.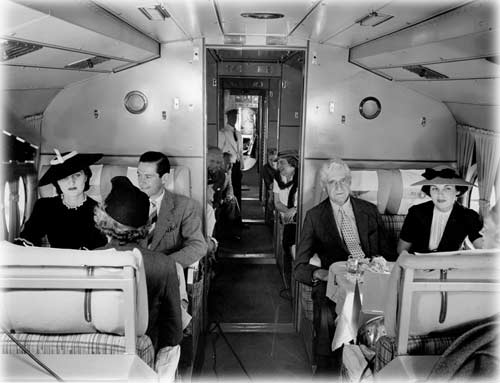 Passenger accommodations on board a Pan American Airways System Sikorsky S-42B
Interior of S-42B Sikorsky - wide aisle - two seats on either side. While the S-42B service was for but a brief time it demonstrated the type of passenger service Pan Am would offer in the future - from the DC-3 DC-4 - DC-6 - Boeing 377Strato-Cruiser - and the Boeing 707 Jet aircraft until the service was suspended in 1957 - every aspect of the service was First Class.
Donor: Mrs. Marge Goding - Photograph courtesy Ketchikan Museums

In later years Western (And Delta which absorbed it in the 1980s) sporadically returned to Juneau, but never resumed its Ketchikan service. In later years both Wein Air Alaska and Mark Air briefly served Ketchikan's new Gravina Airport, but neither could compete with Alaska Airlines long term.
In 1966, the year after it left Alaska, Pan Am took a step that many in the aviation industry believe - in retrospect - sent it into its slow death spiral.
Pan Am purchased a large number of the brand new Boeing 747s, the largest passenger plane built up to that time. The new 747 "clippers" instantly became some of the most recognizable airliners in the world on Pan Am's far flung international routes.
But in airline industry terms they were expensive to operate. The Arab Fuel Embargo of the early 1970s turned the always profitable Pan Am into a money loser. Then the federal government deregulated the air industry. Soon Pan Am had significant competition on its international routes. It even purchased National Airlines in an attempt to compete in the domestic market. It then sold off its profitable Pacific routes to United.
Nothing worked. The final straw was the bombing of Pan Am Flight 103 over Lockerbie in 1988. Now the "clippers" so long a powerful symbol of the US interests abroad had become high profile "targets."
In 1990, Pan Am began selling some of its international routes. The lucrative London route also went to United. But it was too little, too late.
In January of 1991, Pan Am declared bankruptcy and in December it stopped flying entirely. Now, fifteen years later, the last final company checks are going out to former passengers and employees.
But the roar of the Sikorsky flying boat engines still remain in the ears of many Ketchikan old-timers as do the trips to Annette to catch the "clippers" south.
Editor's Note: The author thanks Don Dawson for the use of his comprehensive timeline of Pan Am's Alaska history and SitNews would also like to thank Richard Van Cleave and the Ketchikan Museums for providing photographs for this feature story.
On the Web:
Historical Ketchikan... Historical Alaska - More Feature Stories by Dave Kiffer


Dave Kiffer is a freelance writer living in Ketchikan, Alaska.
Contact Dave at dave@sitnews.us
Dave Kiffer ©2006

Post a Comment View Comments
Submit an Opinion - Letter

Sitnews
Stories In The News
Ketchikan, Alaska