For 30 years, Ellis and Alaska Coastal were the only way to fly In Southeast
Half a century ago, regional
airlines merged in AK Air
By DAVE KIFFER
June 20, 2018
Wednesday PM

(SitNews) Ketchikan, Alaska - Fifty years ago this spring, Southeast Alaska's most prominent home-grown airline ceased to exist.

Alaska Coastal (also called Alaska Coastal Ellis) began as two separate Juneau airlines - Alaska Air and Marine Airways - and Ketchikan's main airline, Ellis Air Transport – back in the 1930s. The Ketchikan and Juneau airlines merged in the early 1960s to become one of Alaska's dominant regional carriers. Then, in April of 1968, Alaska Coastal became part of the growing Alaska Airlines empire.

Most Ketchikan residents are very familiar with the life story of Robert "Bob" Ellis who founded Ellis Airlines, the dominant air carrier in Southern Southeast from the mid-1930s to the mid-1960s. But the residents of the northern Panhandle had their own "Bob Ellis." His name was Sheldon "Shell" Simmons, the founder of Alaska Coastal Airlines.
Simmons was born in Weippe, Idaho in 1908, and grew up in the Yakima area of Washington state. He quit school at age 16 and hopped a freighter for Asia. He came to Alaska when he was 19 and worked briefly as a commercial truck driver in Ketchikan. He studied electrical engineering in Los Angeles and then returned to Alaska, working as an electrician at the Alaska-Juneau Mine.

At one point, he quit the mine so he and a friend could sail more than 2,000 miles down the Yukon River in a 14-foot rowboat. He ended up in Nome, were he took a job on a runway construction project outside of Nome in Candle. It was there his interest in aviation took off as he watched pioneer aviator Noel Wien and others flying in and out of the unfinished airstrip.
The 21-year-old Simmons decided to return to Washington and take flight lessons in 1929. In a couple of years, he went back to Juneau to work at the AJ Mine, but he continued his interest in aviation by working on local airplanes and continuing to fly.

In 1934, he quit the mine for good and went to work for a local air company. But when a storm damaged the plane he was using, he bought the plane for $1 when the company decided it wasn't worth repairing. Simmons got it operating again and immediately started Alaska Air Transport.

"Simmons worked tirelessly," according to his biography on the Alaska Airlines website. "He flew at night, dropped off mail and Christmas turkeys for miners and even hauled the Juneau marshal to a gun fight. In the summer, he'd fly 16 hours a day. He was the first commercial pilot to fly year-round in Southeast Alaska."

Like all Alaskan Bush pilots, Simmons was famous for his exploits, particularly when he was called on to rescue people in trouble in the wilderness. Simmons famously "poo-poohed" any talk about these rescues by calling them "just work."

One of his most famous examples of "just work" was the 1938 rescue of the crew of the cargo ship Patterson. The Patterson ran aground near Cape Fairweather in a storm and the 18 survivors of the grounding were shipwrecked by huge swells and a gale force snow storm. Coast Guard cutters and Navy planes were unable to reach the stranded mariners.
"After two weeks, the situation getting desperate, Simmons acted on his own," the Alaska Airlines biography reads. " 'To our awe and amazement,' said one of the stranded, Simmons landed his floatplane in the bubbling surf. He flew out two of the weakest sailors, and a trapper who Simmons brought along guided the others 15 miles down the coast where a boat could reach them. Simmons was lauded nationally. To fully grasp just how unassuming Shell was, you need to know that when he made the Patterson rescue he was still recuperating from injuries sustained in a crash three months earlier. In that crash, Shell dove beneath the water repeatedly before eventually saving a trapped passenger. The memory of that incident, caused by a faulty fuel line, stayed with Simmons for the rest of his life in the form of scars on his hands and face."
In 1939, Simmons and Alex Holden of Marine Airways merged their operations into Alaska Coastal Airlines. In 1962, Simmons and Ellis merged their airlines into Alaska Coastal Ellis, the largest seaplane based airline in the world. In 1968, Alaska Coastal Ellis became part of Alaska Airlines. Simmons died at age 86, in 1994, six months after Bob Ellis passed away at 91.
"Bob Ellis and Shell Simons were brothers-in-arms, Siamese twins joined at the hip by the love of flying and Alaska in equal proportions," Noted aviation writer Robert Serling wrote in his 2008 history of Alaska Airlines "Character and Characters." "Yet in background they were far from mirror images."

When it comes to the Southeast Alaska aviation industry, few names stand out as prominently as Bob Ellis.

The founder of Ellis Airlines and later a Ketchikan mayor and territorial legislator, Ellis began his career in aviation when Alaskan cities were tied to the Outside world by flimsy little floatplanes and ended his career when jets made it possible to wake up in Ketchikan in the morning and to be half way across the globe by bedtime.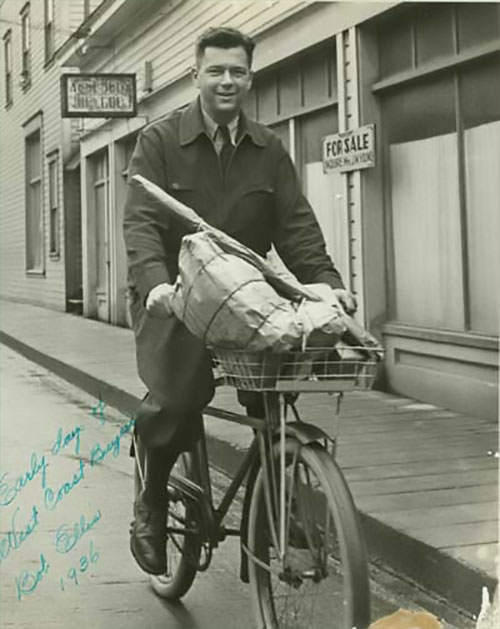 Bob Ellis on Bicycle, 1936
Donor: Nora and Michael Kampnich, KM 91.2.35.1
Photograph courtesy Ketchikan Museums
Ellis was born in St. Albans, Vermont in 1903. He entered the US Naval Academy shortly after the end of World War I, but left after two years because post war staff cuts meant that only a handful of the graduates would receive commissions. An Academy friend suggested Ellis go west to Seattle. Ellis worked in timber exporting for a while and then joined the Naval Reserve in 1926 and became a pilot, something that had interested him for several years.
In 1929, he received his commercial pilot's license and almost immediately took part - as navigator - in the first non-stop flight between Seattle and Juneau.

"Ellis had been enlisted to plot the course for the pilot of the historic flight, but purposely complicated the plan so the pilot would have to take Ellis along," Ellis's biography on the Alaska Airlines website reads. "Nearly eight hours later, with a hero's welcome, the native New Englander and one-time cadet at Annapolis was an Alaskan for life."

Over the next six years, Ellis gained valuable experience flying all over Alaska in all types of situations and all types of weather.

In 1936, he founded Ellis Air Transport in Ketchikan and quickly became indispensable to the community and the numerous smaller outposts in the region. By 1940, the airline had incorporated as Ellis Airlines

"Business grew steadily with Bob's dedication to customer service. In the tiny villages he served in Southeast Alaska, for instance, he'd take orders for groceries before flying back to Ketchikan," the Alaska Air website notes. "People would also trust him with their paychecks, knowing he could be counted on to return with carefully identified envelopes full of cash. At Christmas, he'd dress up to become 'The Flying Santa Claus,' landing in the villages to pass out candy to the children."

During World War II, Ellis served as squadron and air station commander at Navy bases In Sitka, Kodiak and Attu and took part in the efforts to free Attu and Kiska islands after they were invaded. He met President Franklin Roosevelt during the president's wartime visit to Alaska.

After the war, Ellis developed his airline into a large floatplane operation and flight school that served northern British Columbia and most of Southeast Alaska. In 1962, he merged Ellis Airlines with Alaska Coastal Airlines. In 1968, Alaska Coastal Ellis became part of Alaska Airlines. Ellis died in Ketchikan in 1994, at the age of 91.

Although they were "competitors" Ellis and Simmons were clearly not sworn enemies like many of the air transit operators in the early days. Ellis and Alaska Coastal both marked their territory but cooperated in terms of scheduling, maintenance and transferring passengers.

Ellis' son, Mike, says the competition between the two lines was "active" and things could get quite competitive in the areas that both companies served.

"In fact things got rather touchy in the years before the merger when Coastal opened their own office and airplane float in Ketchikan, whereas Ellis had previously provided those services, as Coastal did for Ellis in Juneau," Mike Ellis said recently. "Ellis also kept a close eye on Coastal to make sure that their Ketchikan to Sitka flights which stopped at Annette Island did not carry any Ketchikan to Annette passengers, as Coastal did not have the authority to do so."

Mike Ellis also said there were some tense behind the scenes negotiations during the merger because Ellis was an employee-owned airlines and Coastal was owned by a handful of shareholders and the Coastal shareholders preferred to take over Ellis rather than merge.

"But after the merger there was great cooperation with consolidating operations, aircraft & employees & I believe this outcome was what served this ACEA merged company well in their talks with Alaska, "Ellis said. " It was significant that in this merger Bob Ellis, Shell Simmons & Ben Benecke were able to serve on the Alaska Air Board of Directors & helped guide the airline to a more prosperous future."

By the late 1930s, the economy in Southeast Alaska was transitioning away from the salmon canning industry that had driven significant growth from the teens to the early thirties.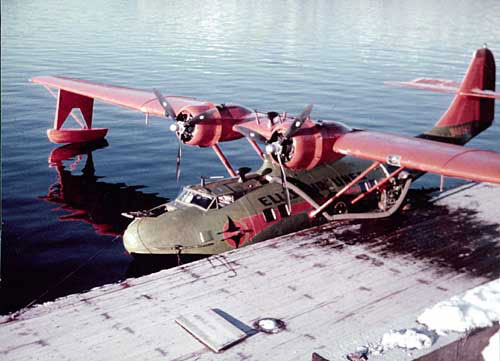 Ellis Airlines PBY Catalina at Ketchikan, circa 1950
98.1.1.25 temp
Photograph courtesy Ketchikan Museums

But there was still plenty of work transporting people and goods between the larger cities like Juneau and Ketchikan and the innumerable smaller outposts of civilization dotting the islands of the Alexander Archipelago. It was also a time which the steamship lines were beginning to reduce their service to the area. This created an opening for what would be called the "air taxi" industry and that would help fuel growth for both Ellis and Alaska Coastal.

During World War II, both Simmons and Ellis became familiar with a new type of aircraft that would revolutionize and promote air travel in Southeast Alaska: The Grumman Goose.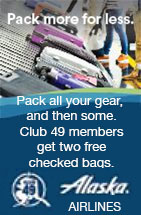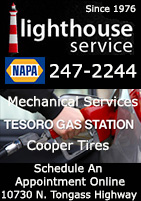 Prior to World War II, most of the planes serving Southeast Alaska were float planes, planes in which the cabins were elevated on floats above the water. But the Goose were "amphibians," planes in which the plane body actually rested in the water and wheels could be either extended or retracted for service on land or water. The original planes to fly into southeast Alaska, like Roy Jones' "Northbird" were also amphibians, but that type of plane had lost favor in the 1930s to the more technologically advanced float plains like the Waco, Stinson or Lockheed Vega.

The Goose were originally developed in the 1930s at the behest of wealthy New York businessmen who were looking for an quick and efficient way to travel from Long Island into New York City. The powerful, twin engine, ten passenger planes - sometimes referred to as "flying yachts" - were quickly adopted by the military and 345 were produced before and during World War II for the Navy, the Coast Guard and the Army Air Corps, as well as some foreign navies such as Canada and Great Britain.

After the war the military surplused the amphibs, with most going to the Caribbean, California or Alaska. Both Simmons and Ellis saw great opportunity in the Goose because it could also carry a significant amount of cargo as well as passengers and the twin 450 horsepower engines cut travel time in far flung Southeast significantly.

With a cruising speed of around 140 mph and a range of more than 600 miles, the Grumman's could easily cover Southeast Alaska significantly faster than the float planes

By the mid-1950s, there were more than 20 Goose operating in Southeast between to two airlines. And both Ellis and Alaska Coastal began experimenting with an even larger amphid, the Consolidated PBY - which could hold up to 20 people - and was also available from the military.

In the 1950s, the timber industry added new life to the regional economy and that helped fuel growth for both Alaska Coastal and Ellis. The ending of most steamship runs in the early 1950s also created a transportation vacuum that would not be filled until the Alaska Marine Highway System started operating in the early 1960s.

In 1961, Alaska Coastal and Ellis carried more than 110,000 passengers, a huge number considering the entire population of Southeast Alaska was less than 35,000 at the time.

When Alaska Coastal and Ellis merged in 1962, the new company had 17 Goose, 4 PBYS and more than 260 employees.

In a large ad in the Ketchikan Chronicle in 1962, Ellis and Coastal heralded the merger as a "long engagement" leading to a joyous "wedding."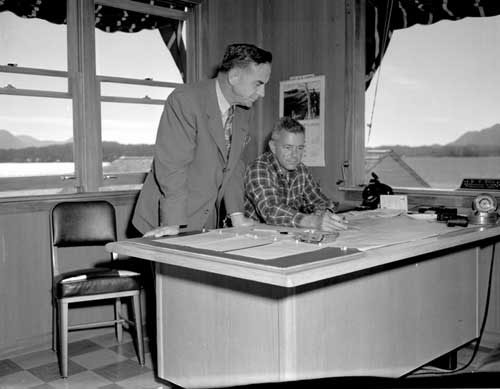 Bob Ellis at his desk during the search for the Hall plane, August 1953
Photographer: Paulu T. Saari
Donor: Paulu T. Saari, KM
Photograph courtesy Ketchikan Museums
"Little did we think, back in 1936, that we would someday have an outfit with a $2 million investment, a $2 million payroll, 264 employees and 24 airplanes," the ad trumpeted. " (Ellis, Simmons and Holden) were the first to demonstrate that the public needed and would support year round, daily scheduled flights carrying mail, passengers and cargo...now we are uniting and stronger than ever...we look forward with confidence in the future - confident that this airline, Alaska's own airline, will continue to grow. It was built by Alaskans, financed by Alaskans and is operated by Alaskans."

In her 1981 book, Goodbye Goose, Faith Sherman - wife of longtime Ellis employee and friend Jack Sherman, - noted that the merger had a sense of inevitability.

"Often the spirit of cooperation overshadowed the threat of competition, and Alaska Coastal aircraft carried Ellis passengers and vice versa," Sherman wrote. "Each line provided maintenance for the other at the home bases (Ketchikan and Juneau). So it was only natural that the merger of the two lines eventually was to become a reality, formalizing a relationship that had taken place informally over the years."

Sherman wrote that the negotiations began in 1961. The final agreement called for a 50-50 split between the two lines of the new operation with stock shares going equally to the Ellis and Alaska Coastal shareholders. Simmons was in charge of operations and Ellis was in charge of marketing.

For six years, Alaska Coastal Ellis continued to be the main air transportation for Southeast Alaska. Then Alaska Airlines came calling.

Up to the 1960s, Alaska Airlines had limited presence in Southeast Alaska. But as the larger airline moved into the jet world, it began a concerted effort to become Alaska's primary carrier, both in state and to outside world, primarily Seattle. A purchase of Alaska Coastal Ellis seemed a logical step and in 1968, it absorbed the amphibian airline.

Alaska Coastal was also influenced to act by a 1960s federal and state policy to build more land airports in the region. Both Ketchikan and Sitka were developing new airports and places like Wrangell, Petersburg, Haines and Skagway weren't far behind. The amphibian model was soon to be phased out. Since Alaska AIrlines needed the routes and Alaska Coastal had them - this was in the era before airline deregulation when commercial monopolies were considered more efficient - a merger became inevitable.

Sherman noted in her book that stockholders of Alaska Coastal Ellis received $4 million in Alaska Airlines shares. Simmons, Ellis and Ben Beneke of Alaska Coastal were named to the Alaska Airlines board. Beneke would eventually become President of Alaska Airlines.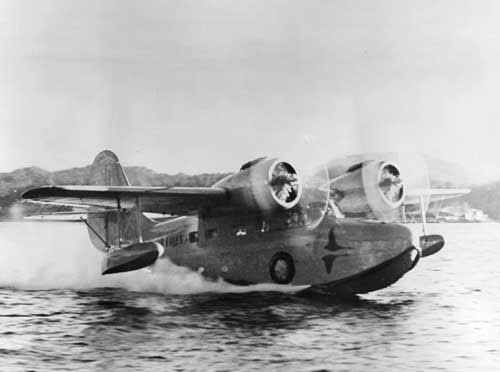 Ellis Airlines Goose taking off, circa 1959
Donor: Bob Ellis, THS 74.11.13.6
Photograph courtesy Ketchikan Museums - Tongass Historical Society

Initially, Alaska retained half a dozen of the Alaska Coastal Goose, primarily for service to the Ketchikan airport which was still on Annette. But when the Ketchikan airport moved to Gravina, and a small ferry was used to transport passengers, the Goose – and the remaining PBYs - were surplused, a couple of which ended up in the hands of the smaller Ketchikan air taxis, such as Coast AIr and Westflight, that sprouted up to replace Ellis and Alaska Coastal service to the outlying areas that still needed amphibian or float plane access.

Probably the biggest change for Ketchikan residents after the Ellis merger with Alaska Coastal was the disappearance of the familiar orange and green colors (chosen partly because they were highly visible from a distance) of the Ellis Air fleet.

The new planes were primarily white with black and reddish gold accents on the hull, wings and engine cowlings. The planes also featured the familiar twin goose logo.

"Bob Ellis was asked later why he agreed to merge with Shell Simmon's slightly larger company," Serling wrote in 2008. "(he said) all the fun had gone out of the airline business, he was tired of fighting government red tape, and, like most of his breed, he didn't understand why employees needed unions if they were treated well without them."

Serling noted that Simmons' reasons for the merger were similar to Ellis's.

"Shell worried about the future," Serling wrote. "More in self-defense than in zeal he decided to join forces with Ellis."

It was Simmons and Ellis's realistic understanding of the nature of industry that played a significant role their original merger and then the later decision to merge with Alaska Airlines, which was also moving to consolidate elsewhere, absorbing Merle "Mudhole" Smith's Cordova Airlines at about the same time.

Alaska Airlines was looking to cover all of Alaska and Southeast was the one part of the state that it had very service because the federal government – which in those days before deregulation had ultimate say in which airlines would fly where – had limited most of the SE service to Alaska Coastal Ellis.

The 1960s were also a time where the federal and the new state government were looking to improve air access throughout the state and were planning several new airports. In Southeast both Ketchikan and Sitka would see new airports by the early 1970s and Wrangell, Petersburg and Haines would also get runways in the succeeding years.

These new airports would spell the end of the amphibian era and Alaska Coastal Ellis could see the writing on the wall. Alaska Coastal even invested in a twin engine Convair 240 land plane to use on the runways, but the company could clearly see that it was better to sell out to a company that was in better shape to compete in the jet age.

And so the remnants of Alaska Coastal and Ellis were absorbed into Alaska Airlines.

But in the same way that some DNA from the Pacific Northern Airways still exists in the modern Delta Airlines, some Alaska Coastal Ellis DNA still exists in Alaska Airlines that cover many of the same routes that both Ellis and Alaska Coastal did from the 1930s to the 1960s.
Related: