Remembering Bob Ellis, One of Alaska's Pioneer Aviators

August is Alaska Aviation Safety Month
August 12, 2004
Thursday

Ketchikan, Alaska - Bob Ellis was recognized and initiated into the Alaska Aviation Pioneer Hall of Fame in a ceremony held in Anchorage, Alaska on February 27, 2004. Ellis was one of Southeast Alaska's most famous bush pilots and founder of Ketchikan's Ellis Air Transport. Ellis was a US Navy Reservist during WWII and was commander of the sectors in Alaska. He was mayor of Ketchikan and an elected Territorial senator. Known as an active promoter of tourism and sightseeing, Bob Ellis was Ketchikan's first flying Santa Claus and set countless aviation records.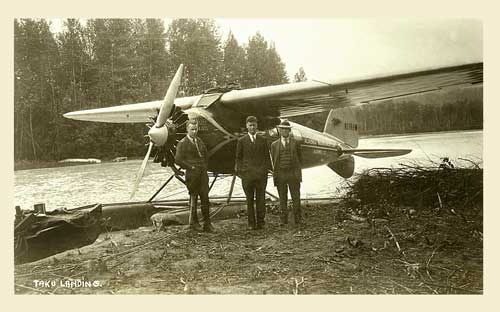 Alaska Aviation Pioneer Hall of Fame member Bob Ellis is pictured in the middle.
Date of photograph unknown. Photo courtesy Ellis family....

Ted Spencer of Juneau was asked by the Alaska Aviation Heritage Museum in Anchorage to create a photographic collage illuminating some of the highlights of Ellis' aviation career and contributions. Spencer said, "While our archive had a number of images, they were insufficient to accomplish the task. We were able to get additional assistance from the Ellis family, the Tongass Historical Museum, Bud Bodding, Jim Ruotsala of Juneau and the Alaska State Library via Gladi Kulp." Spencer said, "Our research included information within the book by Bob Ellis - "What...No Landing Field?" - and "Alaskan Wings" written by Jim Ruotsala." He said, "While we had a restricted space with which to display the captioned photographs, we managed to present a lot of rare & interesting information about Bob Ellis' life and his role Alaskan aviation pioneering."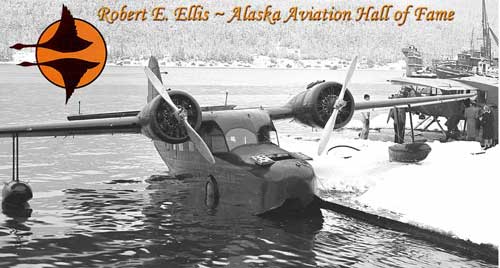 Ellis Airlines Goose, date unknown.
One photo in Ellis' Alaska Aviation Pioneer Hall of Fame exhibit...
Courtesy Ted Spencer & Ellis family...

Spencer said, "It is hoped that an expanded version of this exhibit can be presented in Ketchikan as an additional tribute to Bob Ellis and to commemorate the centennial of flight in America. Alaska certainly has played a leading and colorful part in this American heritage. Unfortunately there is little on display to denote Alaskan aviation history. This exhibit may be one vehicle to do so, for the benefit of visitors and residents alike."


Read more about Bob Ellis:
THE LEGENDARY BOB ELLIS, BUSH PILOT; A long, full life 1903-1994 by June Allen


E-mail your news & photos to editor@sitnews.org


Post a Comment View Comments
Submit an Opinion - Letter

Sitnews
Stories In The News
Ketchikan, Alaska