New Ferry Stikine Links Southeast Islands
May 17, 2006
Wednesday

Ketchikan, Alaska - Alaska's latest ferry route will be inaugurated Thursday, when the new $17 million passenger/vehicle ferry M/V Stikine sails round-trip from Coffman Cove on the northern end of Prince of Wales Island, to Wrangell and S.Mitkof, located 25 miles south of Petersburg by road. The new service is being implemented by the Inter-Island Ferry Authority, a public corporation formed by the municipalities of Petersburg, Wrangell, and the Prince of Wales Island communities of Coffman Cove, Thorne Bay, Klawock and Craig. The IFA is a non-subsidized operation organized under Alaska's Municipal Port Authority Act. It also owns a sister ship to the Stikine, the M/V Prince of Wales, that has provided daily year-round service between Ketchikan and Hollis (on the southeast coast of Prince of Wales Island) since 2002.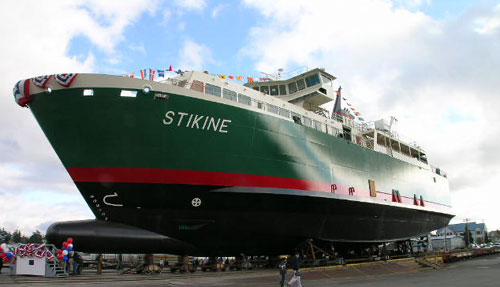 Launching ceremony of the Stikine on January 21, 2006
at Dakota Creek Industries shipyard in Anacortes, Washington.
Photograph by Dave McNary ©

The new ferry service will connect "Alaska's Rainforest Islands", according to IFA general manager Tom Briggs. Prince of Wales is the third largest island in the U.S., after Kodiak Island and the big island of Hawaii, according to Briggs. There are over 1,100 miles of maintained roads, more than in all the other communities in Southeast Alaska combined. Blacktop highways connect the island communities of Hollis, Hydaburg, Craig, Klawock, Thorne Bay and reach to within 23 miles of Coffman Cove. Other islands that will be served by the IFA starting this week are Wrangell and Mitkof. The Coffman Cove - Wrangell - Petersburg service will operate every Thursday, Friday, Saturday and Sunday from May 18 through September 17, said Briggs. Based on advance bookings, both IFA routes are going to be popular with RVer's. A number of Alaskans and visitors are planning to take advantage of Prince of Wales Island's vast recreational opportunities by taking the Ketchikan-Hollis route, exploring the island, then continuing on a second IFA ferry from Coffman Cove to Wrangell and/or Petersburg, stated Briggs. Connections can be made with Alaska Marine Highway vessels at Ketchikan, Wrangell or Petersburg.
Wrangell is the gateway to the Stikine, north America's fastest free flowing navigable river and the home of Muskeg Meadows, a nine hole USGA regulation golf course in a rainforest wilderness setting. Local attractions include ancient native rock carvings at Petroglyth Beach, Chief Shakes Island tribal house and tall totems, great sportfishing, and the renowned Wrangell Museum, in the community's new Nolan Center. And Wrangell is the access point to the Anan bear observatory, a wilderness location where both black and brown bear can be seen close-up feeding on wild salmon as they ascend the falls on Anan Creek.
Petersburg is known for its Norwegian heritage and active fishing fleet. It is also the jumping off point for two world-class attractions. Just a 17 mile cruise is Le Conte, the southern most tidewater glacier in N. America and Alaska's most active calving glacier. Nearby Frederick Sound is home to the largest concentration of humpback whales in the world during the summer months. Whale watching charters expose awesome displays by these huge creatures, including breaching and bubble feeding.
While in port at Wrangell on Thursday afternoon Alaska's first lady Nancy Murkowski is planning to present a painting that she commissioned to the IFA and the M/V Stikine. It is a Stikine River scene by Wrangell artist Brenda Schwartz.
Both IFA vessels feature a forward observation lounge, reading room, restaurant, children's play area and a solarium. The ships are certified for 190 passengers and can accommodate up to 30 vehicles. For further information on IFA services call toll-free 866-308-4848.
Related Stories & Photographs:
Chamber Members Tour Newest IFA Ferry By Marie L. Monyak
May 9, 2006

IFA Launches Its Second Ferry, the Stikine
January 23, 2006

M/V Stikine To Be Christened Photos by Dave McNary Story; By M.C. Kauffman
January 06, 2006

Building the Stikine - Photographs by Dave McNary; Story by M.C. Kauffman
October 26, 2005

Progress Made On M/V Stikine Construction Photos By Dave McNary
September 12, 2005

Contract Signed For Constructon of M/V Stikine
December 13, 2004

Gerhard Onboard With IFA; Second Ferry Plans Underway
February 28, 2004

E-mail your news & photos to editor@sitnews.us


Publish A Letter on SitNews Read Letters/Opinions
Contact the Editor
SitNews
Stories In The News
Ketchikan, Alaska