IFA Launches Its Second Ferry, the Stikine

January 23, 2006
Monday AM

It was a festive scene on Saturday as Alaska's First Lady Nancy Murkowski christened the M/V Stikine at Dakota Creek Industries shipyard in Anacortes, Washington. The new sister ship to the Inter-Island Ferry Authority's M/V Prince of Wales was decked out in marine signal flags and red, white and blue bunting. The Anacortes High School band played the national anthem following the traditional breaking of a bottle of champagne over the ship's bow.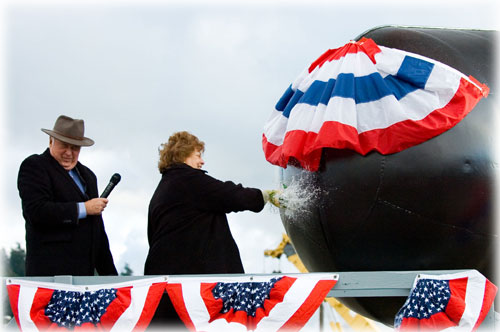 Bottle break: Alaska's First Lady Nancy Murkowski christens the M.V. Stikine
at Anacortes, with Governor Murkowski assisting.
Photograph by Peter Kuhnlein ©2006

Alaska Governor Frank Murkowski also attended the christening and launching ceremony. He was accompanied by Alaska Department of Transportation Commissioner Mike Barton. IFA Board Chair Dennis Watson, who is also Mayor of the City of Craig, welcomed the approximate 150 guests at Saturday's shipyard function.
Also participating were IFA board members Richard Duvall of Petersburg, Vice Chair; Judy Bakeberg of Wrangell, Secretary; Harvey McDonald of Thorne Bay; Dee Dee Jeffreys of Coffman Cove; Otis Gibbons of Craig; Jeff Nickerson of Klawock; General Manager Tom Briggs and Loren Gerhard, IFA's Vessel Project Manager.
The M/V Stikine will operate on the IFA's new northern route, between Prince of Wales Island's Coffman Cove, Wrangell and Petersburg. It will provide a round-trip from Coffman Cove each Thursday, Friday, Saturday and Sunday from May 18 through September 17, 2006. The M/V Prince of Wales provides round-trip daily service all-year between Hollis on Prince of Wales Island and Ketchikan. Twice daily round-trip service is scheduled on this route between May 26 and September 4, 2006. The Stikine will operate on the Hollis-Ketchikan route winter/spring '06/'07 while the M/V Prince of Wales is undergoing a major retrofit.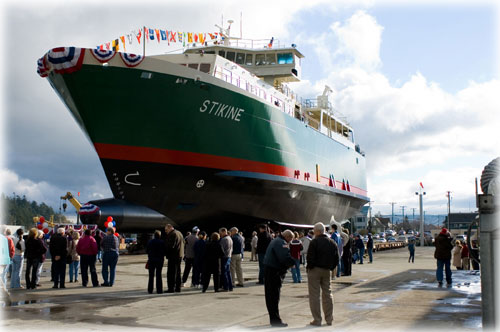 Stikine Bow: Approximately 150 persons attended the M.V. Stikine
christening and launching celebration on Saturday.
Photograph by Peter Kuhnlein ©2006

Dakota Creek Industries began the Stikine project in February, 2005. Approximately 80 employees are involved, with work scheduled for completion to meet the March 2006 delivery date. The IFA's M/V Prince of Wales was built in the same Anacortes shipyard. The $17 million new ferry was funded with federal and state grants. The Stikine will be licensed for 195 passengers and will accommodate 30 standard sized vehicles. Vessel specifications include a length of 198 feet, breadth of 51 feet, twin 1,500 horsepower diesels, with a service speed of 15 knots. A larger wheelhouse with enclosed bridge wings will facilitate improved conditions for docking and undocking, a feature not included on the M/V Prince of Wales. Other enhancements include an upgraded passenger deck layout, more powerful bow thruster, and a third generator. IFA vessels are designed to operate with a five person crew.
Both IFA ferries provide a forward observation lounge with recliner chairs, reading room, quiet room for passengers needing privacy, full-service galley and restaurant, children's play area, and a solarium. Food and beverage service aboard IFA vessels is contracted with Ray and Karen Howard, operators of Craig's Dockside Café.
Source of News:
Inter-Island Ferry Authority
http://www.interislandferry.com/
Publish A Letter on SitNews
Read Letters/Opinions
Submit A Letter to the Editor
SitNews
Stories In The News
Ketchikan, Alaska